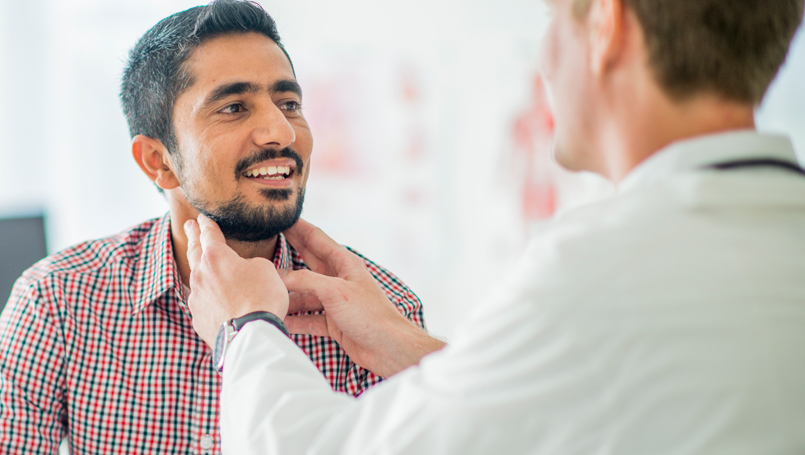 While every wellness visit is different, there are some things you can expect your physician will check every year.
Every wellness visit is a little different. You have different health needs than other patients and those needs change as you age and your lifestyle habits change. You might see your primary care physician several times each year, or only this one time, so your communication pattern with your doctor will be different than it is with the rest of your doctor's patients.
"Annual exams allow for a yearly health assessment," said Dr. Aaron Blanzy, Beaumont family medicine, with Beaumont Blanzy Clinic in Southgate. "This is important so we can detect any underlying heath issues early before they become symptomatic."
There are some things that your physician will almost certainly check at your wellness exam, many of which depend on your age. There are also some things your physician should complete annually regardless of age, including:
height and weight
blood pressure
body scan for suspicious moles or skin lesions
listen to heart and lungs
check abdomen, thyroid glands and lymph nodes for abnormalities
check ears
check eyesight
checking on any chronic conditions
The screenings your physician will perform can be crucial to detecting early symptoms of a disease.

HEALTH HISTORY
You should also review your complete medical and family health history to see if anything has changed since your last check-up. You may need to start a certain screening at an earlier age because of a family member who was diagnosed with a disease, or because of other risk factors.
"Knowing your family health history is important because many diseases are genetically linked," Dr. Blanzy said. "Making your doctor aware of family history helps with proper screening and disease prevention."
QUESTIONS AND NOTES
It is recommended that patients keep a list of questions to ask at annual appointments, especially if you typically only see your primary care physician at your annual wellness visit. You should bring that list each time so you remember all of the questions you had, and can write down the responses from the physician.
SELF-EXAMS
"Self-exams are important to detect changes that you can talk to your doctor about," Dr. Blanzy said. "Patients that do routine self-exams show that they take an active role in their health care."
It is crucial to be honest about your self-exams at home as well. The recommendations for women to complete monthly self-breast exams and men to complete monthly self-testicular exams are for patients to get used to what feels normal, so they can identify when something seems out of the ordinary. Your physician will ask about these self-exams and it's important to respond with an honest update. The more your physician knows about your lifestyle habits, the better he or she can help you develop a plan to prevent and treat or control diseases like diabetes and cancers.
Adults aren't the only ones who should be visiting their primary care physician regularly. Your children should visit their pediatrician's office regularly, and once your child outgrows their pediatrician's office it's important to maintain yearly wellness visits.
Annual exams are important to everyone's health. By having regular appointments with honest communication, you and your physician can develop a plan for your health care needs.
---
Next Steps and Helpful Resources