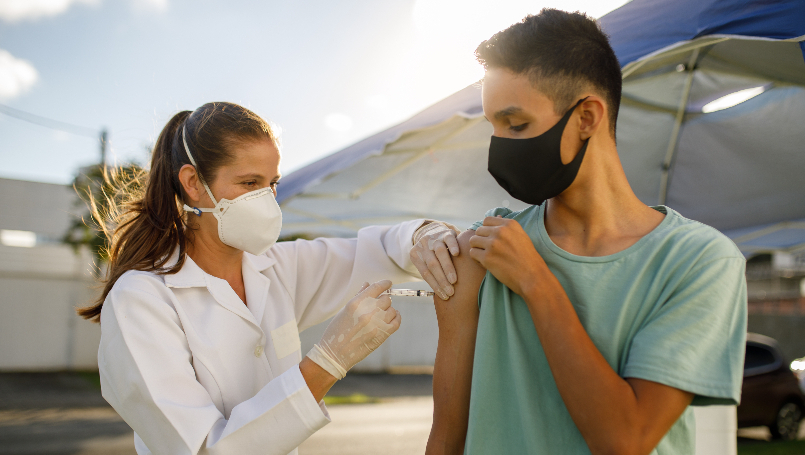 While the recent approval of the first COVID-19 vaccine for children 12 to 15 years has many parents and public health experts excited about further protecting children from the virus, many other parents are hesitant.
We asked Dr. Bishara J. Freij, Chief of Pediatric Infectious Diseases at Beaumont Children's, to address some of the most common myths about the COVID-19 vaccines and children.
Myth: COVID-19 vaccines are dangerous for children.
The Pfizer vaccine, which has been approved for people age 12 and older, was studied in more than 2,200 children ages 12 to 15. Reported side effects were similar to those that older teens and adults experienced such as pain at the injection site, fatigue and body aches, and clinical trial data showed the vaccine to be safe and effective for this age group.
Some parents may be wondering why the approvals took longer for this age group. Dr. Freij explained that trials initially focused on those age 16 and older and did not include children. Clinical trials for children under 12 also tend to take longer because they require more safety precautions and take a phased approach to ensure proper dosing.
"Children are not all the same in terms of their immunologic responsiveness," Dr. Freij said. "Once you start getting younger, you have to look at different vaccine doses and compare side effects and immune response. They're trying to see what dose a child really needs depending on their age. That takes time."
Myth: COVID-19 vaccines can alter children's DNA or cause fertility issues.
The mRNA COVID-19 vaccines do not change or interact with your DNA in any way. It works by delivering instructions (genetic material) to our cells to start building protection against the virus that causes COVID-19. However, the material never enters the nucleus of the cell, which is where our DNA is kept.
This means the genetic material in the vaccines cannot affect or interact with our DNA in any way. All COVID-19 vaccines work with the body's natural defenses to safely develop immunity to disease.
There is also no evidence that the COVID-19 vaccine effects fertility. Many people are still getting pregnant and having healthy babies after being vaccinated.
Myth: COVID-19 vaccines aren't necessary for children because the virus doesn't affect them.
Recent data shows children represent about 14% of all COVID-19 cases in the U.S., and that number continues to rise. While it appears that severe illness due to COVID-19 is less common among children, experts are still unsure of the long-term impacts on their physical and mental health.
In addition, children under 21 make up about 25% of the U.S. population, which means getting them vaccinated will help us get closer to herd immunity.
"Even if the percentage of kids that get really sick is small, when you're talking about millions and millions of people, this is still a large number of children getting really sick," said Dr. Freij. "Our ICUs have had their share of young patients with very severe illnesses who were previously healthy. You would not have necessarily predicted that they would struggle with this virus, but they do."
Myth: My child already had COVID-19, so I they don't need to get the vaccine.
Everyone who is eligible should be vaccinated, regardless of age or whether they already had COVID-19. That's because experts do not yet know how long someone is protected from getting sick again after recovering from COVID-19. It's also possible - although rare - that someone could be infected with COVID-19 again, even after recovering.
Talk to your doctor or pediatrician if you're unsure about how long you or your child should wait to get vaccinated after recovering from COVID-19.
Myth: My child can't get a COVID-19 vaccine before or after getting another vaccine.
Your child can get a COVID-19 vaccine and other vaccines at the same visit. You no longer need to wait 14 days between vaccinations. New data has shown that the way our bodies develop protection after getting vaccinated and possible side effects of vaccines are generally the same when given alone or with other vaccines.
Dr. Freij recommends parents get their children vaccinated as soon as they are eligible and talk to their pediatrician if they have questions or concerns.
"The sooner we vaccinate as many people as we can, the sooner we can put a lid on this thing and try to get back to some kind of normalcy," he said. "Kids want to go to camps, participate in sports and hang out with their friends. The vaccine will allow us to get back to that much, much faster. Vaccines are our ticket out."
---
Next Steps and Helpful Resources