Tuesday, October 19, 2021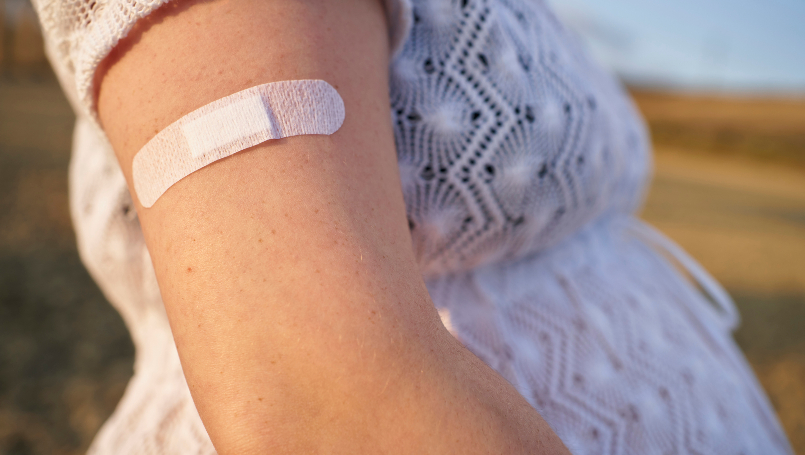 The coronavirus pandemic continues to be a part of our daily lives. While many people who catch the virus go on to recover, COVID-19 is widely unpredictable and can be deadly.
Thankfully, we now have access to an array of vaccines to help protect us from the virus.
But some people have questions about vaccine safety. For example, what if you're pregnant? Is it safe to get the COVID-19 vaccine while you're expecting?
Here's what Dr. Asha Shajahan, Beaumont family medicine, and Dr. Kurt Wharton, Beaumont OB-GYN, have to say:
It's safe to be vaccinated while pregnant
According to Dr. Wharton, not only is the COVID-19 vaccine safe if you're pregnant, it's widely recommended.
"The official statement of the American College of Obstetricians and Gynecologists (ACOG) is that all eligible women, including those who are pregnant, should receive the COVID-19 vaccine," Dr. Wharton says.
He adds ACOG also says all women who are breastfeeding should be vaccinated, and so should those who are planning on getting pregnant soon.
"Once the vaccination starts to have its effect, the body produces antibodies that can cross the placenta and enter the baby," Dr. Wharton explains. "We are doing studies at Beaumont and across the country to measure the antibodies in the umbilical cord blood of the babies of vaccinated mothers. Babies are born with a naked immune system and we have to do everything we can to protect them."
More pregnant women are being hospitalized with COVID-19
According to the Centers for Disease Control and Prevention (CDC), as of September 2021, about 22,000 pregnant women in the U.S. have been hospitalized with COVID-19. Of this group, 161 women died from the virus.
What's worse is that many of these deaths could have been prevented.
Almost all (about 97%) of the pregnant women who ended up hospitalized with COVID-19 are unvaccinated.
Dr. Wharton says Beaumont delivers thousands of babies every year. During the pandemic a small percentage of pregnant women in the unit at any given time are COVID positive and many of them end up fighting for their lives.
Unvaccinated pregnant women who catch COVID-19 have been proven to be at a much higher risk of being hospitalized. They've also been shown to be at a higher risk for requiring oxygen and being intubated, as well as delivering a premature baby.
The vaccine is safe and effective for everyone, including pregnant women
Some people question the science behind the mRNA technology used in both the Pfizer and Moderna vaccines. Dr. Shajahan points out that mRNA technology isn't as new as it seems.
"MRNA technology has been around for years," she says.
She adds that the Johnson & Johnson vaccine doesn't use mRNA technology, making it another option if you're still unsure.
"Vaccines have been around for a really long time and they've proven to be helpful and protective," she says. "If you're scared and worried, have a conversation with your doctor because it really is life or death with this virus."
---
Next Steps and Helpful Resources