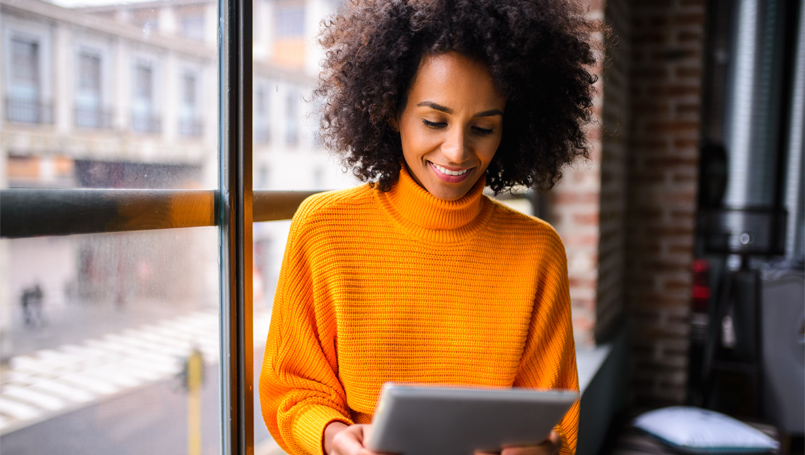 Whether you've moved, started a new job, switched insurance plans, or your doctor retired, starting the search for a new primary care physician can be overwhelming.
Even if you have a word-of-mouth recommendation from a friend or family member, there's still a lot of information to sift through before feeling confident you've found the right doctor.
These tips will make the process more manageable and help you feel confident with your choice.
What's most important to you
There are probably a lot of primary care doctors to choose from in your area, and each has a unique background, practice and way of treating patients. Figuring out what's most important to you and creating a list will help keep your search on track as you start to narrow your options.

Research shows some of the most common things people consider include:
location
insurances accepted
hours
accepting new patients
years of experience
education and training
personality
reputation and reviews
"It's easy to focus on the basics when evaluating your doctor by looking at things like medical school, insurance plans, and proximity from your home, but there are other things to consider." said Dr. Ashsa Shajahan, a Beaumont family medicine doctor. "A good doctor/patient relationship definitely improves health outcomes, so it's important to determine whether or not you connect with the doctor."
Not sure what's most important to you? This checklist can help get you started.
Narrow your search and compare results
When looking for a new doctor, most people start with a word-of-mouth recommendation from a friend or family member, or they search the internet using generic terms like "primary care doctor near me."
Both options will generate a few names to look in to, but neither really take into consideration the specific traits or qualifications you're looking for.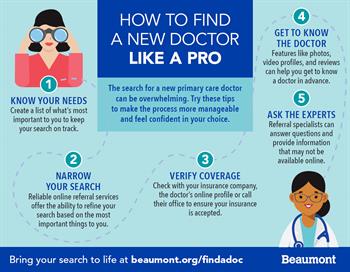 Physician referral services like Beaumont's Find a Doctor have dozens of filters and qualities listed on the doctor's profile that will help you see the full picture. Many have photos, video profiles and even ratings and reviews from actual patients to help you get to know the doctor before your first appointment.
Tools managed by health systems usually provide more accurate, verified information than those run by a third-party review site where comments can be left anonymously and aren't always from a reliable source. This can be especially important if you are looking at years in practice, education and certifications. It can also be helpful to ensure the doctor treats the condition you are being seen for.
"It's always important to vet the site that your get your information from," Dr. Shajahan said. "Many third-party sites have inaccurate information; some say I'm practicing in places I have never been, and others list the wrong medical education or expertise."
Ask the experts
If you've gone through all the steps and still can't seem to decide, picking up the phone and talking to an expert might be the assurance you need to feel confident in your choice.
Referral specialists like those in Beaumont's Physician Referral Center can answer your questions and provide additional information that might not be available online. Questions about next available appointment, other doctors in the practice and even the best way to get there can be answered live. Your specialist can even help you schedule your appointment during the call.
Primary care physicians, including family medicine or internal medicine, are key to your overall health. They're the ones who see the big picture – maintaining your healthy lifestyle, helping you reach new health goals and managing some chronic conditions.
"You don't have to wait until something is wrong to find a new doctor," Dr. Shajahan said. "In fact, it's best to start the process when you are well so that if you do find yourself in a situation where you are ill, you've already established in the clinic and the provider knows you."
If it's time for you to find a new doctor, don't let what feels like a daunting process keep you from establishing this important relationship. Follow these steps and find the doctor that's right for you.
---
Next Steps and Helpful Resources