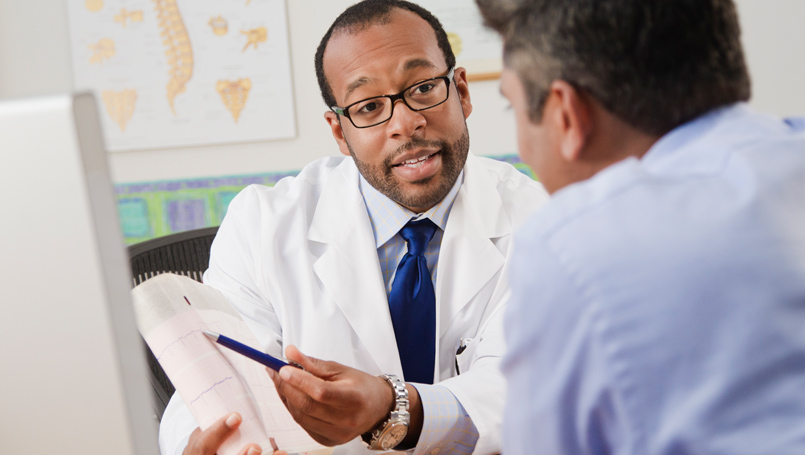 Getting ready for a visit with your primary care physician? Check out these tips for getting the most out of your appointment.
BEFORE YOUR VISIT
Taking some time to prepare for your next doctor's visit can help you and your doctor make sure you're getting everything you need.
Prepare a health journal
Write down the details of why you are going to the doctor. Try answering these questions in your journal and sharing it at your appointment:
Why am I going to the doctor?
What are my goals for this appointment?
What symptoms am I experiencing?
What makes them better or worse?
When did they begin?
What medications and supplements have I taken? (name and doses)
Has my sleeping pattern changed?
Has my appetite changed?
Has my mood altered?
Make sure you use descriptive words to explain to your doctor what you're experiencing.
"It's important to write down problems you'd like to discuss with your doctor," said Dr. Raymond Ackerman, a Beaumont family medicine physician.

"I know that when a patient comes to their visit with a list of their concerns, they will leave with their questions answered."
Dr. Ackerman added that it's helpful for a patient to write down the physician's comments, so remember to bring extra paper and a pen to the appointment.
Print a summary of your health history
This will help you answer your doctor's questions more quickly. Include information about diseases that run in your family and any current or past health problems and treatments. If you have had bloodwork or other screenings or tests done recently, or received any immunizations, make sure you take that information with you as well.
Prioritize your questions/concerns
Be aware that it might not be possible to cover a long list of concerns during your appointment. Rank your questions/concerns before your appointment. This will help ensure you are able to talk about the matters that are of greatest concern to you.
"If you come to the visit organized and know what concern is most important for you to cover, we can often address more than one high priority concern. Your health care deserves respect and your medical questions deserve to be answered thoroughly," adds Dr. Ackerman. "For that reason, I often have patients come back for a return visit for those issues that we could not address in our allotted time."
Get your paperwork done early
If you need to fill you any new paperwork, do as much as you can ahead of time. If you've switched insurances, the office staff will likely send you the paperwork to fill out at home and bring with you to your appointment.
DURING YOUR VISIT
Be honest
You should tell your doctor anything you are doing that may affect your health. Consider whether you're stressed at work, if you're using sleep aids and how much alcohol you drink. Don't be embarrassed by what you may have to share - your doctor has probably heard it before. If you're not sure what to say, practice it ahead of time.
Listen
Instead of going into the visit with a definitive diagnosis (after research on the internet or talking with friends), stop and listen to what your doctor says. Listen to your doctor's rationale for any diagnostic testing (or the rationale to forgo testing) and write down the recommendations discussed.
"Usually, if necessary, a plan is discussed. The plan may include tests that need to be completed, visits with other doctors, or even a symptom diary. I know that when a patient keeps a log of these tasks, we will be able to address concerns more completely."
Ask questions
If you're not sure about something, ask for clarification.
AFTER YOUR VISIT
Make sure you schedule all follow-up appointments, visits with other doctors, and any tests that were ordered soon after leaving the office. It's also important to continue your health journal so you are prepared for the next appointment.
"Continuity of care is fundamental to preventive medicine, and that means knowing when you will see your doctor next, and for what issue," says Dr. Ackerman. "Follow-up is important to monitor symptom progress, review any testing or specialist visits that occurred between visits, and to insure you stay healthy and well."
---
Next Steps and Helpful Resources