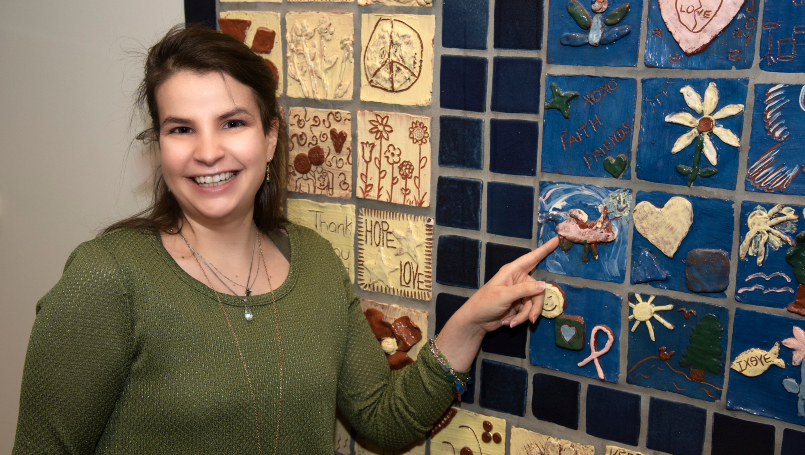 20th anniversary of the Mosaic of Hope, Joy and Community
Once a year, pediatric cancer survivor Brenna Hendler, now 28, comes to Corewell Health William Beaumont University Hospital, the new name for Beaumont Hospital, Royal Oak, for an appointment at the Long-Term Follow-Up Clinic.
"I've been in remission for more than 20 years now, but I still come to check in and receive care as a survivor," Hendler said. "It's my chance learn about any new developments that might impact my health and catch up with people who have been there for me for just about as long as I can remember."
Each time she visits, she makes a point to pass by the Mosaic of Hope, Joy and Community, an art piece that hangs in the foyer of the Rose Cancer Center. This year marks the 20th anniversary of its creation – one Hendler had a hand in helping to create as a 7-year-old cancer survivor.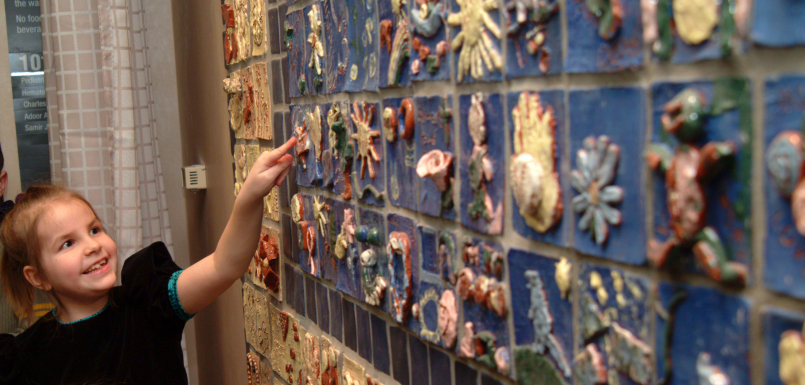 "It serves as a reminder of how far I've come," Hendler said. "Because, for me, it wasn't so much the treatment or hospitalization that I remember, but the aftermath. The transition back to the classroom was difficult. I worked really hard to get where I am today."
Brenna's back story
At 3 years old, Hendler was diagnosed with acute lymphocytic leukemia (ALL).
"I don't remember much about the early days. Afterall, I was only three," she said. "But I do remember that after two years of treatment, I had to relearn how to walk. To help me, my physical therapist would put Beanie Babies on a balance beam and have me walk in between them."
Hendler said she also remembers some key people who helped her in her recovery: her pediatric oncologist, Dr. Charles Main, who she brought to show-and-tell, and her Child Life specialist, Kathleen Grobbel, who she called "the art lady."
"Dr. Main is very personable and willing listen to patients and their families," Hendler said. "He's also very interesting, which is why I brought him to show-and-tell when I was five. I didn't have a doctor or dentist in my family, so I thought, 'Why not bring Dr. Main?'"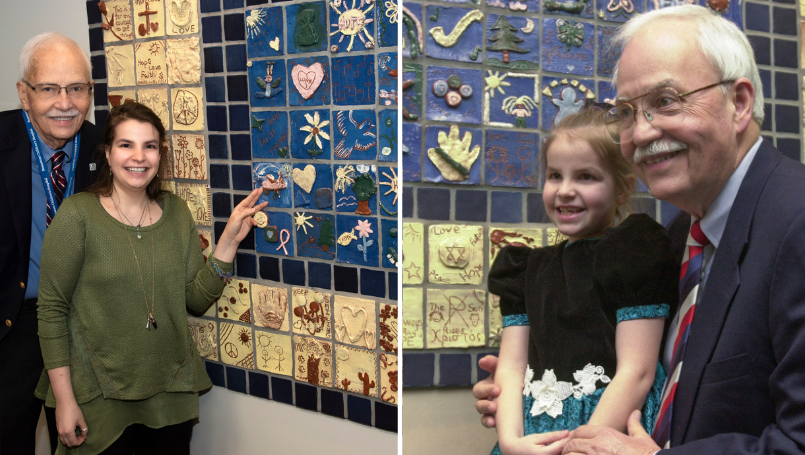 Hendler received chemotherapy and radiation and participated in a clinical trial. Her last dose of chemo was in 2000, and she has been in remission ever since.
"I started kindergarten seven weeks after my last chemotherapy treatment, and my mom told me that my teacher was bothered by the fact that I didn't fit in with her style of learning," Hendler said. "I learned a little bit slower because my mind was kind of groggy from the chemo."
Hendler said that these early educational challenges were due to some cognitive late effects from her cancer treatment.
"My mom said that I was just learning differently and at my own pace," she added. "It took time to address and overcome these early challenges, but with the help of some great teachers and the encouragement of my family and the team at Beaumont, that is exactly what I did."
Cancer-free for more than two decades, Hendler now works full-time at a childcare center in Ypsilanti as an assistant teacher.
"When I am working with the kids at the daycare center, sometimes I think to myself, 'Why is this child not doing what I'm asking?'" she said. "Then I remember myself in kindergarten. They're just learning at their own pace. All kids learn differently."
The anniversary
Reflecting on the creation of the mural 20 years ago, Hendler recalled making her tile.
"I remember making a rainbow unicorn Pegasus thing because I was obsessed with unicorns at the time," she said.
Hendler's tile, along with the other survivor tiles, is blue. The yellow tiles were created by individuals who have been touched by cancer.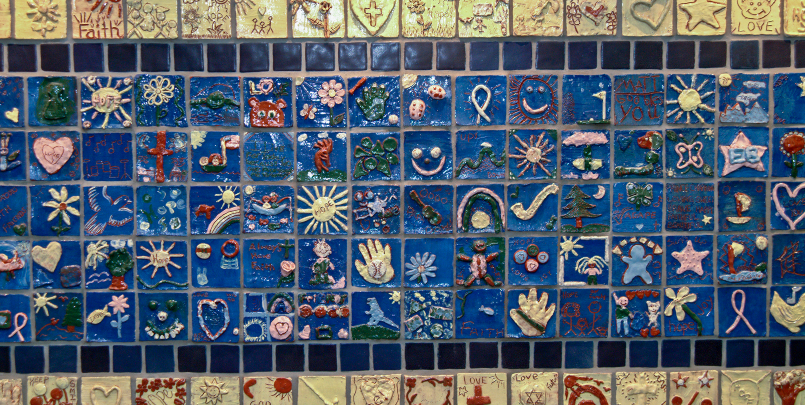 "The yellow tiles surround the inner blue tiles to demonstrate the support provided to the cancer survivors by their families and friends," Kathleen Grobbel, who is now the supervisor of Child Life Services at Beaumont Children's, said. "The goal of the mosaic was to create a community for cancer support and survivorship within the pediatric hematology / oncology population at Beaumont."
Both Grobbel and Linda Caurdy-Bess, the former pediatric social worker, wrote and received a $20,000 grant from the Michigan Association of Community Arts Agencies, which allowed the project to move forward. Gilda's Club and Pewabic Pottery in Detroit then partnered with the hospital to bring the vision to life.
When Hendler looks at the blue tiles today, she said she remembers the people who made them – some of her earliest buddies.
"The mosaic represents Brenna, but it represents a lot of Brennas," Dr. Main, former chief of Pediatric Oncology and Hematology at Beaumont Children's, said. "There are 80 blue tiles, which symbolizes 80 kids who survived cancer and went on to make a difference in this world."
The takeaway
The goal of the project was for survivors to continue to use art as a means of helping them cope with their cancer experience. This is something that rings true for Hendler who said the mosaic also symbolizes her love for art and where it all started.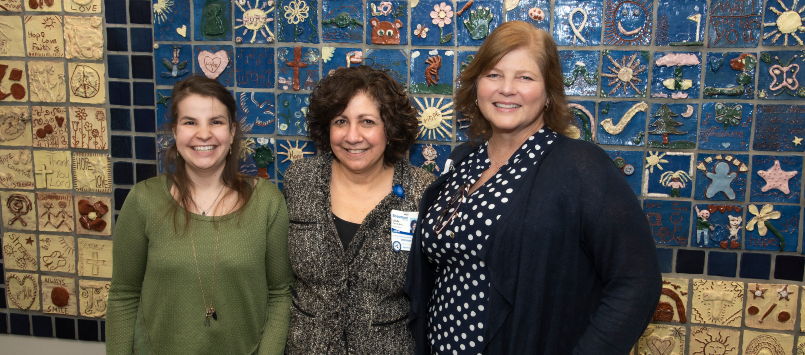 "When I was hospitalized, I had a very wonderful Child Life specialist named Kathleen, or 'the art lady,' who would come and do arts and crafts with the kids on the floor," she said. "Back then, I needed that to relax and refocus. When I'm feeling anxious or unsure about something even today, I like to do art. Art helps me."
Hendler's advice for children going through something similar: "It's hard enough just to go through cancer treatment," she said. "When you're transitioning back into the world, remember: It's OK to learn at your own pace, take time for yourself if you need it and feel frustrated when you don't seem to get things right the first time. I sure didn't. Learn to advocate for yourself and remember, it's also OK to ask for help from your family and friends."