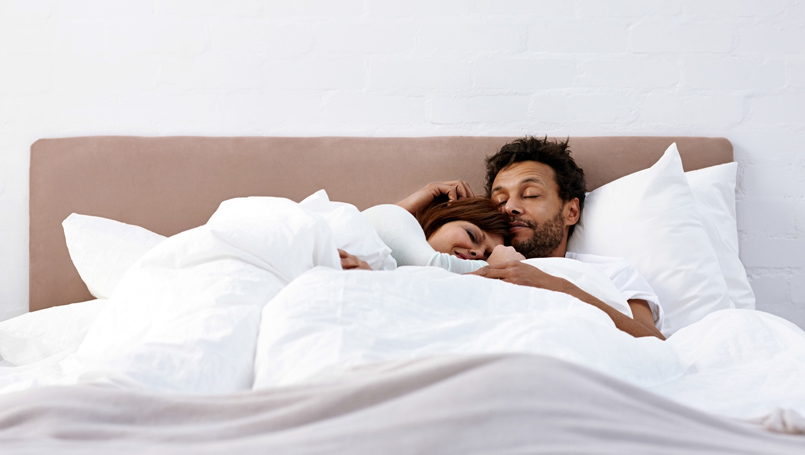 Sure, they might steal the covers or cross over onto your side of the bed, but the person sleeping next to you might also hold the key to diagnosing sleep apnea or other serious sleep disorders. Beaumont pulmonologists recommend asking them about your own sleep habits before your next annual checkup.
"It's just not practical to watch yourself sleep," says Beaumont pulmonologist Emad Alatassi, M.D., medical director of the Beaumont Sleep Evaluation Center in - St. Clair Shores. "But, the person sharing your bed every night has a wealth of knowledge that could be very valuable to your primary care physician."
At your next checkup, be prepared to answer to the following questions about your sleep habits:
Do I snore?
Do I hold my breath when I sleep?
Do I feel tired when I wake up?
Do I get morning headaches?
Do I have difficulty falling asleep?
A "yes" answer to any of these could mean you have a sleeping disorder. The sooner your doctor finds out about your sleep habits, the sooner you can be tested and, if needed, treated for the condition.
SLEEP DISORDERS
There are more than 80 known sleep disorders. Obstructive sleep apnea is one of the most common. The condition is often marked by heavy snoring and frequent interruptions in breathing during sleep. Other warning signs or risk factors include fatigue or daytime sleepiness, obesity and high blood pressure, just to name a few.
According to the American Academy of Sleep Medicine, nearly 30 million Americans have obstructive sleep apnea and about four in five moderate to severe cases are undiagnosed.
RISKS OF OBSTRUCTIVE SLEEP APNEA
The National Healthy Sleep Awareness Project notes obstructive sleep apnea is associated with increased risk of many serious conditions, including:
elevated blood pressure
resistant hypertension
type 2 diabetes
stroke
Studies have also shown people with obstructive sleep apnea are more likely to be involved in motor vehicle accidents.
SLEEP EVALUATION
A formal sleep evaluation, frequently called a "sleep test" or "sleep study," is the safest and most reliable method for diagnosing sleep-related medical conditions. A formal sleep evaluation can also reassure you and your family that your sleep patterns are normal.
Beaumont offers sleep evaluation services at locations in Berkley, Canton, Macomb, Riverview and St. Clair Shores. Some patients may qualify for a home-based sleep evaluation, formally called home sleep apnea testing or HSAT.