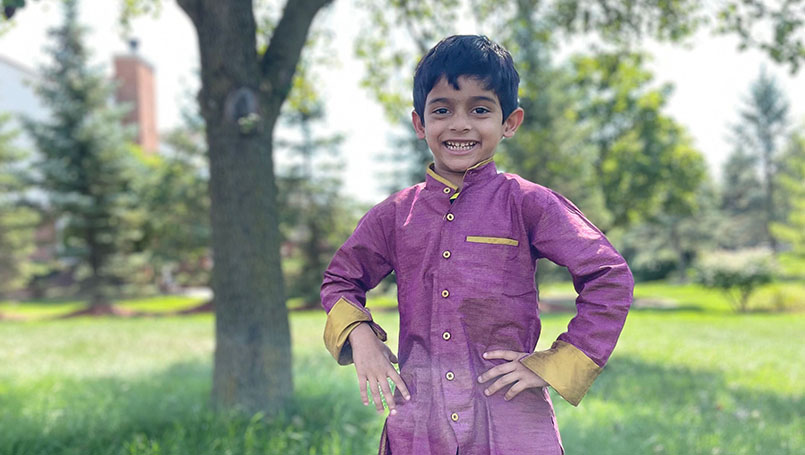 Ishaan Kiran, of Canton, is described as a happy-go-lucky 5-year-old boy – one who loves dancing and singing and is on his way to learning multiple languages.
"If somebody were to meet him today, they wouldn't be able to tell all of what he's been through," his father, Kiran Mohan, said.
And this little warrior has been through a lot, including three major brain surgeries and procedures all by the age of 3.
The back story
Ishaan has tuberous sclerosis complex (TSC), which is a rare neurogenetic condition that causes non-cancerous tumors to grow in the brain and other areas of the body, including the heart, kidneys, skin, and other major organs.
There were signs that pointed to a possibility Ishaan had TSC before birth, including an ultrasound that revealed a cashew-sized tumor in his heart. However, it wasn't until he was born that blood work confirmed Ishaan's diagnosis of TSC2. He began having seizures at about four months old.
"He would cry a lot and wouldn't sleep," his father said. "We knew there was something more going on, so my wife took a video of his spasms and showed it to the doctor, who was able to confirm he was indeed having seizures."
One seizure led to a trip to the emergency room at Corewell Health's Beaumont Hospital, Royal Oak, where the family met Dr. Danielle Nolan, a pediatric epileptologist and co-director of the Tuberous Sclerosis Complex Clinic.
"When we met Dr. Nolan, that was the first time I sighed of relief," Khushbu Patel, Ishaan's mom, said.
Dr. Nolan said Ishaan was having up to several seizures a day, wasn't responding well to medications and was experiencing medication side effects.
"He wouldn't eat because of side effects of the medicines, so he lost a lot of weight," his father said.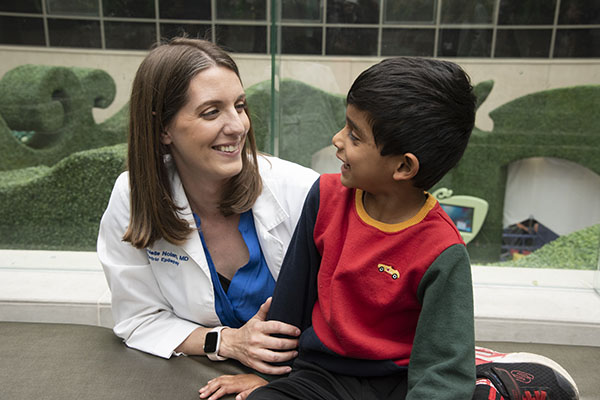 Journey to becoming seizure-free
In August 2020, Dr. Nolan and her team performed a stereotactic-EEG (sEEG), a minimally invasive procedure where electrodes were placed directly in Ishaan's brain to identify precisely where epileptic seizures start. They placed 22 electrodes and monitored him closely for five days.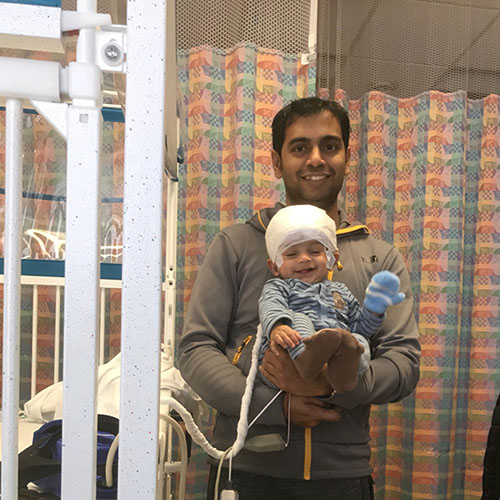 "Ishaan has an innumerable number of tumors in his brain, but with the sEEG, we were able to identify two TSC-related cortical tubers (brain lesions) that were the cause of his seizures," Dr. Nolan said.
From there, Ishaan underwent two separate brain surgeries to remove the tumors causing his seizures.
Fast forward to today: he is now seizure-free and only takes one medication.
A new Ishaan
"We'll have to monitor Ishaan his entire life but he's on a good track," Dr. Nolan said. "Before the surgeries, he wasn't making a lot of developmental progress and had very minimal speech. Now, he's really flourishing and has had a really good explosion of language."
Ishaan's parents agree. They said he is leaps and bounds beyond where they ever thought he'd be.
"He's in kindergarten in a special education program, and we just met with his teacher, and he met his goals," his mother said. "He's very social. He has friends!"
His father added, "He even shows interest in learning multiple languages. He tries to communicate with mom in Gujarati and with dad in Tamil and Telugu. He has many interests and tries a lot to overcome his delays due to TSC. Our Ishaan has shown a lot of progress, and we believe one day he will be at the level of his age."
Advice to other parents
In recognition of TSC Awareness Month this May, Corewell Health will have a TSC Family Fun Gathering at Corewell Health's Beaumont Hospital, Royal Oak, on Friday, May 19.
This annual event brings together families and children who are impacted by TSC to offer a sense of community, something Ishaan's family believes is so important.
"Acceptance is key, along with doing whatever you can to get the best help for your child," Ishaan's mother said. "For us, a big part of that was talking to other families who have been through it. Their experience has helped us a lot. Every child has a different journey, but it was helpful to connect with other moms, so we knew what to watch for and what to ask. Trust your gut."
For more information, visit the Tuberous Sclerosis Complex Clinic in southeast Michigan.