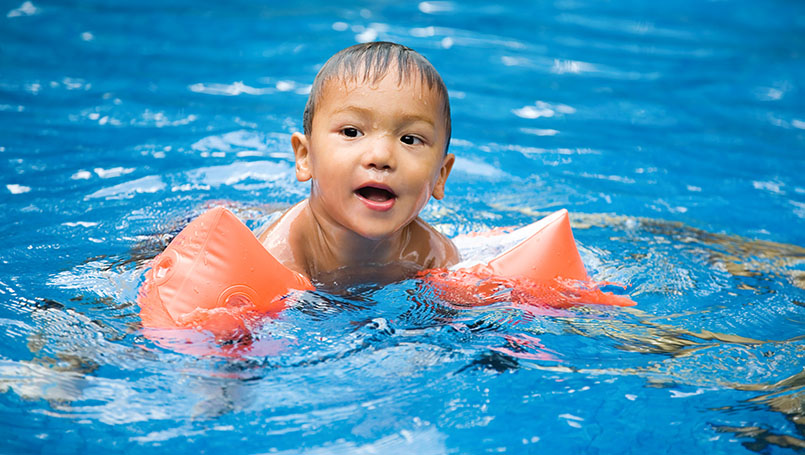 Minimize swimming dangers by following these tips.
It's summer time to enjoy the pleasures offered by Michigan's lakes, community swimming pools and backyard pools.
But mind these precautions to ensure water adventure stays safe.
While children run off to splash and play, parents and caregivers need to take the lead practicing water safety.
The danger is real, according to Kelley Miller, injury prevention coordinator at Corewell Health's Helen DeVos Children's Hospital.
Drowning is the leading cause of injury-related death for children ages 1-4 and the third leading cause of death for all kids and teens under 19.
No matter how skilled children are at swimming, care must be taken to prevent tragedy.
Water safety tips
Miller offers a few tips that could save a child's life:
All children should learn how to swim. Enroll them in age-appropriate classes that fit their skill level.
Keep an eye on all children when in the water. Younger children and weak swimmers should be within an arm's reach of an adult. Older or more confident swimmers should always swim in pairs–never alone.
Name a "water watcher," especially when many people are present. Don't assume that someone else is looking after the swimmers. Switch watchers every 15-20 minutes to keep fresh eyes on the kids.
Kids should adopt water survival skills. When stepping or jumping into water over their head, return to the surface promptly. When in the water, turn around to orient themselves to float or tread water safely; combine breathing with forward movement while in the water and when getting out.
Teach children the difference between swimming in open water and a pool. They should be aware of additional challenges, such as limited visibility, depth, currents, and undertow in open water.
Appropriate apparel
Brightly colored swimwear, especially neon or fluorescent colors, can make children more visible when in the water. Avoid blue, black, grey, white or any color that can blend in.
Children should always wear a U.S. Coast Guard-approved life jacket in open water or when boating. Young children and weaker swimmers should wear a life jacket any time they are near water, Miller said.
Ready to rescue
Miller said parents trying to be proactive about water safety can learn basic water rescue skills and CPR.
Summer goes quickly, so enjoy the warmer weather but be sure water safety is a top priority.
Find a pediatric provider at Beaumont Children's at 855-480-5437.