Thursday, November 16, 2023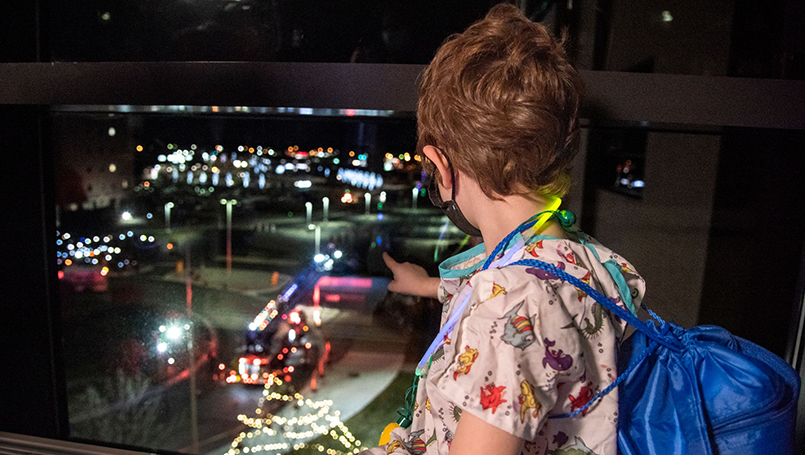 Beaumont Children's is preparing to light the night for its littlest patients with its beloved holiday tradition, "Moonbeams for Sweet Dreams," Dec. 8-23 at Beaumont Hospital Royal Oak, a part of Corewell Health.
The community is invited to support pediatric patients and their families who find themselves in the hospital during the winter holidays. At 8 p.m. sharp, for 10 minutes each night, friends and neighbors of all ages will show their support by shining beams of light up to the windows of the pediatric unit.
Pediatric patients return the festive glow with flashlights of their own. The event was conceived to raise the spirits of children who might feel isolated or have difficulty settling in for a good night's sleep during the winter holidays.
"We are proud to offer this extraordinary experience to our patients and their families," said Moonbeam's co-leader, Lisa Muma, RN "Through the community's incredible and heartwarming efforts, patients, families and even members of our health care team feel cherished and supported during what might otherwise be an isolating time."
This year, the Moonbeams team is working with local organizations to provide a sensory-friendly version of the traditional Moonbeams experience for children and adults who may be sensitive to stimulation.
"As caregivers, we recognized that the flashing lights and booming sounds that often come with our traditional Moonbeams event precluded an audience who would not only enjoy participating but have so much to offer our patients," said Kathleen Grobbel, Moonbeams co-leader and manager of the Child Life program at Beaumont Children's. "Making the magic of Moonbeams available to our entire community is important. And this was one way we thought we could help achieve that."
During the low-sensory, pre-event on Dec. 7, there will be a support table with stress balls, fidget toys, ear plugs and colored paper to cover flashlights to help individuals with special needs enjoy the event. If you or someone you know is interested in participating and could benefit from a calm environment, please email lisa.muma@corewellhealth.org.
Attendees are asked to arrive by 7:45 p.m. to leave time for parking, and carpooling is recommended. Participants should gather on the sidewalk near the Medical Office Building and across from the east entrance. Buses and groups of 10 or more are asked to register online.
Parking is also available in the small parking lot across from the north parking deck and just east of the Medical Office Building on the Beaumont Hospital Royal Oak campus.
From the 13 Mile Road entrance, follow the blue signs toward the north parking deck and park in the lot across from the parking deck entrance. Additional parking is also available near the Coolidge Highway entrance and at the Neuroscience Center.
Reminders:
Do not attend when experiencing symptoms of cold, flu or COVID-19.
Do not bring drones or laser pointers.
Only use restrooms located in the Medical Office Building, not the main hospital.
Moonbeams for Sweet Dreams launched in 2017 at the suggestion of the Beaumont Children's Pediatric Family Advisory Council, and the Child Life program at Beaumont Children's is funded by the community through Children's Miracle Network Hospitals.
For additional information, visit beaumont.org/moonbeams.