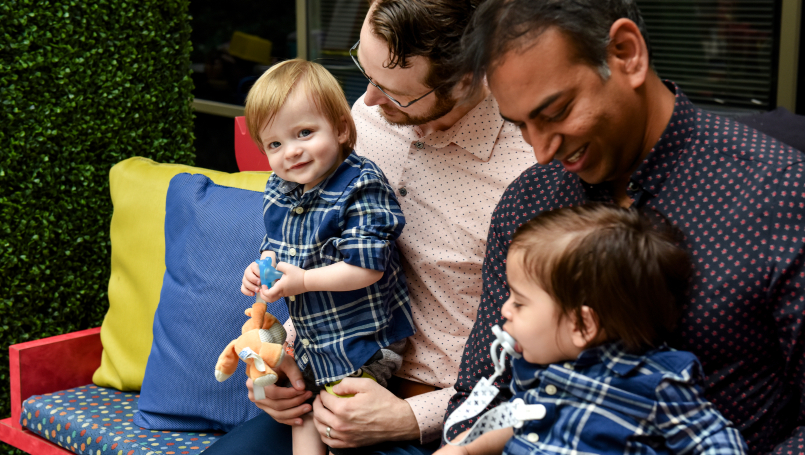 When partners Ryan Lucas and Dhaval Jain of Royal Oak take their 13-month-old sons out and about, strangers often ask: "Are they twins? They look so different."
The couple smiles and uses the opportunity to share their story.
Jain moved to the United States from India in 1999 to study mechanical engineering at Wayne State University. Lucas, originally from Lansing, studied mechanical engineering, at Michigan Tech. They met in Royal Oak in 2013 and their shared career interests and dreams to build a family quickly drew them together.
While Lucas is the genetic father of one twin and Jain the genetic father of the other, both boys have the same genetic mother, an egg donor. Their surrogate, a different person from their egg donor, was selected based on her willingness to carry both boys at the same time and maintain a relationship with them after birth.
"Kailer and Kiyan are half-brother twins," Jain said. "Sharing our family's love story is very important to us. It's an opportunity to increase awareness and acceptance for our boys and give hope to other gay men who want to have a family."
Harnessing that same sense of openness, Lucas and Jain, both of whom work in the automotive supply industry, selected Corewell Health's™ parenting classes based on the inclusive nature of its messaging; the pair participated in the Baby Care and Safety class, New Parent Prep course and the virtual Parent Connection Group.
Offering appropriate education and support in a safe and comfortable environment is part of Corewell Health's mission, said Maribeth Baker, manager, Parenting Education and Support, Beaumont Hospital, Royal Oak.
The husband and husband team is looking to explore additional resources at Corewell Health's Come Grow with Us: Baby and Child Health Fair June 24 at Beaumont Hospital, Royal Oak.
"A lot of parenting classes are mom focused," said Jain. "We were interested in education that was most beneficial to our family."
The couple found the Parent Connection group particularly useful.
The group of about seven couples with similarly aged children meets with a licensed counselor and trained parent volunteer to explore the demands of parenting during the first few months and focuses on the importance of effective communication between partners.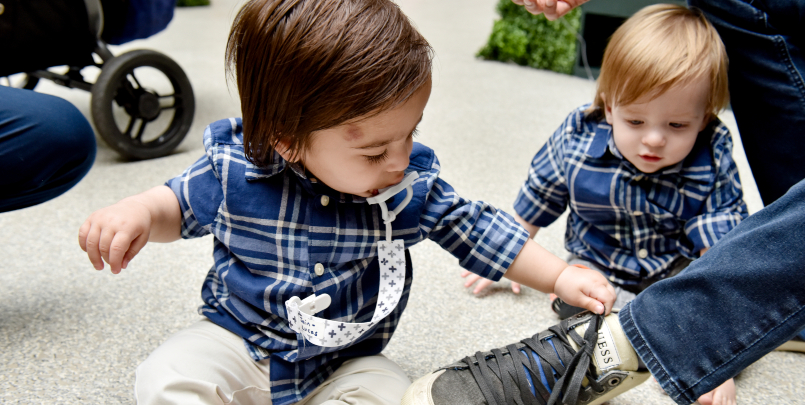 "It allowed us to build a mini-community," Lucas said, adding that the group still gets together regularly -- including this past Saturday morning at their home -- to share lessons learned, support and friendship.
Parent Connection members were especially helpful in extinguishing first-time parent doubts, particularly when the twins reached standard milestones at different stages.
"From their hair and eye colors to their personalities and even how much they like to eat, cry and laugh, our twins are quite different," Jain said. "It took us several months to truly recognize and embrace that. When it came to standard milestones, crawling, eating, walking, it was difficult not to compare. Which, in the beginning, was a constant source of anxiety. Other parents kept reassuring us this was normal. Each child, even as twins, develops at their own pace. Now we try to help other parents to look at things this way, too."
Exchanging tips on practical matters was another natural evolution of Parent Connection, Jain said – he and Lucas improved their home baby-proofing plan with help from the group and shared valuable information on the importance and availability of gas detectors.
In addition to information about parenting classes, Baker said, attendees will learn about the Karmanos Center for Natural Birth, comfort measures during labor, post-partum support resources, safe sleep for infants, care seat safety demonstrations, newborn screenings and yoga therapy, among other things. Beau the Bear, and members of the Corewell Health therapy dog and art therapy teams will also be present.
"The Corewell Health team is guided by the belief that health and well-being should be within reach for everyone," Baker said. "Our values of compassion and collaboration are evident in our educational and support programs and the resources we will be showcasing at the fair."
As the foursome looks toward celebrating their second Father's Day as a family, Lucas and Jain are keenly aware of all they have to be thankful for.
Their message to other dads: Cherish the joys and challenges of parenthood while still making sure to take time out for yourself and your partner.
"There will be many trials and tribulations in both becoming a parent and being a parent," Lucas stressed. "Through the difficulty, be patient, be present. And love."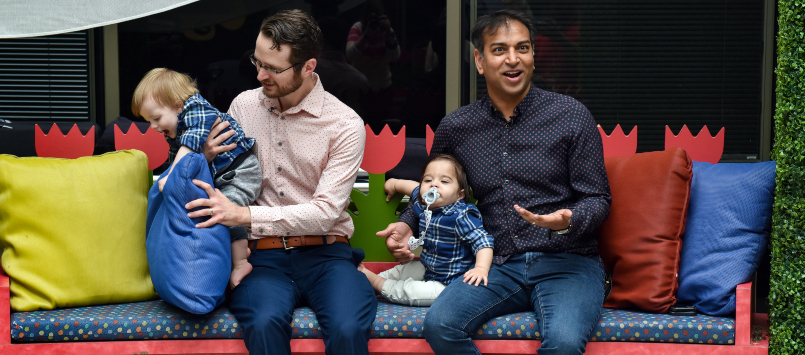 ---
Come Grow with Us: Baby and Child Health Fair
The Corewell Health Come Grow with Us: Baby and Child Health Fair is being held June 24, 11 am to 2 pm at the South Entrance of Beaumont, Royal Oak.