Wednesday, August 21, 2019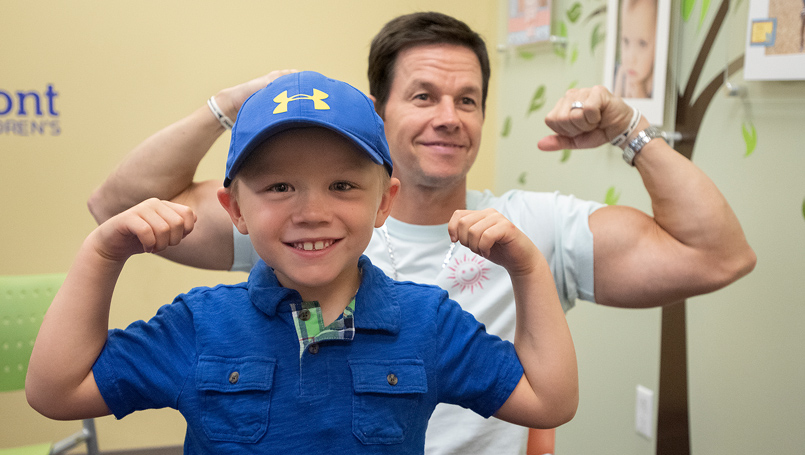 When Hudson Brown, 6, finished his proton treatments in April 2018, his parents, Megan and Pat, wanted to celebrate the milestone in a special way.
A yellow and black Challenger and caravan of Camaros drove the Transformers fan and his family to Beaumont, Royal Oak where he rang the end-of-proton-treatment bell and watched a short message from Transformers actor Mark Wahlberg, who said he looked forward to meeting Hudson in person.
Yesterday, Mark and Paul Wahlberg fulfilled that promise with a visit to Beaumont Children's before a VIP celebration at Wahlburgers at Woodward Corners by Beaumont.
Hudson and his sisters came prepared with questions about Bumblebee's height and how they used a green screen to film. Doctors shared with Mark, Paul and the media that Hudson's recent MRI was clean.
The visit couldn't be complete without Mark and Hudson showing off their strength and bravery with a muscle picture. The brothers were then escorted to the pediatric play room where they delivered Transformers toys from director Michael Bay and met pediatric patients.
At the Wahlburgers event, Carolyn Wilson, Beaumont Health executive vice president and chief operating officer, announced that the restaurant had raised more than $1,150 for Children's Miracle Network Hospitals.
"We are so grateful for the generous support the Wahlberg family has already provided to our patients and families," she said.