Wednesday, April 12, 2017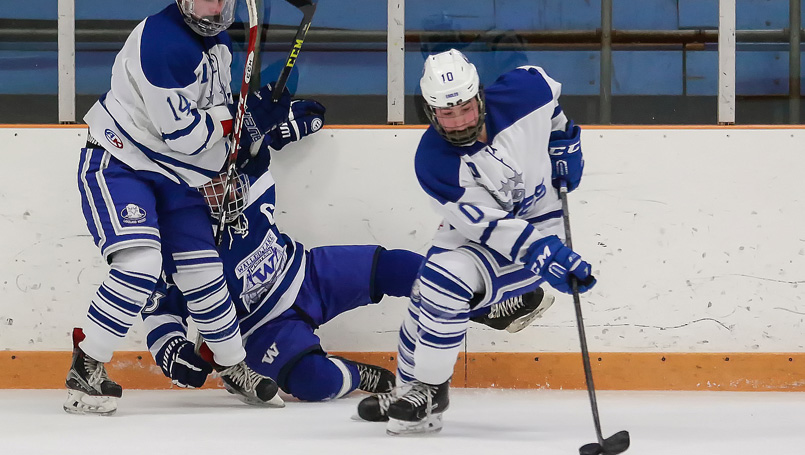 At 14, Jared Behmlander, of White Lake, received the news. Medical tests confirmed: childhood acute lymphoblastic leukemia, a cancer of the blood, and one of the most common form of cancer in children.
The oldest of three siblings, Jared, would soon be a sophomore at the Huron Valley Schools' International Academy. The honor student and athlete began what would become more than three years of chemotherapy.
And through it all, Jared credits his peers. "My friends are my support," he said.
Quiet strength
Conversely, his family, friends, teachers and coaches admire Jared's quiet strength and positive attitude. He learned to manage his new lifestyle with regular trips to Beaumont Children's for chemotherapy, while taking oral medications at home. He did his best to cope with nagging side effects: fatigue and nausea. While he missed many weeks of school during his sophomore year, tutors helped him keep up.
Along with a passion for learning, Jared loves playing hockey. It began at Lakeland ice arena at age 5 and today, at 17, the Lakeland High senior recently wrapped up his final season of high school hockey.
Despite fatigue from chemotherapy treatments, Jared made every attempt to participate in hockey practices and games – even on the same day as a treatment.
"I could tolerate it for hockey," said Jared.
'Never quit'
Lakeland assistant hockey coach John Cigna, told HometownLife, " … if we put together a poster that said, 'Never quit,' Jared would be the poster child right underneath that thing because he's always got a positive attitude. He works really hard …"
Jared's doctor, Kate Gowans, M.D., chief, Pediatric Hematology and Oncology, Beaumont Children's, explained, "Going through cancer treatment at any age is difficult, but for our teenaged patients, it presents unique challenges. Among others, there are body image issues, fears of losing touch with friends due to missed school, social activities and struggles to keep up with schoolwork. Throughout his treatment, Jared has shown such composure. He is a bright and level-headed kid who is a pleasure to know."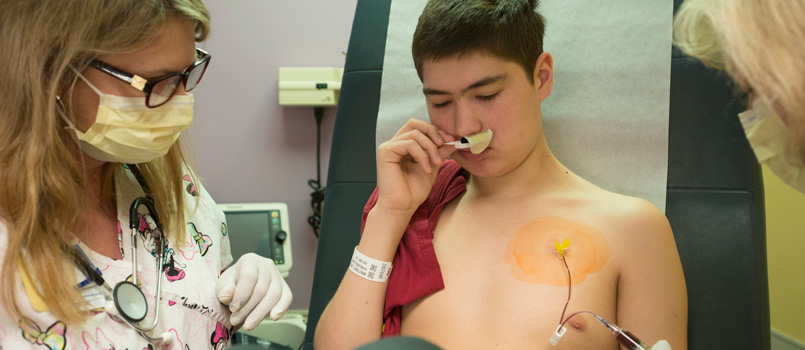 Looking ahead
His mother, Tracie, said, "A lot of kids Jared's age live in the moment, but he is the type of soul who looks to the future. He likes to prepare. He prepares after treatment. He has the ability and maturity to see beyond the present."
After two years at International Academy, Jared transferred to Lakeland High School to graduate with his friends and teammates.
Tracie added, "He had every excuse to be home-schooled, but he took ownership of his education and decided to complete his high school education at Lakeland."
After graduation, Jared is excited to begin attending Michigan Tech in August. Then, he hopes his next milestone will take place in November - his final chemotherapy treatment.
Tracie said, "I have total trust in the oncology team at Beaumont Children's. They embraced our family and gave us peace of mind. Jared has received wonderful care."
Perseverance Award
In March, Jared was pleasantly surprised and honored to be one of two Michigan high school hockey players to be named winners of the Perseverance Award. His parents, including dad, Darren, were exceedingly proud. Jared had been nominated by Tim Ronayne his head coach. He was also named to the All-State Academic Team.
Dr. Gowans added, "Jared has been emotional at times, but was never caught in a 'woe is me' rut. He quickly picked himself back up and said let's keep this going. I always love it when a patient is itching to get back to their physical activities like Jared. He has skated many a time with very low blood counts! It's good for the soul and even better for the body."