Wednesday, December 11, 2019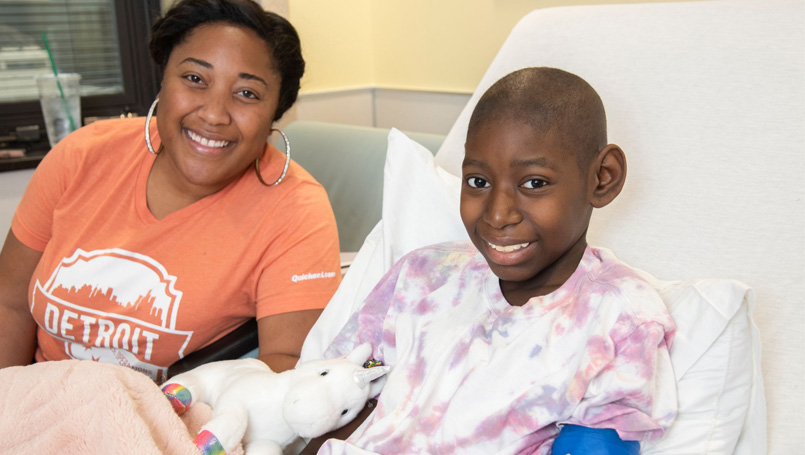 Home for Christmas, back to school - fingers crossed - in January
High school student Breana Ware, now 15, of Southfield, was running track, participating in middle school cheer and enjoying life with friends and family back in 2016. Then, she thought she had a stomach virus. It turned out to be an aggressive form of cancer.
Since diagnosis, Breana's cancer, a Wilms tumor, has returned three times. Typically, Wilms starts in the kidneys, but has the potential to spread throughout the abdomen.
The first year, the disease took Breana's right kidney. Each time it returned, Breana battled back with every resource available, from surgery to chemotherapy, fueled by her gentle, but indomitable spirit.
Now, Breana's surgeon, Dr. Anthony Stallion, has a new tool to fight the cancer. On Oct. 31, she became the first pediatric patient at Beaumont Children's to have Hyperthermic Intraperitoneal Chemotherapy, also known as HIPEC, or "heated chemotherapy."
HIPEC aims to extend the time between recurrence of the disease. With this procedure now under her belt, Breana is looking forward to spending the holidays at home. And crossing her fingers - and her freshly manicured toes - it will allow her to return to school in January. She hasn't physically been to Oak Park High School since September of 2018.
"I'm definitely ready to be back," Breana said softly.
During the 15-hour surgery, all visible cancer tissue is surgically removed. Next, the team delivers heated chemotherapy at 106 degrees Fahrenheit, directly to the abdominal cavity for optimum penetration. During this phase, the patient lies on a cooling blanket to regulate body temperature.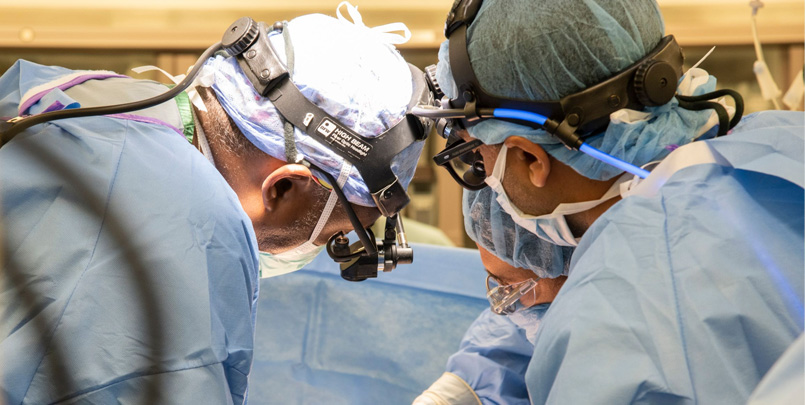 So far, adult patients treated with HIPEC at Beaumont have done very well, Dr. Stallion said.
"It's a blessing to have the resources and support of health system administration to be able to offer this option to our pediatric patents for therapy and long-term treatment," he said.
Most common in younger children, Wilms becomes increasingly aggressive in later onset.
"Based on her history, HIPEC was the best course of action to prevent the cancer from coming back," Dr. Stallion said. "She will have two rounds of chemotherapy before Christmas and we'll check back in three and six months."
A calm and prayerful person, Breana's mother, Rodneca Gossett, is cautiously optimistic.
"We've been fighting this fight for three years," Gossett said. "We're kind of used to it. Breana is a tough cookie. She is pretty much a modern-day miracle. That said, I know whatever will be will be."
Breana herself has been busy since the surgery.
One of the first things she did was get a pedicure with her grandmother.
She and her 14-year-old brother, Jordan, like playing video games together and five-year-old Chandler loves when she helps him with his homework.
Sleepovers and online shopping have also been a part of her itinerary. But kindling her bond with the Child Life staff at Beaumont Children's is one of Breana's favorite things to do.
"Breana is very curious about her condition," Gossett said. "She is always looking at the IV bags, asking 'What does this mean?' I told her: 'I wouldn't be surprised if you became a pediatric doctor!' and she said, 'No, I want to be a Child Life specialist.'"
"The Child Life specialists remember each patient and are so kind and fun and genuine," Gossett explained. "They bring comfort. They ease worry. They are just amazing to me!
"Whenever Breana is in a funk or having an attitude - 'I'm 15, why is this happening to me' - they know what to do," Gossett said.
The Child Life staff make sure she has lip balm on her face mask, appropriately scented anesthetic gas during all surgeries - vanilla - and a friendly shoulder to lean on during long days in the hospital.
"She's especially close with (Child Life specialists Rose) and Holly, the music therapist. She and Holly share the same taste in TV shows. Rose, Holly and the others...they're like Breana's hospital girlfriends. It's pretty special."
When Holly Platis first met Breana, Breana rarely agreed to leave her hospital room.
As the pair bonded over shared interests, including "Say Yes to the Dress,"; "The First 48" and "Four Weddings," the petals of Breana's personality opened like a flower, Platis said.
"Mostly, Bre and I chat about her favorite music. It doesn't come out right away, but she has this sweet and funny sarcasm. That's what I admire. Breana's been through so much - but she can still make people laugh and smile. Our entire team is super excited about the progress she's made - both physically and emotionally."