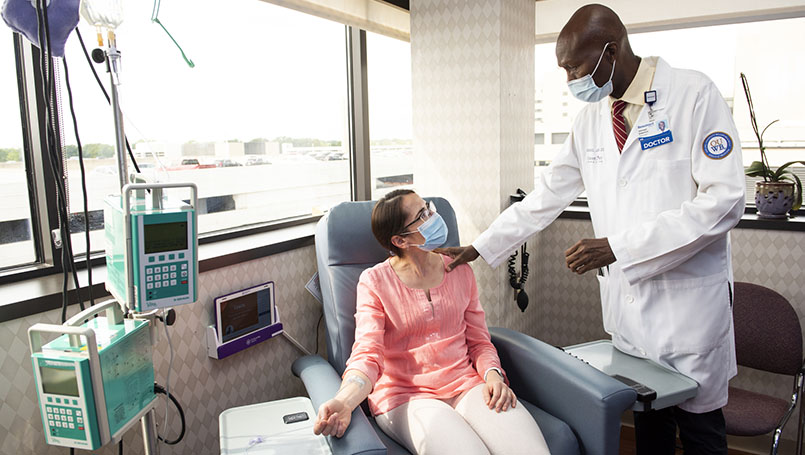 CAR-T therapy uses patient's immune system to destroy cancer cells
Beaumont Hospital, Royal Oak, now offers the advanced immunotherapy Chimeric Antigen Receptor T-cell therapy, or CAR-T therapy, for patients with certain types of blood cancer.
CAR-T therapy harnesses the patient's immune system in the fight against cancer. It helps the patient's T-cells – white blood cells that protect the body from infection or disease – recognize, attack and destroy cancer cells.
"Having CAR-T therapy at Beaumont Hospital, Royal Oak, benefits our community and our patients through increased access to novel cancer therapy," Dr. Ishmael Jaiyesimi, the Cellular Therapies Clinical Program director, said. "Now that our patients can get this complex form of immunotherapy close to home with the support of friends and family, it will hopefully reduce emotional stress."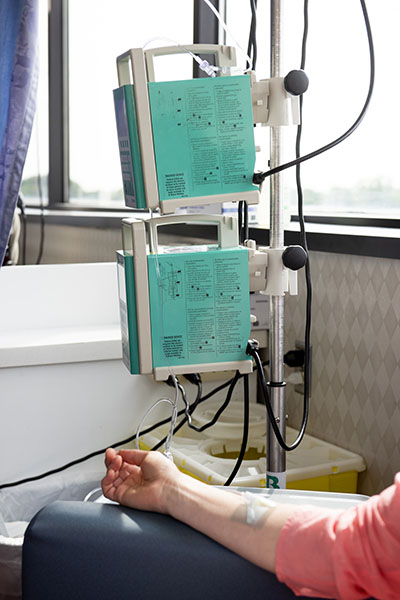 During this customized cancer treatment, the patient's white blood cells are removed from their bloodstream through a process called apheresis. Using IVs, their blood passes through a machine that separates out white blood cells and returns the remaining components to the patient. The millions of T-cells removed from the body are then genetically modified by adding a Chimeric Antigen Receptor or CAR, which arms the cells with a GPS-like ability to navigate to cancer cells. The T-cells are then infused back into the body, enhanced with the greater ability to recognize, target and destroy cancer cells.
"This new approach helps support Beaumont's mission of providing continuity of care and top-notch quality cancer care in a safe environment," Dr. Jaiyesimi added.
CAR-T therapy is the newest innovation in the treatment of blood cancers that are not responsive to traditional treatment. The first CAR-T therapy was FDA approved in 2017 and since then has continued to expand across many kinds of blood cancer. The treatment is now used to fight hematologic malignancies, including refractory/relapse diffuse B-cell malignant lymphomas, follicular lymphomas, mantle cell lymphomas, multiple myelomas and acute lymphoid leukemia in young adults.
The treatment has lasting effect due to the CAR T-cell's ability to continue to replicate within the body for months to years after the initial infusion. Patients who responded to CAR-T therapy reported a meaningful increase in quality of life in certain areas such as general health, mental health, vitality, and physical and social functioning.
Beaumont is armed with the latest, most innovative, technological advances and expertise to lead in the fight against cancer. Along with CAR-T therapy, Beaumont offers proton therapy, a high-tech alternative to X-ray radiation that offers greater precision to destroy cancerous cells, sparing adjacent healthy tissue with fewer side effects.