Wednesday, August 30, 2023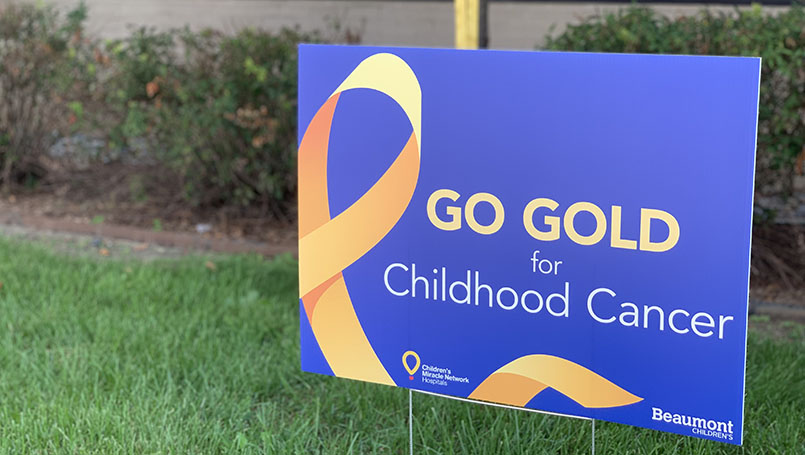 Join us in raising awareness and celebrating our kids
Beaumont Children's is going gold this September to celebrate patients and families and raise awareness about pediatric cancers during Childhood Cancer Awareness Month.
Some activities include:
Placement of more than 500 gold ribbons on trees and yard signs at Corewell Health's Beaumont Hospital, Royal Oak, Woodward Corners and Corewell Health's Beaumont Hospital, Troy. Gold ribbons and signs will also be placed at some patients' homes and schools
Gold superhero capes and "Go GOLD" T-shirts will be given to current pediatric oncology patients
Golden photo booth in the Pediatric Oncology office where patients, families and staff can take photos to share and raise awareness
Our hospital signage at Corewell Health's Beaumont Hospital, Royal Oak, on 13 mile is lighting up GOLD for childhood cancer awareness
"Survival rates for pediatric cancers have improved significantly over the past 50-plus years," said Dr. Kate Gowans, chief, Pediatric Hematology and Oncology, Beaumont Children's. "Today, innovative treatments, like proton therapy and molecularly targeted therapy, provide more tools to battle childhood cancers and increase survival rates. Corewell Health's Beaumont Hospital, Royal Oak, was the first hospital in Michigan to treat pediatric patients with proton technology."
Dr. Gowans added, "Since the integration, we have treated nearly a dozen pediatric oncology patients from the West side of the state with proton therapy here in Royal Oak."
Facts about pediatric cancers:
Cancer is the No. 1 cause of death from disease among children
1 in 285 children will be diagnosed with cancer before the age of 20
About 9,910 children in the United States under the age of 15 will be diagnosed with cancer in 2023
Thanks to better therapies, more than 80% of U.S. childhood cancer patients now become long-term survivors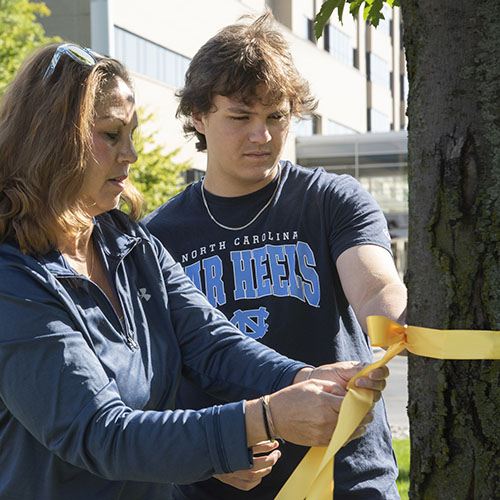 "Our pediatric patients may finish their cancer therapy and treatment care plans with us, but we don't stop caring," said Dr. Gowans, "One of the things we take pride in is our Pediatric Long-Term Follow-up Clinic that follows our childhood cancer survivors into adolescence and adulthood."
The clinic opened in 2008 to study and treat possible delayed effects of pediatric cancer, including cardiac and respiratory issues, vision and hearing problems, learning disabilities and delayed growth and development. It also aims to help patients and their families with medical issues as well as concerns related to educational access, insurance and employability. The multidisciplinary team includes a pediatric oncologist, pediatric oncology nurse navigator, pediatric social worker, child psychologist and clinical dietitian. Clinic founder and cancer specialist, Dr. Charles Main, helped create the Charles A. Main, M.D., Pediatric Cancer Survivor Scholarship Fund as a source for college scholarships funded by years of community donations.
Another multidisciplinary program, The Gilbert Family Adolescent and Young Adult Program, provides medical specialists, psycho-social services, financial resources, academic and mentor support for adolescents and young adults ages 15 to 26. Patients with cancer, blood disorders or other tumor-related conditions may have special needs that might not be met solely through pediatric or adult cancer care. The Gilbert gift bridges those gaps with specialized programs housed in the Skandalaris Family Center for Children with Cancer and Blood Disorders.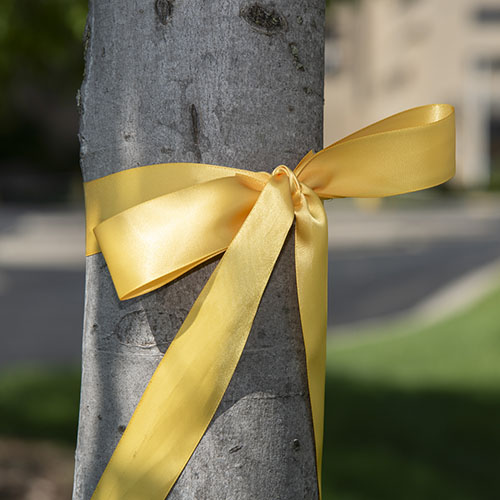 "We've made great strides, but the fight against childhood cancers is far from over," Lisa Muma, RN, coordinator of Childhood Cancer Awareness Month at Corewell Health in Southeast Michigan, said. "By placing gold ribbons and yard signs on our hospital campuses and across the community, as well as our social media efforts, we're working to raise much-needed awareness about childhood cancer. Our children fight so hard every day and they, along with their families, deserve to be honored and recognized this month and beyond."