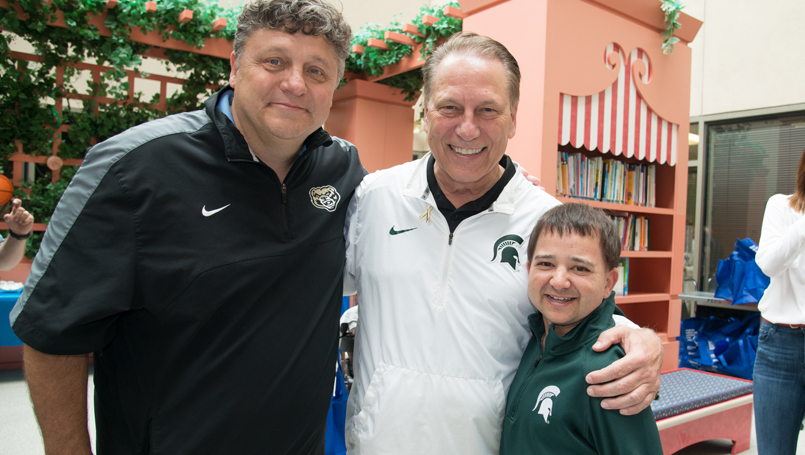 A leader like Michigan State basketball coach Tom Izzo never gives up. Never stops motivating. Never lets the enemy win.
Sports fans know Coach Izzo's story and celebrate his success. He's a role model.
But, most are not familiar with Izzo's greatest fan. A fan who spent his time at MSU attending nearly every game in the "Izzone" student cheering section. A fan who wasn't expected to celebrate his third birthday.
A rare, aggressive cancer called neuroblastoma invaded Jeffrey Astrein's body when he was just 2 ½ years old.
"Most of my doctors do not know why I'm still alive," Astrein said. "I never give up."
Now, Astrein has both an undergraduate and master's degree from Michigan State University. His parents will squeeze 30 candles on his next birthday cake.

But, cancer hijacked his childhood, preventing him from playing outside, causing him to miss days and weeks of school and forcing him to undergo multiple surgeries and aggressive treatment.
"I didn't have the same childhood or quality of life as other people," Astrein said. "It was a hardship and a burden to overcome, but every step gave me more confidence."
A team of people have supported him throughout his life: doctors, nurses, parents, family members.
"Jeffrey and his family are amazing and so resilient. They meet every obstacle with a positive attitude and move forward," Lisa Muma, RN, Beaumont Children's pediatric oncology nurse navigator said. Muma has treated Astrein since his diagnosis in 1990.
Even with all that support, life hasn't been easy. Some people have not been nice. Those people inspired Astrein to pursue a career in public policy to prevent others from facing the same hardships that caused him so much unnecessary pain.
"I accept what I can't change. I can't change what happened in the past, but I can change the future. I can set my goals and determine what path I want to go," Astrein said.
Throughout his time at Michigan State, Astrein idolized Izzo. Now, Coach Izzo is admiring his own fan.
"Jeffrey is one of my heroes. What he has done is more courageous than what any of my players do on the basketball court," Izzo said. "My players love, respect and admire him because he has a great attitude and never gives up."
Coach Izzo and Jeffrey Astrein were recently reunited at the American Cancer Society/Beaumont Children's "Coaches Beat Cancer" event organized by Oakland University Coach Greg Kampe.
Jeffrey is one of my heroes. What he has done is more courageous than what any of my players do on the basketball court.

Coach Izzo
During that event, Astrein talked with children who are currently fighting the cancer battle he has already won.
"I told them they can beat cancer. If I can do it, they can do it," Astrein said.
---
Coaches Beat Cancer
On June 5, 2017, numerous basketball coaches and sports media journalists came to Beaumont Children's to lift pediatric patients' spirits and raise money for pediatric cancer treatment.

Included in this event were:
Rick Barnes - University of Tennessee
Mick Cronin - University of Cincinnati
Fran Faschilla - ESPN (former St. John's and New Mexico coach)
Chris Holtmann - Butler
Tom Izzo - Michigan State University
Greg Kampe - Oakland University
Steve Lavin - Fox Sports (former UCLA and St. John's coach)
Frank Martin - University of South Carolina
Bill Raftery - CBS Sports (former Seton Hall coach)
Stan Van Gundy - Detroit Pistons
Kevin Willard - Seton Hall