Wednesday, August 02, 2023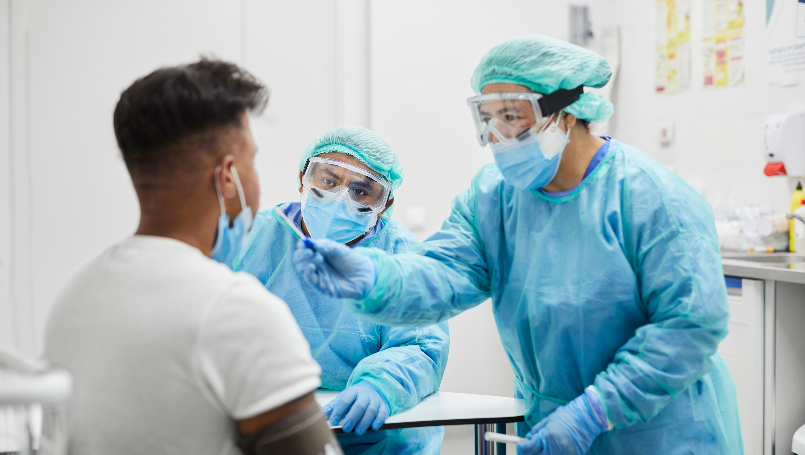 Earlier this summer as COVID-19 case numbers were low and vaccinations were trending upward, it seemed as if we were able to finally take a breath. Many restrictions were lifted including mask requirements and gathering sizes, and it felt like we were getting back to pre-pandemic normal.
Then along came the Delta variant.
First identified in India, this highly transmissible variant (nearly twice as contagious as previous variants according to the Centers for Disease Control and Prevention) is now believed to be the dominant coronavirus strain in the U.S. As new cases and hospitalizations rise across much of the country, Delta has quickly changed the pandemic conversation as the scientific and medical community discuss new concerns.
It's more contagious
The Delta variant is known to be much more contagious than previous strains of coronavirus and has the ability to cause twice as many infections. Research suggests it may pass larger amounts of the virus in the air, making it easier to spread to more people, and it enters a person's respiratory system more easily - meaning it takes less time to become infected.
Children and back to school
As we learn more about the Delta variant, concerns are growing around children and their vulnerability. While studies show the Delta variant does not target children more specifically than previous strains of coronavirus, those who are unable to get vaccinated are more vulnerable because of how easily it spreads.
This has caused a lot of controversy about how we should safely send our kids back to the classroom this school year. Their safety will rely heavily on those around them and the precautions their families are taking to prevent the spread of coronavirus.
"Masks, distancing and vaccines are all tools in preventing COVID. Any one of them will do some good, but like hats, boots and gloves, they work most effectively when used together," explained Dr. Justin Skrzynski, Beaumont COVID-19 hospitalist. "As cases rise, we need to use every tool available to protect our children, including vaccinating older kids. Finds answers to your questions with credible sources: talk to your doctor for information on getting the whole family vaccinated when eligible."
It may make you sicker
Recent studies show Delta may cause more severe illness than previous strains in unvaccinated people. This is once again putting a stress on hospitals and front-line care givers.
Dr. Skrzynski added, "As COVID cases rise again, a new pandemic looms: exhaustion. The same medical professionals who tirelessly worked the front lines are at a breaking point, seeing COVID patients suffering from a disease which is now largely preventable. We need to pull together as a community and get vaccinated to ensure that our providers are able to continue to care for our sick loved ones."
Unvaccinated people are at a higher risk
Unvaccinated people, including children, remain at a much higher risk than those who are fully vaccinated. The best way to protect yourself and your family is to get vaccinated and follow the CDC guidelines regarding masking and social distancing.
Vaccine effectiveness
While the COVID-19 vaccines are designed to prevent serious infection and death from all strains of coronavirus, including the Delta variant, there have been some breakthrough cases where vaccinated individuals become infected. The FDA recently granted emergency use authorization for a third dose of the Pfizer and Moderna vaccines for immunocompromised people and are researching the need for a booster dose for everyone vaccinated more than 8 months ago.
"With vaccinated individuals, we're seeing exactly what the vaccine promised - protection for those around them and a reduction in the severity of the illness. They generally aren't the ones ending up on ventilators in the emergency room," said Dr. Nick Gilpin, Beaumont's medical director of infection prevention and epidemiology.
Layered protection strategies
As breakthrough cases become a reality of Delta, the CDC has reinstated layered protection recommendations for both vaccinated and unvaccinated people. This includes masking, social distancing, proper hand hygiene and most importantly, vaccination.
Dr. Skrzynski added, "The best way to protect yourself and your family is to get vaccinated and follow the CDC guidelines regarding masking and social distancing. Research shows that communities with more vaccinated individuals show a much lower infection rate. With the delta variant now present in many communities, individuals need to consider taking every precaution available to them to protect themselves and people around them that may not be able to take the same precautions."