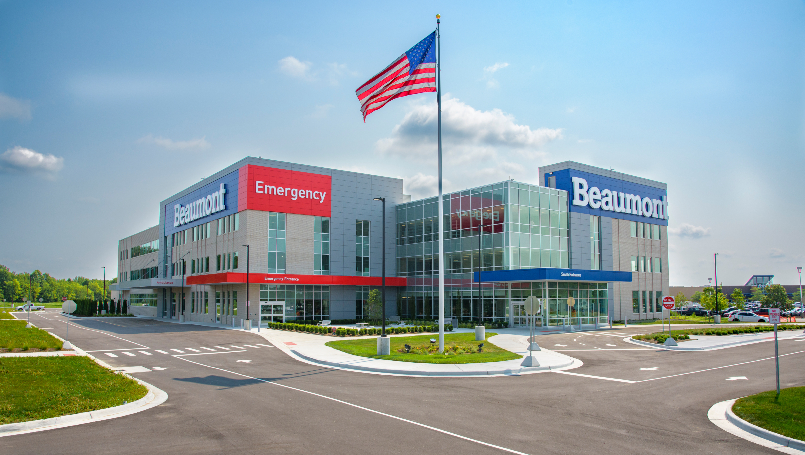 Much needed, high-quality health care services have arrived in northeast Macomb County with Beaumont Health's newly launched, multidisciplinary outpatient center.
The new, 110,000-square-foot facility, Beaumont Outpatient Campus – Lenox, is near Interstate 94 and 26 Mile Road in Lenox Township. It opens Aug. 4. Located inside the Bay River Marketplace adjacent to Meijer, the campus offers the community:
Emergency center care

Noninvasive cardiology services
An infusion center
Physical therapy
Diagnostic imaging
Breast imaging
Pulmonary function testing
A Beaumont outpatient pharmacy and laboratory
Affiliated primary and specialty care physician offices
Cancer services, including radiation oncology/coming soon
An independent, outpatient surgery center connected to the campus/coming soon
"We are delighted to offer the residents of Macomb and St. Clair counties such highly sought-after health care services," said Carolyn Wilson, R.N., executive vice president and chief operating officer for Beaumont Health. "We identified this location because of its convenient access to major thoroughfares in a growing and thriving community."
The new emergency center offers the staffing and appropriate technology to handle any emergency, it expedites emergency care and eliminates the need to travel to a hospital campus. Patients experiencing the following symptoms should always seek immediate attention at the nearest emergency center:
Shortness of breath
Chest pain
Continuous bleeding
Severe abdominal pain
"In addition to top-of-the-line emergency care, this leading-edge campus was designed with the consumer experience top-of-mind," Wilson added. "Medical appointments will be offered in a spacious, modern environment that puts the patient's comfort and convenience first. Investments in digital technologies and facility design will make the experience welcoming and efficient."
Patients who come to the Lenox campus will also gain convenient access to Beaumont's renowned network of high-quality experts and services, located throughout the growing, eight-hospital system.
"This campus enables our dedicated team to share knowledge and information with each other and collaborate with patients and families for care that works best for them," said David Claeys, president of Beaumont Hospital, Farmington Hills and Beaumont Hospital, Dearborn.
Beaumont partnered with NexCore Group, a national health care real estate developer, to build the campus. NexCore will handle financing, development, leasing, property management and asset management.
There are additional opportunities for independent physicians and groups to open offices at the site.
Beaumont plans to launch a similar outpatient center in Livonia in the spring of 2022. The Lenox and Livonia campuses support Beaumont Health's strategy to serve as a leading health care network.
"We see these sites as major community assets we can all be proud of," John Fox, president and CEO of Beaumont Health said. "Our goal is to expand our high-value care to more of our neighbors. If you live in and around Lenox, please let your neighbors know this will be a great place to receive the extraordinary care they expect from Beaumont."