Epilepsy is one of the most common disorders of the nervous system and affects people of all ages, races and ethnic backgrounds. It is a neurological condition affecting nearly 3 million people in the United States alone, including many children. The condition makes people more susceptible to having seizures. When a person has two or more seizures, he or she is considered to have epilepsy.
Pediatric Comprehensive Epilepsy Center
The Comprehensive Epilepsy Center at Beaumont Children's offers a range of pediatric epilepsy treatment and monitoring services for infants, children and teens with seizures or epilepsy. The clinic offers comprehensive seizure evaluations and schedules tests, including MRIs, PET scans and EEGs, for those with mild to complex forms of epilepsy.
Led by pediatric epileptologist Daniel Arndt, M.D., the center specializes in helping young patients with drug-resistant epilepsy. According to Dr. Arndt, around a third of patients with severe epilepsy will not respond to medication.
In addition to Dr. Arndt, a pediatric epileptologist (an epilepsy specialist), the Comprehensive Epilepsy Center works with a highly-trained, multidisciplinary team of specialists. The staff includes: pediatric neurologists, pediatric neuroscience nurses, pediatric EEG technologists and a nurse coordinator who schedules testing and follow-up care. Using some of the most advanced EEG and imaging technologies available, the team works hand in hand with Beaumont experts in several specialties, including pediatric neurosurgery, ophthalmology, radiology and physical, occupational and speech therapy.
With the unpredictability of epilepsy and the challenge it can present to some families, the Comprehensive Epilepsy Center provides resources and guidance for parents and caregivers in a single location.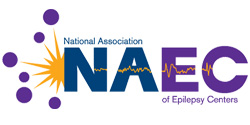 The Pediatric Comprehensive Epilepsy Center at Beaumont Children's is accredited by the National Association of Epilepsy Centers as a Level 4 epilepsy center. Level 4 epilepsy centers have the professional expertise and facilities to provide the highest level medical and surgical evaluation and treatment for patients with complex epilepsy.
---
Call Today
The Pediatric Comprehensive Epilepsy Center is located in the Neuroscience Center in Suite N120 on the campus of Beaumont Hospital, Royal Oak. To schedule an appointment, or learn about Beaumont's pediatric epilepsy services, call 248-551-6178.
---
Meet the Team
The following pediatric epileptologists and neurologists, with additional epilepsy and EEG training and expertise, participate in Beaumont's Pediatric Epilepsy Clinic:
Daniel Arndt, M.D.
Section Chief, Pediatric Neurology & Epilepsy
Director, Pediatric Epilepsy Program, Beaumont Children's
Danielle Nolan, M.D.
Director, Tuberous Sclerosis Program
Director, Pediatric Neurogenetics
Alexandra Shaw, M.D.
Director, Epilepsy Dietary Program
Director, Pediatric Neurology Education
Gary Trock, M.D.
Director, Pediatric Sleep Program