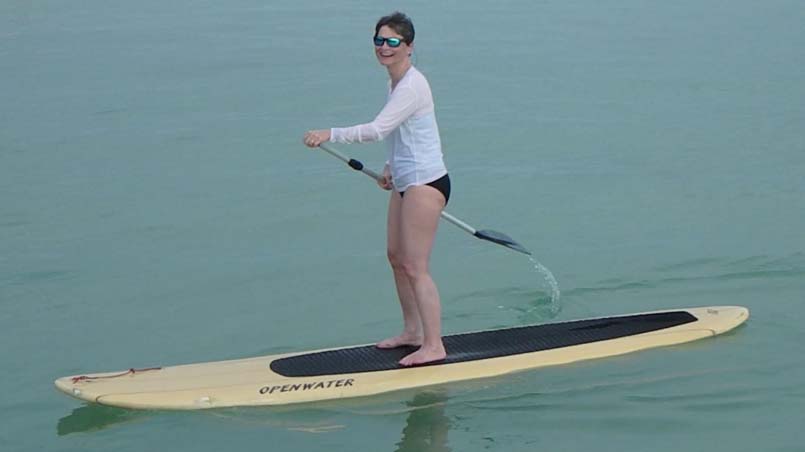 Innovators and teachers: Surgeons excel in minimally invasive procedures in treating liver, pancreatic tumors
For Christine Allen, 55, of Beverly Hills, it began with a mild, intermittent pain in her side, followed by itchy skin.
She said, "I started becoming jaundiced and had swelling in my legs." That's what got her to the doctor. She also admitted that she didn't relate her initial symptoms to a liver issue.
But, Beaumont Health liver expert Alan Koffron, M.D., confirmed she had a large, 20 centimeter mass on her liver. Dr. Koffron explained his surgical team had precision tools which would enable them to remove the noncancerous mass with smaller incisions and less pain – dramatically decreasing her recovery time. The minimally invasive surgery would allow her to get back to her daily activities much sooner than a traditional surgery.
The addition of Intuitive Surgical's da Vinci's Surgical System gives Beaumont surgeons another high-tech tool to combat liver and pancreatic tumors.
Beaumont surgeons Dr. Koffron and Steven Cohn, M.D., recently performed two firsts: a minimally-invasive, robotic-assisted surgery to remove a liver tumor and a similar procedure to remove a pancreatic tumor in a second patient.
Allen was one of the first patients to benefit from the new surgical technology.
"I was thrilled how quickly I recovered from my surgery," Allen said. "Dr. Koffron told me to 'listen to my body.' And not long after, I was walking comfortably and gradually eased into strength training and muscle conditioning."
Ten weeks after her surgery, she was learning to paddle board in the Caribbean.
Said, Dr. Koffron, director, Liver and Pancreas Tumor Clinic, "While a few centers in the U.S. perform minimally-invasive, robotic liver or pancreas surgeries, we represent one of the few in the U.S, and the only in Michigan, to offer both innovative therapies. Our newest robotic-assisted surgical system represents the latest technology enabling us to provide the most advanced care."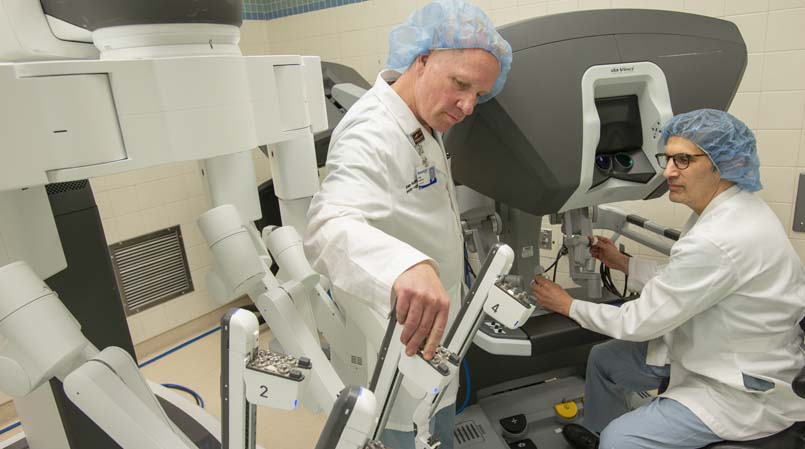 All the surgeons on Beaumont's liver transplant team have received fellowship training in advanced surgery of the liver and pancreas.
"The past decade, we have been a key medical center, pioneers, in the development and validation of minimally-invasive liver and pancreas surgery," Dr. Koffron said.
Patients with cancerous and noncancerous tumors of the liver and pancreas benefit from the Beaumont team's surgical expertise. They have multiple treatment options.
Explained Dr. Koffron, "Cancer patients now can have almost any tumor removed 80 percent of the time laparoscopically with no incision; by organ transplant; and if their cancer is so advanced, or the patient is too frail for surgery, the cancer is still treatable using liver-directed therapy or pancreas-directed therapy."
With advanced imaging capabilities, more patients have been identified with noncancerous liver tumors.
"In most centers, a patient with a benign, painful liver/pancreas tumor will be placed on a narcotic pain medication or offered traditional open surgery to remove their tumor which will alter their body function permanently," said Dr. Koffron. "We are proud 95 percent of these patients are cured with minimally-invasive procedures at Beaumont, so dramatic that one-third are able to go home the same day, getting back to their lives."
In 2007, Dr. Koffron's paper about minimally-invasive, laparoscopic liver and pancreas surgery was published in the Annals of Surgery. Said Koffron, "Since that time, our team has lead the world in experience in this type of surgery, both in surgical cases and innovation. Beaumont has been the major center in the international conferences on laparoscopic liver and pancreas surgery."
The 2017 laparoscopic liver conference in Paris, resulted in Beaumont becoming a charter member of a new surgical society - the International Laparoscopic Liver Society.
"At these conferences, Beaumont is recognized as the most experienced minimally-invasive liver and pancreas surgical centers globally," Dr. Koffron said. "As a result, doctors come to us from all over the world. Our team shares its expertise and knowledge - having hosted more than 40 surgeons from 14 countries to observe surgical procedures at Beaumont Hospital, Royal Oak."