Wednesday, March 13, 2019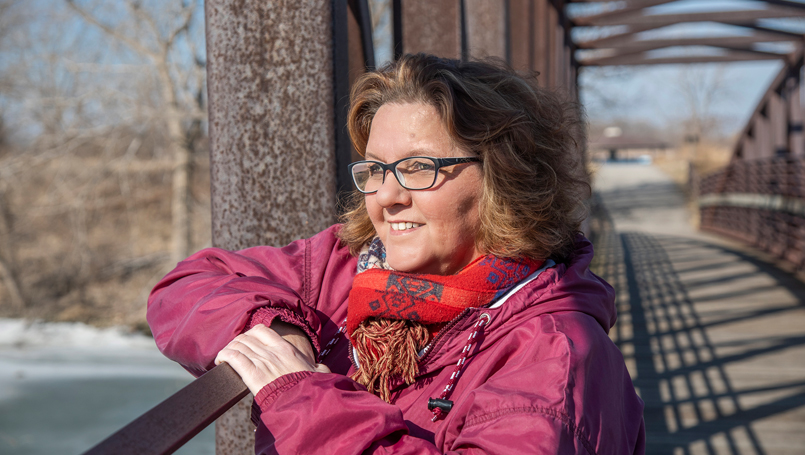 It began with an itchy ear. Then, the itching spread to her hands, arms, stomach, legs, feet - everywhere from her head to her toes. It was as if she had taken a bath in poison ivy. The intense itching affected her physically and psychologically.
Kim Hogan, of Monroe, had no idea what was causing it or how to stop it.
"The itching was relentless. I was even itching between my fingers," Hogan recalled. "I scratched myself so hard, yet there was no relief. I had scabs all over my body."
Even in the heat and humidity of summer, Hogan wore sweatshirts and long pants to hide her scars. She became depressed, withdrew and stopped going outside.
After a year of uncertainty, the source of her itching was discovered in a biopsy – chronic disease of the liver. She was diagnosed with primary biliary cholangitis, a rare condition where the immune system mistakenly attacks and destroys bile ducts.
Was a liver transplant the answer to her chronic condition? After consults with liver programs in Ann Arbor and Detroit, she chose Beaumont Hospital, Royal Oak. Hogan said she felt most comfortable with the doctors and care team.
"I was impressed with their personal attention from the start. They always ask for my input and make sure I'm a part of the decision process," explained Hogan. "They got to know me and my family."
As for her insatiable itching, Hogan found some relief. Her plasma was periodically exchanged through a treatment called plasmapheresis. The process removes harmful antibodies in the blood. She also received Benadryl infusions three times per week.
"Thank God for Beaumont," said Hogan. "They put me on the waiting list for a liver. While my score didn't put me near the top of the list, my transplant team advocated for me."
Beaumont transplant surgeon, Damanpreet Bedi, M.D., Hogan's doctor, remembers her being put on the listing for a liver in 2013.

As time went on, Dr. Bedi observed, "Kim was in a holding pattern, but her symptoms and their effects were more noticeable than her MELD score. Our team made a special request to UNOS explaining Kim's dire situation. She continued to suffer from her itching and was at wits' end. This helped. Her MELD score was upgraded."
Finally, on March 6, 2017, Kim got the call about an available liver from a deceased donor.
Dr. Bedi explained, "Our team was contacted by Gift of Life Michigan. Circumstances arose where a liver was unable to be used for another patient. We contacted Kim in the middle of the night and within minutes she was on her way to Beaumont, Royal Oak for transplant surgery."
Thanks to her new liver, after seven years, her itching was finally gone.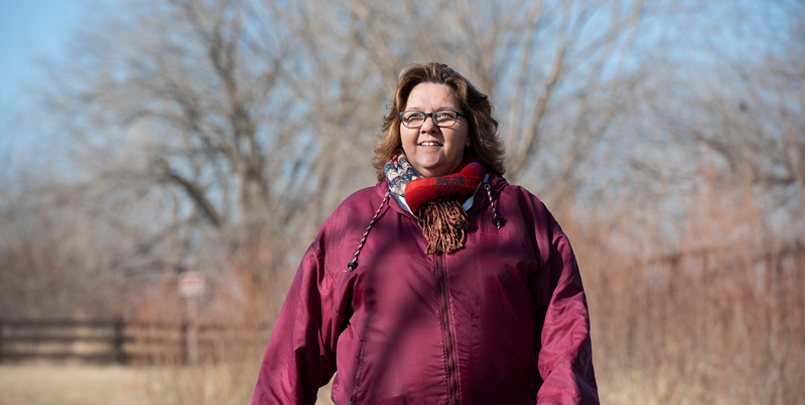 "Today, I can laugh about my seven-year itch, but at the time it was life-altering. I'm back to being outside enjoying walking and fishing." Hogan said, "I feel good. It's great to be alive. I'm grateful to the donor and their family for the gift of life."
Through her experience, Hogan says her medical team became her extended family, "I confide in them. It's a matter of trust. They listen and care."
Dr. Bedi said, "Our team focuses on individual care. We're not driven by numbers and quantities, but strive to honor the requests of the donor and their family, resulting in a life saved, like Kim's."
Beaumont is only one of three health systems in Michigan to offer liver transplants. The first liver transplant took place at Beaumont, Royal Oak in August 2010. Since then, 157 liver and combined liver/kidney transplants have taken place.
"The need for organs is great. People can sign-up for the Michigan Organ Donor Registry through the Michigan Secretary of State," added Dr. Bedi. "It's an opportunity to save lives."