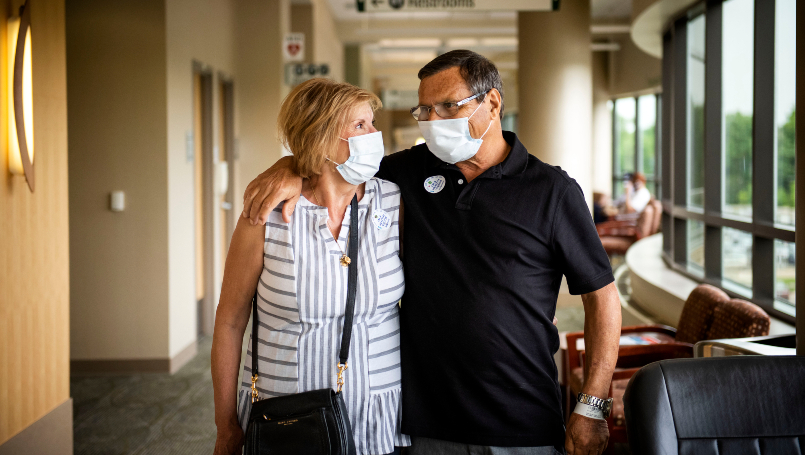 Beaumont's expansion of minimally invasive heart valve program continues
Doctors at Beaumont Hospital, Troy performed their 100th catheter-based aortic heart valve replacement, or TAVR, as the nationally awarded cardiology program continues to expand to meet patients' needs.
Beaumont cardiologist Dr. Michael Tucciarone led the procedure June 1 for 73-year-old Giulio Fattore, who retired 15 years ago from Ford Motor Company after working as a machinist for 34 years. The Eastpointe man loves to fix things, tinker with cars and isn't afraid to get up on his roof to do repairs. However, he stopped doing many of those things when he could only walk a couple of steps before getting out of breath due to his failing aortic valve.
"Today, I feel great," Fattore said two days after the procedure. "I can breathe real good. Before, I walked a little bit and I would run out of breath. Some days, I couldn't even walk. Now, it's like a new me."
Fattore joins nearly 2,000 other TAVR patients who have received a new aortic heart valve at Beaumont, where the first TAVR in the United States was performed in 2005.
"Studies show that TAVR short-and long-term outcomes are as good or better than surgical valve replacement," said Dr. Tucciarone, vice chief of cardiology at Beaumont, Troy. "Plus, patients are able to avoid a large chest incision, which helps immensely with recovery. We're thrilled to work with so many people who need a heart valve replacement and to be able to offer this option in Troy."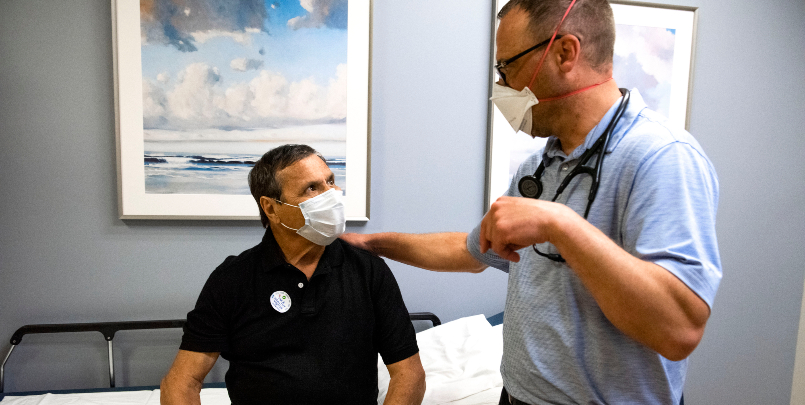 U.S. News and World Report ranked Beaumont, Troy, a 2021-22 national high-performing hospital for cardiology procedures and conditions. Beaumont's TAVR program began at Beaumont Hospital, Royal Oak, ranked as the top hospital in Michigan for cardiology and heart procedures, and expanded to Troy in 2020 and Beaumont Hospital, Dearborn, in 2013.
"Patients turn to Beaumont for their heart-related needs because of the stand-out reputation and results," said Thomas Lanni, Jr., president of Beaumont, Troy. "The successful expansion of our TAVR program offers the procedure in a convenient location, close to home."
TAVR was once limited to patients whose advancing age, other health problems or heart damage made open heart surgery challenging - or not an option. Now, studies show younger patients can benefit from the minimally invasive heart procedure as well. The TAVR team uses thin catheters to access the heart through the femoral artery in the groin region. The new valve, loaded onto the end of the catheter, is positioned, and then expanded with a balloon to replace the old valve. Patients often experience immediate improvement in symptoms such as breathing and stamina, and can be released sometimes as early as the next day.
Dr. Tucciarone performed the procedure with cardiologist Dr. Luay Sayed, director of the Interventional Vascular Lab at Beaumont, Troy, and anesthesiologist Dr. Yeong-Shiuh Tang. In addition to TAVR, the highly trained cardiology team at Troy also performs balloon valvuloplasty, the removal of calcification from malfunctioning heart valves, as well as closure of patent foramen ovale (PFO) and atrial septal defect (ASD), small holes between chambers of the heart.
Now, Fattore is looking forward to tinkering a little more, and enjoying life with his wife of 46 years, Josephine, their three children and seven grandchildren.
"I feel a lot better!" he said. "I feel good!"