Friday, September 29, 2017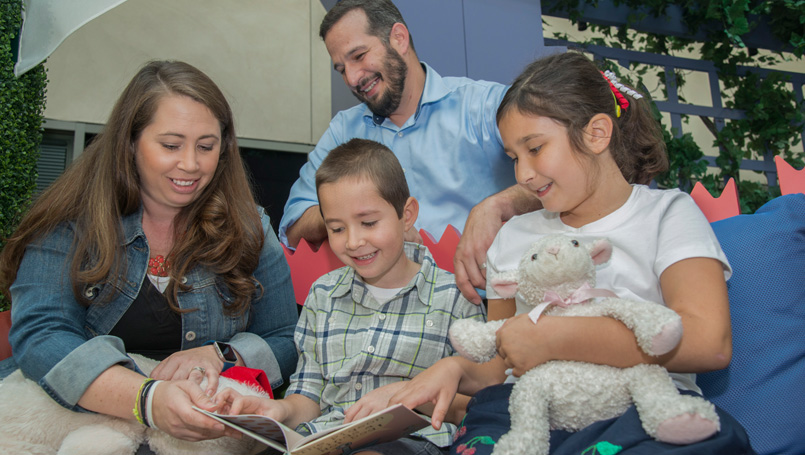 Seven-year-old Dean Hardin of St. Clair Shores has a contagious smile and eyes that light up like a Christmas tree when he talks about his favorite stuffed animals, video games or Monopoly.
Given his zest for life, it's difficult to believe Dean was diagnosed with a brain tumor in late July.
On Sept. 14, he became Beaumont Health's first pediatric proton therapy patient. "This is what I have to do to get better," Dean said matter-of-factly, following one of his first treatments.
The Beaumont Proton Therapy Center provides an alternative to traditional radiation treatment by precisely targeting cancer cells and avoiding healthy organs and tissue. It is the only active proton beam center in Michigan, one of just 25 in the nation and 36 in the world.
Here's how it works: A scanning beam of proton radiation, powered by online image guidance, offers greater precision in destroying cancer cells. Compared to traditional treatment, radiation exposure to adjacent tissue is reduced by up to 50 percent.
"When we learned about the benefits of proton therapy from several different sources, we knew this is where we wanted Dean to get treatment," said his mother, Kristie Hardin.
Her second-grader's life changed overnight.
A smartphone video captured in late July shows Dean and his father Jeff effortlessly throwing a football back and forth in the backyard. Within days, Dean began experiencing debilitating headaches that wouldn't go away.
The family left his family doctor's office on a Wednesday thinking their son was suffering from a common virus. By the following Sunday, an emergency room doctor diagnosed him with a brain tumor.
Surgeons removed most of the tumor Aug. 3.
Since then, Dean has had difficulty managing the left side of his body because of where the tumor was putting pressure on his brain. But each day he gets a little better and his parents are encouraged by his progress.
Dean is currently in the midst of a six-week, Monday through Friday morning proton therapy treatment plan schedule.
Each day begins with anti-nausea medication at 7:30 a.m., followed by a chemotherapy pill at 8:30 a.m. Proton therapy starts at about 9:30 a.m. and includes 15 minutes on a patient table in the treatment room.
Afterwards: brunch.
"So far so good," said his father Jeff. "We are focusing on the positive and taking one day at a time."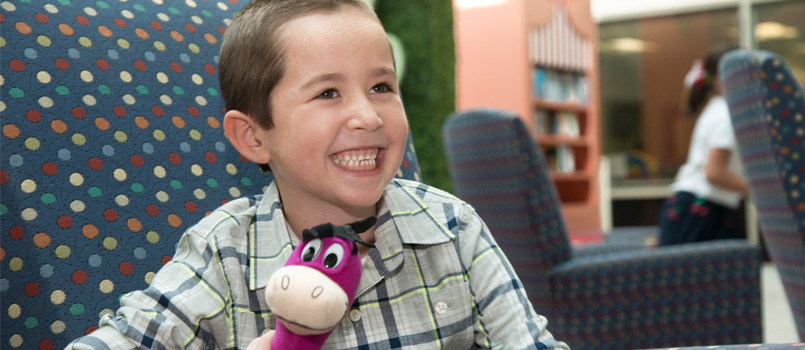 A relatively short drive from their home in St. Clair Shores to the Beaumont, Royal Oak campus, helps make Dean's treatment schedule manageable. Previously, Michigan families had to travel to other states to take advantage of this advanced therapy.
While proton therapy is not effective against all cancers, Dr. Stevens stressed, it is effective in treating many solid and localized tumors.
"Our center offers the most advanced proton technology available anywhere in the world," said Craig Stevens, M.D., Ph.D., chairman, Radiation Oncology, Beaumont Health. "We have the ability to cure local patients and those from other states and countries, who have failed conventional treatment at other centers.
Proton therapy is especially beneficial in treating children.
"Proton therapy is an ideal treatment option for tumors located close to vital organs," Dr. Stevens said. "For children, those most vulnerable and susceptible to the damage of traditional radiation therapy, proton therapy offers less exposure to radiation and fewer side effects."
Proton therapy also reduces the risk of future malignancies, especially relevant in treating childhood cancer, according to radiation oncologist, Peter Chen, M.D., who specializes in pediatric cancer treatment.
Dr. Chen said that treating Dean reminds him of the reasons he went into medicine.
"It is an honor and a privilege to work with this extremely joy-filled child and his family," Dr. Chen said. "With the help of this advanced therapy, the entire pediatric oncology team and I are doing everything we can to ensure the best possible outcome for this very determined little boy."
The goal of proton therapy, Dr. Chen said, is to lengthen Dean's life, improve quality of life and reduce side effects relative to traditional X-ray therapy.
Fortunately for Dean, perseverance over extreme health challenges runs in the family.
Thirteen years ago, at the age of 25, a virus attacked his father, Jeff's heart, suddenly sending him into congestive heart failure. A timely transplant, which he received just three months after diagnosis, saved his life.
"We know what it's like to face a catastrophic health event and make it safely to the other side," said mom, Kristie, who pins a small, St. Jude metal to her clothing every morning. "We have good days and we have bad days. We're taking them one at a time and praying hard for a second miracle."
"Like Dean, we won't settle for anything less than the best technology, in treating our most vulnerable patients," Dr. Stevens said.