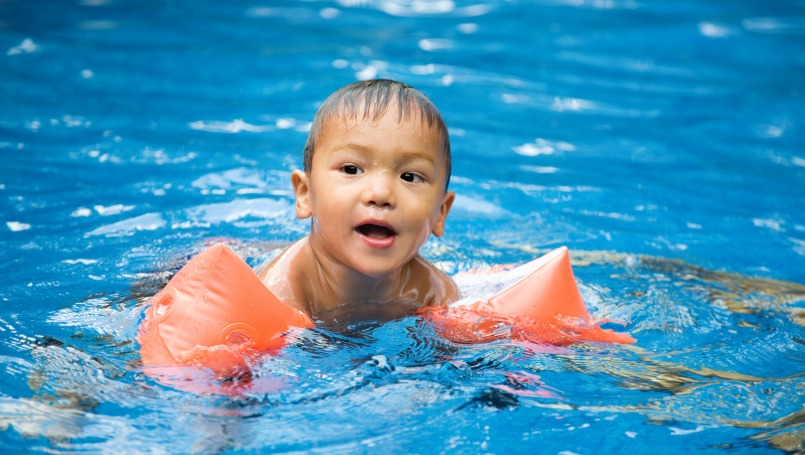 A terrifying, confusing and potentially deadly medical issue is causing parents to panic while their kids are in the pool. You've probably heard about dry drowning. And, you might be afraid of it, too.
Here's the basic idea: a child goes swimming and everything seems fine. Then, the next day or even a few days later, the child dies. The cause? Dry drowning. He or she ingested a large amount of water, showed no signs or symptoms, and then passed away days later.
But, Beaumont Children's pediatric emergency director Kelly Levasseur, D.O., says, "It doesn't happen like that. If a child ingests dangerous amount of water, he or she will show signs and symptoms of that – like choking, difficulty breathing or coughing. The idea that your child, after having no trouble while swimming, will seem fine for hours or even days and then suddenly pass away is false."
Dr. Levasseur says she's answering more and more questions every day from parents who are afraid to let their children go swimming because they are worried about dry drowning.
"I've even had to reassure my own family members," Dr. Levasseur added. "Parents should always watch children closely whenever kids are in the water. Don't take your eyes off of them for even a few seconds. Make sure your children are wearing lifejackets if they can't swim well."
If a child does accidentally swallow or inhale a large amount of water, he or she will cough quite a bit and it will be obvious there is a problem. It could even appear like the child is choking on water.
Dr. Levasseur said, "If you think that your child has choked on water and they are having trouble breathing that's when you need to bring the child to the emergency center right away. We will examine your child and might even order a chest x-ray."