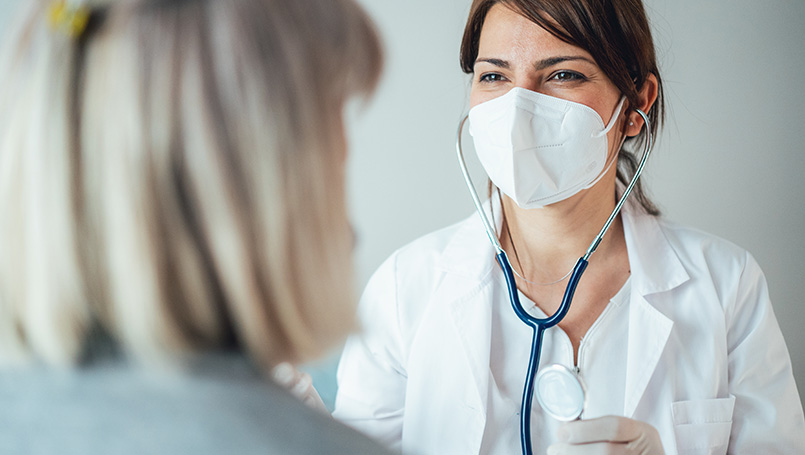 As the fall season ushers in, concerns about colds, flu, RSV (Respiratory Syncytial Virus) and COVID-19 intensify. Tens of thousands of Michigan residents will find themselves with a respiratory illness this season.
Knowing where to go for care will ensure you get the level of care you need as quickly and cost-effective as possible . Do you need to go to the emergency room or is urgent care a better option for you? Making the right decision helps ensure timely treatment and may reduce complication prevention and, in some scenarios, can be a lifesaving choice.
---
Distinguishing Between Cold, Flu, RSV, and COVID-19
Knowing where to go for care starts with understanding what symptoms may represent a higher risk cause.
Cold: Symptoms typically include a runny or stuffy nose, sneezing, coughing, mild fever, and general fatigue.
Flu: The flu generally presents with sudden fever, chills, muscle aches, cough, congestion, and fatigue.
RSV: Predominantly seen in children but affecting adults. RSV can manifest as cold-like symptoms, wheezing, fever, and a cough.
COVID-19: Symptoms can be mild to severe. Common indicators include cough, fever, breathing difficulties, loss of taste or smell, and fatigue.
With many symptoms overlapping, recognizing the difference is sometimes only possible with a definitive test. Beaumont Urgent Care provides testing for the flu and COVID-19 in every clinic, which can help either reach a diagnosis or rule the two out.
---
Why It's Vital to Know Where to Receive Care
Time-sensitive treatment: Especially for high-risk individuals – such as those over 65, those with compromised immune systems or pre-existing health conditions – getting prompt treatment can prevent illness progression.
Distribution of resources: Heading to an ER for a mild cold can strain resources for more severe cases, potentially delaying care for those in dire need. Conversely, opting for urgent care when in extreme distress can result in crucial time lost.
Avoid complications: Early intervention can reduce complications. For high-risk groups, including pregnant women, people with chronic conditions (like heart disease, diabetes, or asthma) and young children, timely care particularly critical.
---
When Beaumont Urgent Care is Suitable
Beaumont Urgent Care addresses mild to moderate non-life-threatening health concerns. It is recommended to visit urgent care for:
Fast testing and diagnosis: Understanding what is causing symptoms may help mitigate the spread of illness to at-risk groups more likely to experience complications. Seeking urgent care at the first sign of symptoms also allows for the introduction of treatment sooner so the medication can work when most effective.
Persistent cough: A lingering cough that does not induce labored breathing could signify a cold, RSV mild case of the flu or COVID-19.
Mild shortness of breath or wheezing: Nasal congestion, sinus inflammation or a barking cough could hint at RSV or a mild flu infection.
Low-grade fever: A slightly elevated temperature (above 99'F and below 103'F) might accompany a cold, flu, RSV or a milder COVID-19 case.
---
Symptoms Warranting a Corewell Health Emergency Room Visit
Certain symptoms indicate a need for immediate emergency room intervention. If you experience any of the following, go immediately to the emergency room or dial 9-1-1:
Severe shortness of Breath: If it feels like you can't catch your breath, make your way to the ER as soon as possible. Acute breathing difficulty may signal severe flu, RSV or COVID-19.
Intense or continuous chest pain: Chest tightness or pain may indicate life-threatening heart-related issues, severe flu or COVID-19.
Bluish tint on lips or face: A sign of cyanosis or severe oxygen deprivation. This serious symptom may stem from an RSV or COVID-19 infection.
Sudden confusion or dizziness: A rapidly deteriorating mental state can be symptomatic of severe flu or COVID-19 complications.
Swiftly deteriorating respiratory symptoms: Quick deterioration in respiratory health requires immediate medical attention, hinting at severe flu or COVID-19.
---
Exercising Caution: When in Doubt, Seek Emergency Care
If you're uncertain about the severity of your symptoms, heading to the nearest emergency room is the best option. Ensuring you're in the best place possible, should your condition rapidly worsen. Regarding your health, it's better to be cautious than dismissive. Stay informed and attentive to your body's signals so you can make the best choices about your medical care.