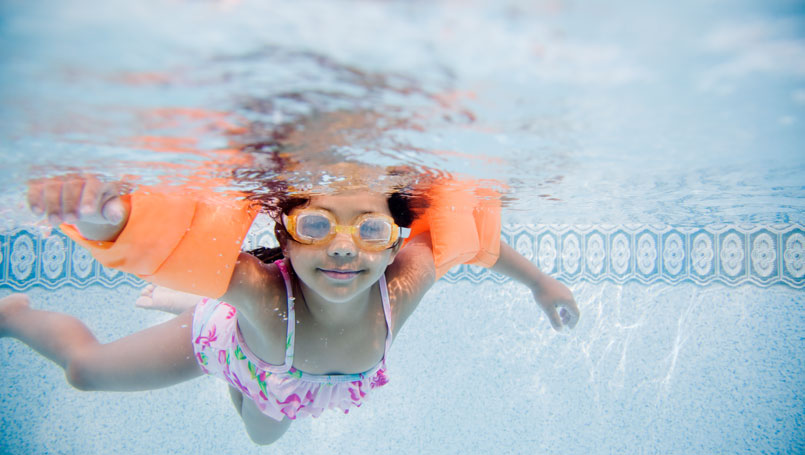 Children can drown in just an inch of water, so parents, babysitters and caregivers should be on high alert in the summer when so many activities revolve around swimming pools, ponds or lakes.
"Drowning is the second leading cause of death for children ages 1-4 and is preventable with proper supervision," says Jaime Hope, M.D., emergency physician at Beaumont Hospital, Royal Oak. "Young children often lack the coordination and strength to swim and lack the judgment and experience to understand the dangers of water."
POOL AND BEACH SAFETY
A day at the beach or poolside should be a fun event, so take the following precautions to avoid drownings or any other water-related accidents:
Do not leave your child unattended near any body of water, including a swimming pool, lake, or even bathtub.
Learn cardiopulmonary resuscitation (CPR) and infant and child first-aid.
Personal flotation devices should be used, but can't be relied on to solely prevent drowning.
Swimming lessons are a great idea to help protect your child.
Consider installing childproof fencing around swimming pools.
Have rescue equipment near the swimming pool and program emergency phone numbers into your phone.
Insist that your child wear a U.S. Coast Guard-approved personal flotation device on boats at all times.
Older kids/teens may be more likely to know how to swim, but are still at risk for drowning due to overestimation of their skills or lack of awareness of water currents or water depth. Following these tips from the American Academy of Pediatrics:
Insist that your adolescent always swim with a friend.
Encourage your adolescent to take swimming, diving and water safety or rescue classes.
Teach your adolescent never to swim while under the influence of alcohol or drugs.
Adds Dr. Hope, "Alcohol and lack of close supervision are major factors in drowning deaths in older children and adolescents."
DIVING ACCIDENTS
Less than 10% of diving accidents involve a diving board and most result from running and misjudged distances. These diving accidents can result in permanent spinal cord injuries, brain damage and/or death.
"Diving in shallow water, particularly 5 feet or less, can lead to these types of injuries," Dr. Hope warns. "In general, do not dive in any area that is not designated as safe for diving."
Diving accidents may occur when a person:
Dives into shallow water.
Dives into above-ground pools, which are usually shallow.
Dives into the shallow end of a pool.
Springs upward from the diving board and hits the board on the way down.