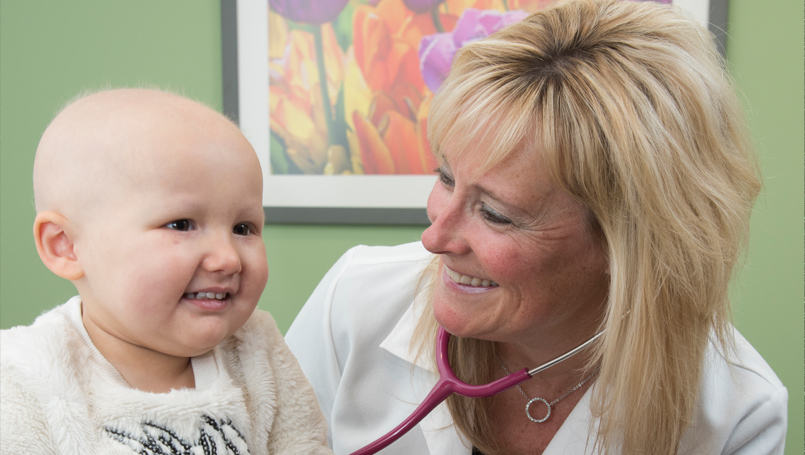 A cancer diagnosis is overwhelming to children and their families. Child and adolescent cancers make up just 1 to 2 percent of all cancers diagnosed each year. With advancements over the past 20 years, more than 80 percent of children treated for cancer will become long-term survivors.
Here, Kate Gowans, M.D., Beaumont section head of Pediatric Hematology and Oncology, answers a few common questions patients and families often ask about childhood cancer.
Can childhood cancer be prevented?
No. While there are some childhood diseases that are known to be associated with an increased risk of childhood cancer, the majority of children and adolescents who are diagnosed with cancer are otherwise healthy.
What are some of the pediatric cancer warning signs and symptoms?
Cancers in children are often difficult to Identify because symptoms are similar to more common illnesses or Injuries. The American Cancer Society recommends asking a doctor to examine children exhibiting any of the following signs or symptoms that do not go away:
an unusual lump or swelling
unexplained pale color and/or loss of energy
unusual bruising
persistent pain in one area of the body
limping
unexplained fever for more than five days
frequent headaches, often with vomiting
sudden eye or vision changes
unintentional weight loss
Keep in mind, just because your child experiences one of these symptoms doesn't mean It's cancer. Usually, it is not.
What treatment options are available?
Cancer in children and adolescents Is treated with a variety of tools and techniques including surgery, chemotherapy and radiation therapy, the treatment plans are generally quite different from adult treatments and tolerated much better. While Intensive treatments are generally successful, short and long-term side effects can occur. Newer forms of cancer treatment with fewer side effects, like proton therapy, are also an option for some patients.
How will the doctor determine what treatment is best for my child?
Based on the child's age, the type and location of the cancer and whether or not it has spread, a group of doctors discusses all factors and decides on the best treatment plan. Many treatment plans are standard for certain situations and used by all children's hospitals that participate in clinical research through the Children's Oncology Group, or COG. Beaumont Children's is a member of COG.
How can parents, family and friends help a child cope with a cancer diagnosis?
Be supportive comforting and encouraging. Stick to routines even with the "new normal" to help the child have a sense of stability during this difficult and uncertain time. Families should rely on the entire support team at the hospital, keeping communication open at all times. Friends and relatives can help with simple chores like mowing, shoveling, walking dogs, transporting siblings and collecting mail.
---
This story originally appeared in the Michigan.com / Detroit Free Press 2018 Cancer Guide.