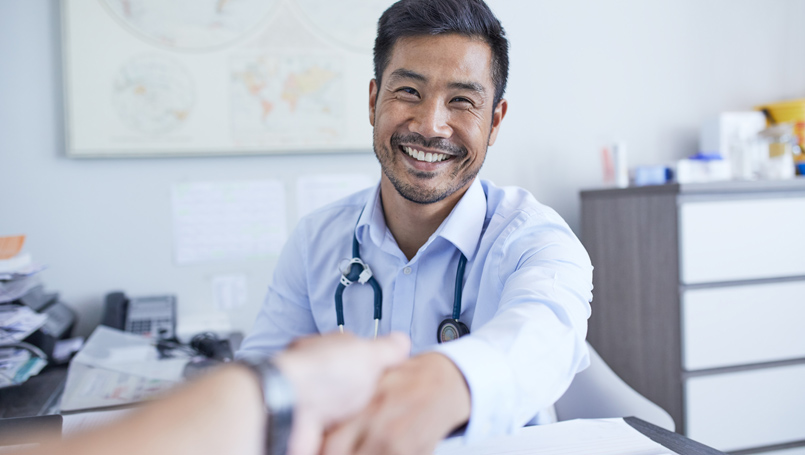 There are a lot of reasons you might need a new doctor - maybe you recently moved, switched jobs, or you just aren't happy with your current physician. Whatever the reason may be, starting your search can be overwhelming and deciding on the right one for you can be even more difficult.
Having a good relationship with your primary care doctor is important to your overall health. Studies show a link between a strong primary care provider relationship and reduced risk of heart disease, stroke and cancer deaths. People who have primary care doctors tend to have better care experiences too, and their overall care is better coordinated when there is one doctor at the center of it all.
"The way some physicians practice doesn't always match with the patient," said Dr. Jasreem Bhullar, a Beaumont family medicine doctor. "You have to feel comfortable with your doctor, and the doctor has to feel comfortable with you."
With such an important decision in front of you, you may be wondering how you get to know your doctor better before the first appointment and feel more confident in your choice. Here are some tips.
Talk to friends and family
One of the best ways to find a good doctor is by asking around. Start with your list of in-network doctors and talk to people you trust who have experience in the healthcare system. When asking, keep in mind any specific needs you have, like finding a doctor who understands the effects of diabetes or someone who speaks a specific language.
Visit the doctor's profile page or practice website
Physician referral services like Beaumont's Find a Doctor have dozens of filters and qualities listed on the doctor's profile that will help you see the full picture. Many have photos, video profiles, links to the practice webpage, and even ratings and reviews from actual patients to give you a better sense of the doctor's personality, their treatment philosophy and how they like to interact with patients.

Third-party review sites also provide profiles on local doctors, but it's important to vet the information before you assume it's accurate. Tools managed by health systems usually provide verified information and reviews from actual patients.
Look at ratings and reviews
Ratings and reviews are a great way to out how actual patients feel about the care the doctor provides. When reading reviews, remember that they are subjective, and to vet the reliability of the site they are being posted on. But if there are many reviews and most of them are positive, that's a good sign.
Call the office
Patients often spend more time interacting with the practice staff than their actual doctor. It can be helpful to call the office and speak with the receptionist about how the practice operates. Do they offer technology like online scheduling, e-visits, text reminders for appointments, or access to an electronic health record? Do they have a nurse line for questions or mid-level providers for routine appointments? If these things are important to you, a call with the office can provide information that might not be available online.
Schedule an "established care" visit
"Most of the time, a new appointment is an established care appointment," explains Dr. Bhullar. "We use the time to really get to know you and for you to get to know us."
During an established care visit, doctors will go over past medical history, medications you currently take and family history. They will also address any urgent refills and coordinate a transfer of care with records and documentation from your former doctor.
Trust yourself and go with your gut
It may take a visit to the doctor before you'll know whether you've chosen the right doctor for you. Pay attention to the whole experience. Do you feel comfortable in the surroundings? How did the staff treat you and other patients? Did your doctor listen to you? Did you feel like you could trust and rely on him or her? Do you feel comfortable entrusting your healthcare to him or her?
Dr. Bhullar recommends seeking out comfort. "Finding a doctor is like finding a friend, so when you do meet a new doctor, it's important to be comfortable telling that person very private information," she explained. "Know that this is not the only physician in the world and you can always switch to suit your comfort level. We just really want you to be comfortable."
---
Next Steps and Helpful Resources