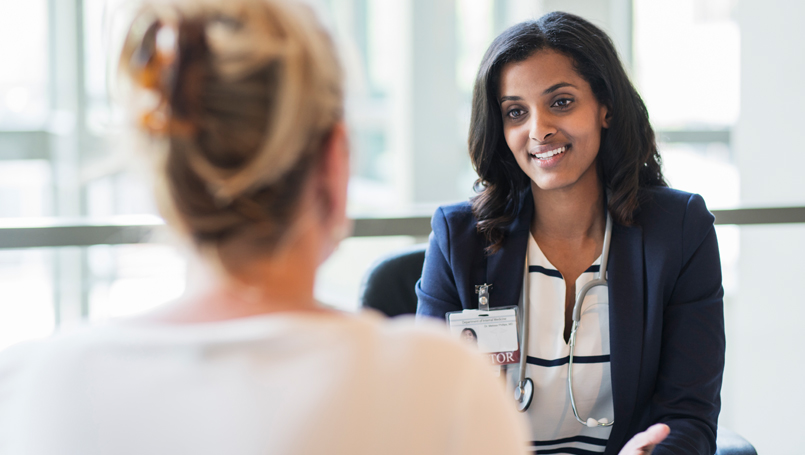 So, you made the initial appointment with your new physician - that's great! The next step is to show up at your scheduled time - maybe even a little early - fully prepared.
In the days before your appointment, you can complete a few helpful tasks to make the day of your visit as stress free as possible. Start by writing down your medical history, noting the dates and locations of any surgeries.
"Some people are very organized with folders," says Jasreem Bhullar, M.D., Beaumont family medicine physician. "It's very helpful to at least come with lists for not just medical and family history, but also for what you'd like to achieve in the future, any referrals you might need, results from recent physicals and your vaccination record."
Additionally, if you're bilingual or don't speak English, it's important to find someone who is bilingual to go with you to your appointment, or make sure the physician you are seeing speaks your preferred language.
Along that same line, many physicians encourage new patients, especially if you're elderly or have memory issues, to bring a trusted family member or friend with you to your appointment.

"A lot of times, adult children accompany their parents to make sure all the routine stuff is being done and their parents are taking their medications as prescribed. In those situations, family helps coordinate the care in ways your doctor sometimes cannot," explains Dr. Bhullar. "Having a spouse in the room, especially if the patient is reluctant to be there, can help correct inaccurate information with recollections or not realizing they're doing something, such as dizzy spells or snoring."
Once you have prepared as much as you can, the day of your appointment you should bring a few things with you such as your insurance card, photo identification and if you're bringing a minor to the office and you're not the guardian, you'll need to have a signed consent form.
If you take any medications, bring the actual bottle of box they come in from the pharmacy.
"A lot of times, people forget the name of their medication, how often they take it, or the dose. So, when they come in, we discover they're taking it wrong," Dr. Bhullar adds. "If we get the incorrect medication name and dose and enter it into the computer, that becomes a safety issue."
Also, if you have any recent lab or imaging results, bring those, too. Physicians appreciate having more data about you, so they can compare previous results with current ones.
Finally, set reasonable expectations for the visit. If you have a complicated medical history or haven't been to a doctor in years, your new physician will have more questions for you. In fact, the first visit can be just a chat without a physical evaluation. However, if you're generally healthy, you might have time in that first visit for an actual yearly physical.
Getting off on the right foot with your doctor is important for your long-term relationship. Being open and honest as well as comfortable with your health care provider will be a benefit to you for years to come.
---
Next Steps and Helpful Resources