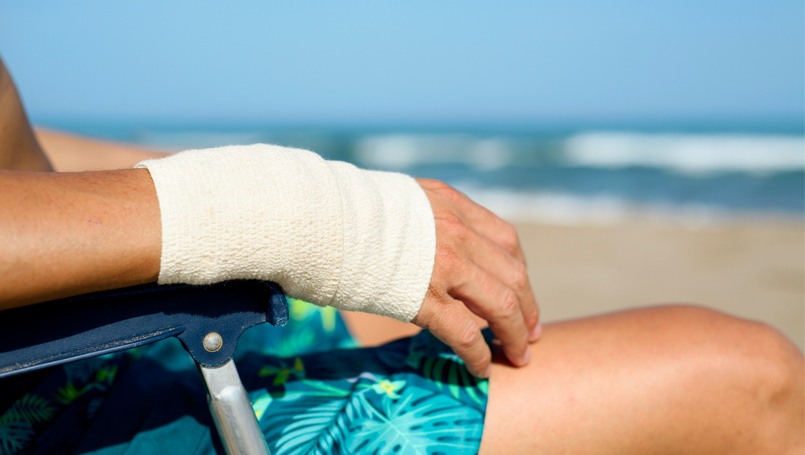 Traveling abroad can require you to make even more preparations than regular trips inside the United States. That's especially true when it comes to accessing health care while abroad, because whether you think you'll need medical care or not, accidents can and do occasionally happen.
One of the best things to do before you leave the country for a trip is to visit a travel medicine clinic, says Christopher Carpenter, M.D., head of the section of infectious disease and international medicine at Beaumont Hospital, Royal Oak.

Beaumont offers a travel medicine clinic called InterHealth where travelers can access information, any necessary vaccinations and consultation services specific to the country - or countries - where you'll be traveling.
If you don't have one in your area, ask your primary care physician ahead of time about any precautions you should take.
At a minimum, familiarize yourself with the locations of the closest emergency centers or urgent care centers to where you'll be traveling. There are also various online travel medicine services that may provide valuable information.
"A lot of it is really getting information on what physicians are available in the area and obviously, which ones speak English, which is very helpful in and of itself."
Here are the big things Dr. Carpenter suggests you should think about before traveling abroad.
Insurance
When two of Dr. Carpenter's children were recently traveling outside the U.S., both were covered under special temporary travel health insurance plans. "Our insurance companies in the United States aren't going to be covering too much that happens in other countries unless you have a special plan covering that," he says.
Travel medicine clinics can help you review and purchase short-term travel health insurance plans. Or, if you travel internationally for work, ask your employer about supplemental coverage that will let you access care if needed.
Also, check whether your insurer covers the immunizations you'll need to travel to your particular destination.
Prescription drugs
If you need to bring prescription medications with you when traveling abroad, try to bring as much information about the drugs - your prescription label on the bottle, which lists your name and the name of the drug, should do it - when going through customs or immigration so officials can review it. And know that each country may deal with meds differently.
"Don't have a pill box with a bunch of pills in it, because they don't know what those pills are," Dr. Carpenter says.
If you need a medication filled while traveling, you'll need to go through a physician who can direct you to a pharmacy, Dr. Carpenter says.
Another thing to consider: Some medications may be available over the counter in other countries that are only available via prescription in the U.S. But try to source such medications from reputable retailers to ensure that what's inside the bottle is what's advertised on the outside of it.
First aid kit
It's not a bad idea to pack along a small first-aid medical kit packed with things like bandages, small tweezers, antiseptic wipes, pain relievers, antihistamine creams for bug bites, an antibacterial ointment like Neosporin and special medications to help stop diarrhea if needed.
The language barrier
It may go without saying, but being able to translate your symptoms to a doctor can be key to their ability to properly diagnose and treat you. And keep in mind that you may not always have Internet access, so bring along a pocket translation guide to help you.