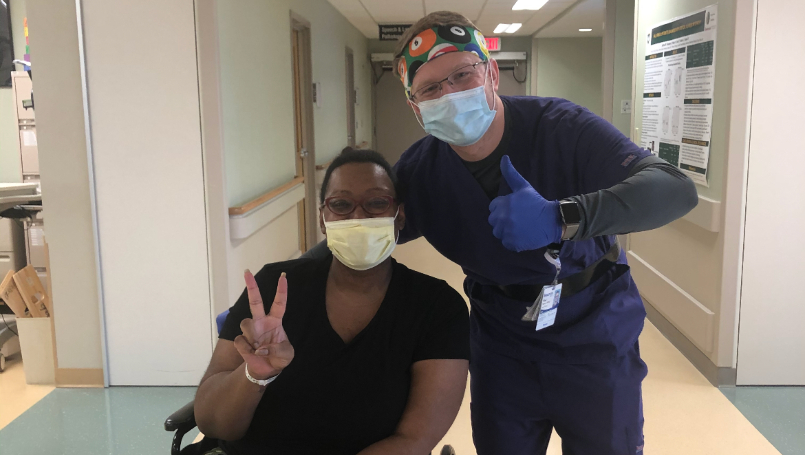 One year later: the effects of the virus still linger
After surviving 31 days on a ventilator, Heather Elizabeth-Brown, 35, of Southfield, said she is still looking for ways to adequately thank her amazing health care team.
"I can't say enough about them," Brown, a corporate trainer who works for Rocket Mortgage, said. "They sacrificed so much, facing a highly contagious virus which we knew very little about, for us, their patients. There are no words."
Brown recalls a nurse named "Frenchie" who sat with her through the night. And gave her, her first ice chip after coming off the ventilator.
"Frenchie will always live in my heart," Brown said. "I hadn't had anything to eat or drink for over a month. Getting that ice chip meant so much; it was a transcendent moment."
There was also a nurse named Zack who carefully told her about the moment she faced death.
"We almost lost you," Zack explained to her. "You pulled out your breathing tube while under sedation and stopped breathing. We had to reintubate. It was very scary."
The magnitude of his words hit home, and Brown began to cry.
---
---
Zack stopped what he was doing and grabbed her hand.
"I was talking in a high, creepy whisper and asking for my Mom," Brown recalled. "Panic had set in. I remember, he said, 'Hey, hey.' Then, he got as close to me as he could with all that PPE and looked me straight in the eye and said, 'You're strong. It was scary, yes. But you made it. It's OK.' It just meant so much to me. It was so comforting. Then, he got the iPad and connected me to my Mom."
"You can have someone who can do brain surgery in their sleep, but if they don't have that human compassion, that human element that's so important during COVID, when your mother is in the parking lot and can't come in to be with you, it's meaningless," Brown said. "The staff at Beaumont became my family."
After getting over these first initial hurdles, however, Brown's fight was only beginning. She fended off stroke-like symptoms, including partial paralysis on the left side of her body and numerous blood clots. She was unable to walk or even turn over in bed for weeks.
Eventually, her large and multi-disciplined health care team, which included cardiologists, respiratory therapists, physical medicine doctors, neurologists, endocrinologists, psychologists, physical and occupational therapists, nurses, pulmonologists and speech pathologists, worked together to create a plan that fueled her recovery.
Through Christmas, Brown had medical appointments every day of the week. These days, she's finally down to one or two a week.
Brown was finally able to return to work part time in September and full time March 1.
"I am definitely using my lunch hours for napping," Brown laughed. "Thank goodness I'm working from home."
Despite all she has been through, Brown still counts her blessings.
"I was born at Beaumont, Royal Oak, and it makes sense that the amazing health care team there would be the ones responsible for saving my life 35 years later," Brown said.
She added, "I'm also grateful for what I learned about myself. Until you go through something like this, you don't really know: 'Am I going to lay down and rollover? Or am I going to push through?' My Beaumont caregivers faced those same questions while they were caring for patients like me. I am extremely proud and happy to say we found out, together, where our resilience lies."
I was born at Beaumont, Royal Oak, and it makes sense that the amazing health care team there would be the ones responsible for saving my life 35 years later.

Heather-Elizabeth