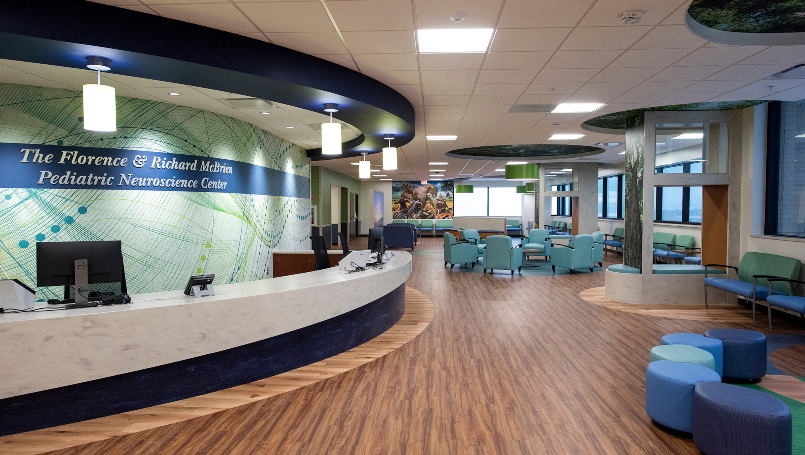 $3 million gift from McBrien family provides expanded space for multidisciplinary care
The new Florence and Richard McBrien Pediatric Neuroscience Center at Beaumont Hospital, Royal Oak is now open. It is dedicated to providing pediatric care for patients with a wide array of neurological conditions in an expanded and convenient space.
A $3 million gift from Florence and Richard McBrien's four daughters, along with $1.5 million from Beaumont, resulted in the creation of a $4.5 million center for pediatric neuroscience. The 20,000-square-foot Florence and Richard McBrien Pediatric Neuroscience Center is on the third floor of the Neuroscience building on the campus of Beaumont, Royal Oak.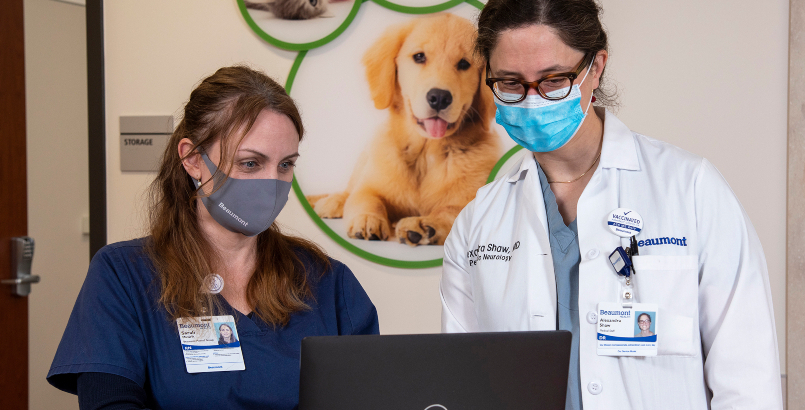 The McBrien sisters - Marcia, Melissa, Victoria and Dianne - made the gift in tribute to their parents. Two are physicians: Dr. Melissa McBrien is chief of Otolaryngology at Beaumont, Royal Oak and Dr. Dianne McBrien is a pediatrician specializing in children with disabilities.
"When we heard Beaumont wanted to create a pediatric neurology center, we knew it was not just a good fit - it was 'the' fit to honor our parents," said Marcia McBrien. "Mom and Dad had a great heart for children - and a lot of empathy for parents, having raised five kids of their own! This center, which helps children and their families, is exactly the kind of work they would support consistent with their deep Catholic faith."
Medical experts treat the following neurological conditions at the new center:
epilepsy, seizures
headaches/migraines

neuromuscular disorders: nerve and muscle diseases

movement disorders and selected learning and behavioral disorders

sleep disorders/insomnia
neonatal neurology, neurodevelopmental disorders
neurogenetics
tuberous sclerosis
neurofibromatosis
developmental disorders and delay
"We are so grateful to the McBrien family for their wonderful gift. Our new pediatric neuroscience center is a leading-edge, multidisciplinary center offering innovative and collaborative approaches for the treatment of complex pediatric neurological conditions, including our highly-touted Level 4 pediatric epilepsy program," said Dr. Daniel Arndt, chief, Pediatric Neurology, Beaumont, Royal Oak.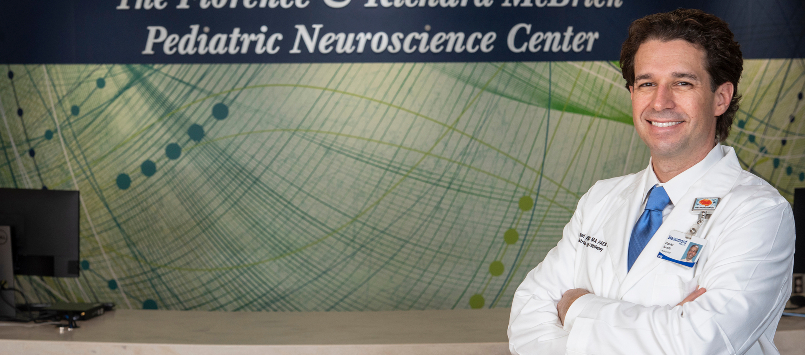 The new Florence and Richard McBrien Pediatric Neuroscience Center features a child-friendly décor with a fish and animal theme. The larger space allowed for an expansion of patient exam rooms from nine to 25. In addition to exam rooms, there is a large waiting area, consult rooms and a collaborative workspace for staff. Several patient families were involved in the design and layout of the center.
"To see a family bond together in such an extraordinary way to support this life-changing program is so inspiring," said Margaret Cooney Casey, president, Beaumont Health Foundation. "This gift honors Florence and Richard beautifully and will have an impact on children and families in our community for decades to come. We are deeply grateful for the compassion and generosity the McBrien family has shown to some of our most vulnerable patients."
A3C Collaborative Architecture was the architect for the project. Kasco Construction was the construction manager.