Friday, December 22, 2017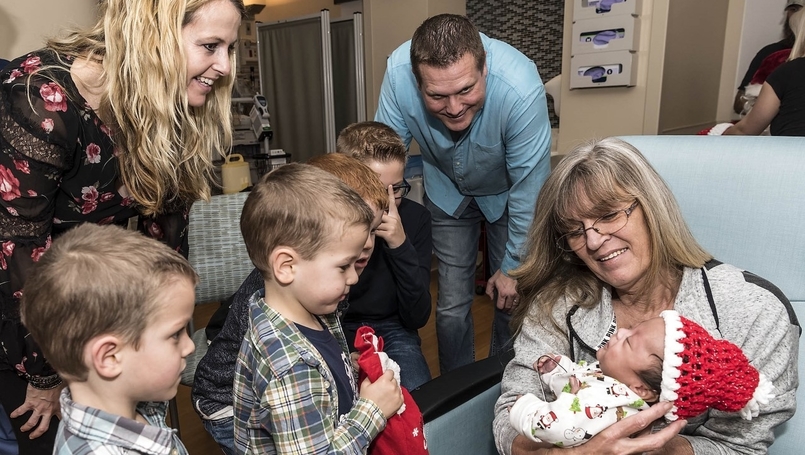 Spreading Christmas cheer in the NICU
Four years ago in December, Kristina and Tony Trupiano, of Huron Township, took turns visiting their newborn twins, William and Benjamin, who spent the first two months of their lives in the neonatal intensive care unit at Beaumont Hospital, Dearborn.
The twins were born two months prematurely. The Trupiano family, including the twins' older brothers Tony and Alex, spent most of the holidays that year in the hospital.
Grateful for the care they received as parents and the care given to their premature babies, the Trupianos decided to donate Christmas stockings and lunch to the NICU team each year as part of the twins' birthday celebration.
This year, Santa Claus joined them to deliver the stockings filled with everyday items for parents and families who spend long days in the NICU. Gifts include crossword puzzles, coffee gift cards, ChapStick and much more to provide comfort to parents. The lunch recognizes staff for all they do.
"Our babies were here for two months," she said. "No matter what happened during that time, I now have four beautiful kids. They're all blessings and we couldn't imagine our lives without them."
Valerie Halt-Williams, clinical nurse manager, NICU, Beaumont, Dearborn said, "It's always wonderful to be able to reconnect with the families who spent time in the NICU and to see how well their children are growing and progressing. It's really special to be able to see them at the holidays, and we appreciate their generosity to the staff and the other families so much. And everyone was excited to see Santa this year."
A family's tragedy turns into hope for others
The Trupianos were initially surprised to learn they'd be expecting triplets.
Kristina, also a nurse, noticed an enlarged umbilical during a routine ultrasound. Two of the three were sharing one placenta. One baby was receiving more fluids than the others. After much conversation, medical advice and recommendations, they opted to travel to Miami, Florida for a rare surgery to insert a stent into baby Jackson's heart – their third expected baby.
Sadly, Jackson wasn't able to tolerate the stent and passed away.
The Trupianos made the difficult decision to donate Jackson's body to the hospital in Miami for research to help other families who may be experiencing a similar situation.
"Jackson was here for a purpose," Tony said, sharing the importance of helping other babies with the research performed on their son.
During their annual visit now, all four boys come and travel with a wagon filled with stockings, toys and lunch. They have the opportunity to meet the clinicians that saved their lives and took care of them for two months.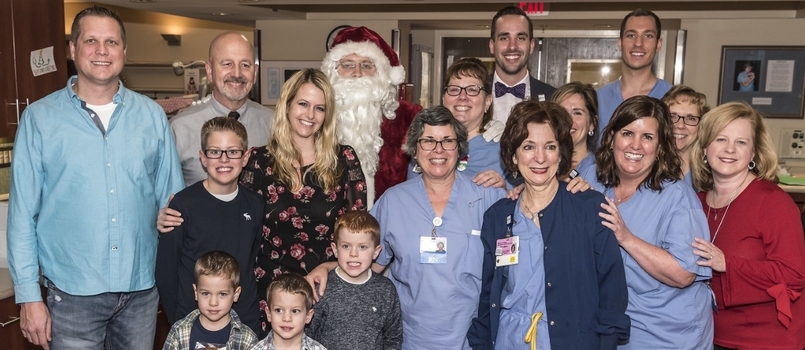 "It touches my heart to see these babies and their parents in the NICU at Christmastime, said Kristina. "I know what it's like to be there, and I can't help but get emotional when I get to see and talk to them."
Another annual Christmas tradition
Michelle Garland, a security officer at Beaumont, Dearborn began an annual tradition about five years ago to brighten the day of patients who will be hospitalized during Christmas and the holidays.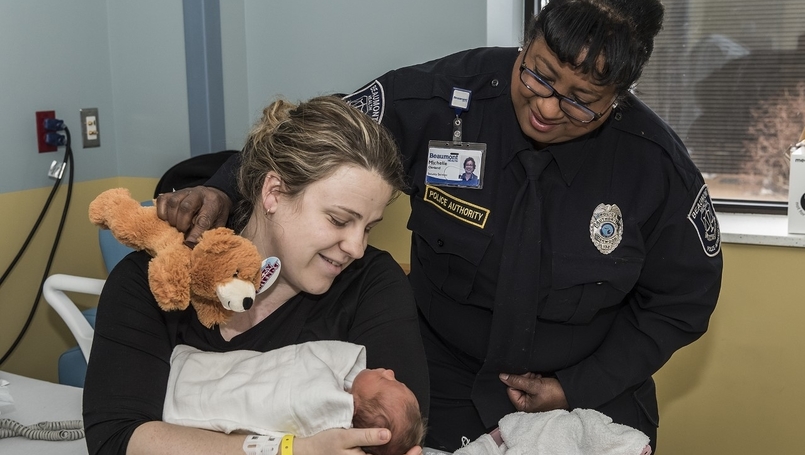 She visits patients in all units – from pediatrics and general surgery to orthopedics and the intensive care units. Along with her visit, she gives each patient a teddy bear.
"I want to make sure patients have an opportunity to celebrate the holidays," said Garland. "I was inspired by a family member who was hospitalized at this time many years ago, and I want to make sure other patients and visitors can also feel the spirit of Christmas."