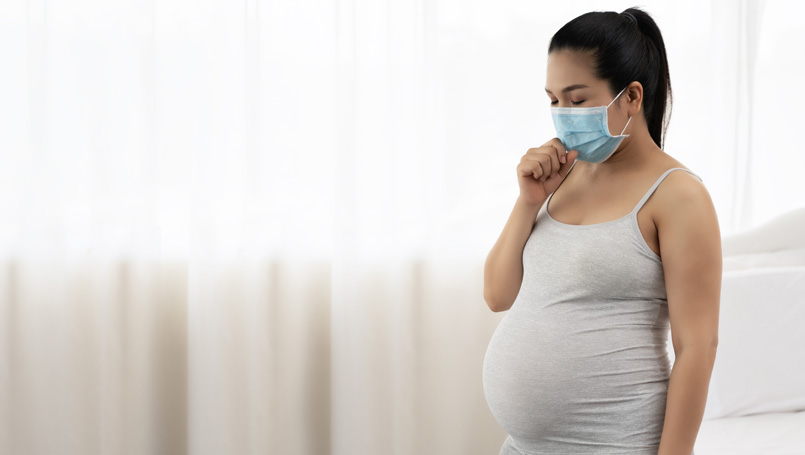 Preparing for and delivering a baby can be exciting – and a little scary – for parents-to-be. Doing it during a worldwide pandemic can make that fear and anxiety even worse.
While we expect to continue caring for COVID-19 patients in designated areas of our hospitals for some time, we've taken extra steps to provide you the health care services you need in a safe environment.
"Beaumont has created a safe, secure environment for our patients' labor and delivery needs," said Dr. Samuel Bauer, Beaumont OB-GYN and maternal-fetal-medicine specialist. "Families can rest assured that providing a safe and patient-centered birth experience is our top priority."
While you'll still be receiving the same exceptional and care you have always relied upon, you will notice a few changes.
Prenatal Care and Ultrasound Appointments
While many OB-GYNs are still seeing patients in the office for their regular check-ups, some routine visits might be replaced with virtual visits.
The Society for Maternal-Fetal Medicine recently said, "Experts in OB care are learning that if you have a healthy pregnancy, it is often safer for you to use telehealth for some appointments during this time of social distancing."
Beaumont's fetal imaging locations are open for ultrasound appointments. Extra steps are being taken to create a safe environment for both the patients and staff including:
screening patients before the exam
limiting the number of people at the appointment
using masks (both patients and staff)
Delivery and postpartum recovery
Several steps are being taken during delivery and prenatal recovery to create a safe experience:
All women are tested for COVID-19 when they are admitted for delivery. Support people are screened prior to entering the hospital.
Patients who are showing symptoms or test positive for COVID-19 are moved to a separate area of the hospital.
While only one support person can be present during both delivery and recovery, our skilled health care team will be available to provide encouragement and support throughout the experience.
Caring for infants of mothers with suspected or confirmed COVID-19
If it's suspected you have COVID-19 or you test positive, a few extra precautions will be taken to keep your baby safe.
Depending on the situation, your baby may be temporarily moved to a separate, non-COVID-19 area. You and your health care team will make this decision together based on your individual situation and what's best for both you and your baby.
While COVID-19 has not been found in breastmilk, precautions are recommended, such as wearing a mask while breastfeeding or pumping into a bottle and having someone who is not sick feed the baby. Washing your hands before and after breastfeeding is also recommended.
Some babies may be tested for COVID-19 and admitted for additional care if needed.
While there may be some anxiety around your upcoming birth, it's important to continue getting routine prenatal care and deliver your baby in a safe environment.
"Skipping your scheduled check-ups or opting for a homebirth can be dangerous for both mom and baby," Dr. Bauer said. "If you have questions, please talk to your health care provider and work with them to make a decision that's best for you and your baby. Despite these changes and precautions, you can be assured that you'll receive all the help and encouragement you need from our highly skilled team."
---
Beaumont Labor and Delivery: What to Expect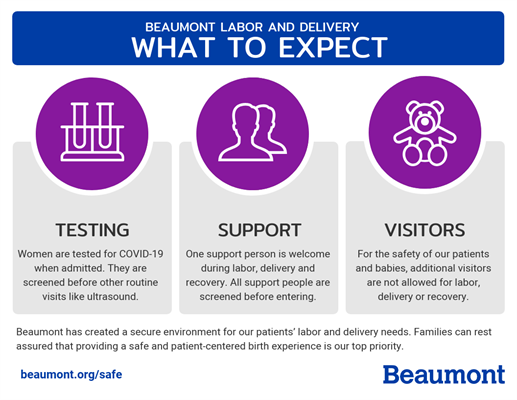 ---
Next Steps and Helpful Resources