Tuesday, January 31, 2023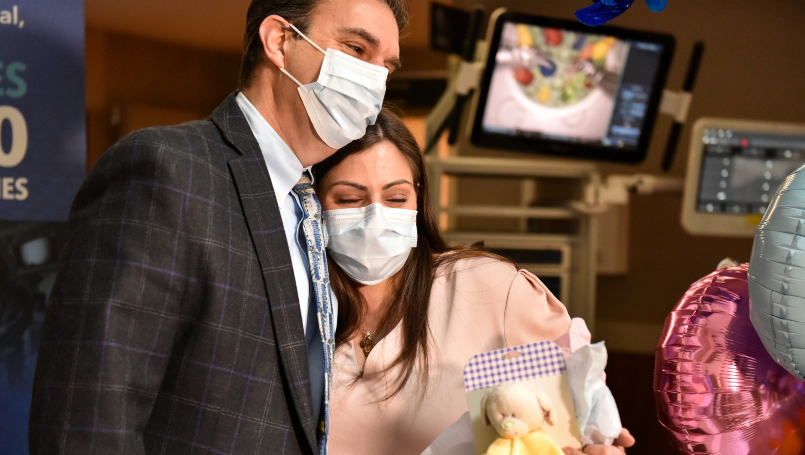 In her early 30s, Stefanie Wells had dealt with gynecologic issues – cysts, fibroids and extremely heavy bleeding during cycles – for years. Dreams of motherhood faded.
"I had already made my peace with God that I was older, and I might not be able to conceive," said Wells, now 36, of Milford. "But after meeting my husband and getting engaged – I thought maybe this is something we should reevaluate."
Wells turned to minimally invasive robotic surgery – along with lots of prayer and planning. In a robotic procedure Feb. 1, 2022, at Corewell Health William Beaumont University Hospital, the new name for Beaumont Hospital, Royal Oak, Dr. Jay Fisher removed cysts from each ovary, endometriosis from Wells' abdomen and 11 fibroids – one the size of a grapefruit. Wells also credits Corewell Health East reproductive endocrinologist Dr. Bradley Miller and obstetrician Dr. Karoline Puder, who specializes in maternal-fetal medicine at Corewell Health East, with helping her on her decision-making journey.
Now 14 weeks pregnant, Wells is one of 20,000 patients treated with robotic surgery at the Royal Oak hospital. The campus is one of less than 20 in the United States and the first in Michigan to reach the 20,000 milestone with the daVinci robotic surgery system.
"It's a miracle in itself, the whole process," Wells said. "In terms of the robotic surgery: Have hope and explore your options. It's important to understand what is available, and look at both the positives and negatives, so you can make an informed decision."
Patients and hospital medical staff, including Wells and Dr. Fisher, marked the 20,000th patient milestone with a celebration at the hospital on Jan. 30, 2023.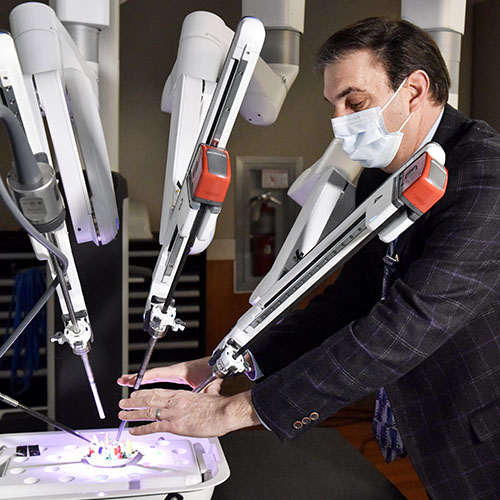 "This experience and capacity that we have gives many patients minimally invasive options for conditions that were previously treated with much more invasive surgery," Dr. Fisher, co-director of robotic surgery at Royal Oak, said. "Where they once might have needed a large incision and long recovery, we can now do things with much smaller incisions, shorter recovery, much less pain and a quicker return to normal daily activities."
He said that, typically, Wells would have spent days in the hospital and weeks in recovery after a surgery with a large incision across her abdomen. Instead, she has five small scars and she recovered much quicker.
"It makes me feel really good," Dr. Fisher said. "That was the outcome we were looking to achieve. Even though it was a difficult surgery, it was a wonderful outcome. I don't think she could have had a more optimal result."
The daVinci robot system is used for many types of surgical procedures. Urologists use it for prostatectomy, or removal of the prostate in patients who have prostate cancer, and kidney removal. General surgeons use the system to repair hernias. Colorectal surgeons use it to treat colon cancer. Gynecologists use robotic surgery for gynecologic cancers, hysterectomies, ovarian cysts, and fibroids, as in Wells' case. And thoracic surgeons use robotic surgery to treat abnormalities in the chest. A different type of robotic surgery system is also used for orthopedic procedures.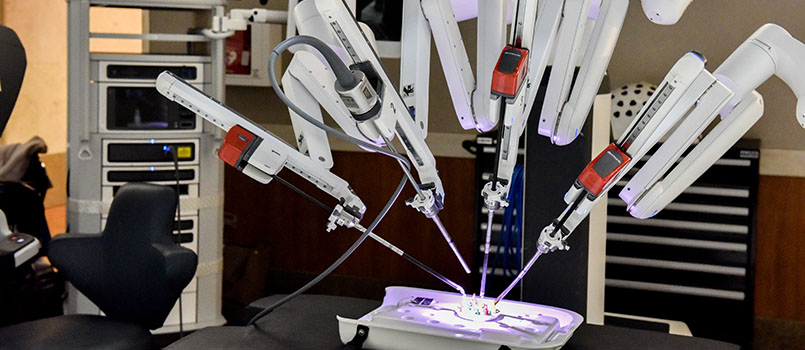 "When our patients face a difficult diagnosis, we want them to know advanced technology and experienced doctors are here for them at Corewell Health East," said Corewell Health East president Dr. Benjamin Schwartz. "We are thrilled to mark this significant milestone on behalf of our patients."
Wells said she also found support in a natural family planning group. Due in July, she said she hopes her journey inspires others facing issues trying to conceive.
"If you're dealing with infertility, don't deal with it alone," she said. "There are a lot of people who are going through what you're going through."