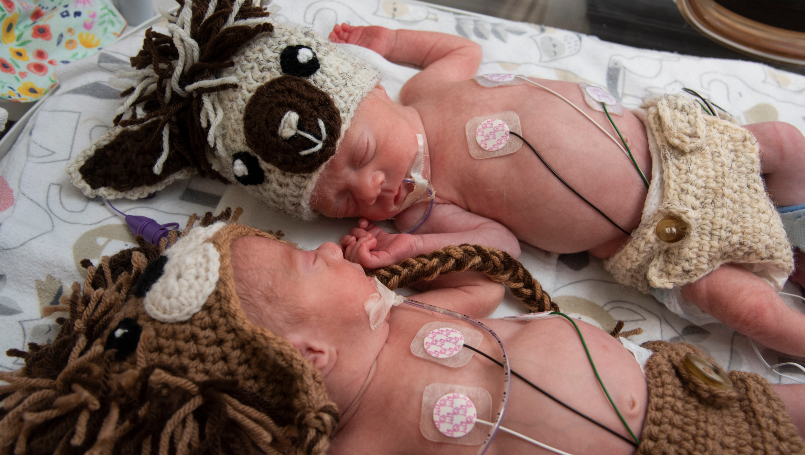 Last Halloween, Samantha Norris, 27, of Royal Oak, was officially in mourning. Although she was finally and officially cancer-free following a two-year battle with Hodgkin lymphoma, her body was in menopause and doctors told her she would never conceive.
This Halloween, she and husband Kyle are celebrating the birth of twin baby daughters, Delilah "Lilah" and Charleston "Charlie," Oct. 3 in the new neonatal intensive care unit (NICU) at Corewell Health Beaumont Troy Hospital, the new name for Beaumont Hospital, Troy.
"After chemo and a stem cell transplant, it appeared I could never conceive," Norris said. "They are our little miracles."
Dressing her newborns in delicately crocheted Halloween costumes - Charlie as a lion and Lilah as a llama - is an especially sweet treat.
"Last year, we didn't think we'd be able to experience holidays in this deeply personal and joyous way," Norris said. "But here we are just one year later, all four of us together. It is the most amazing thing."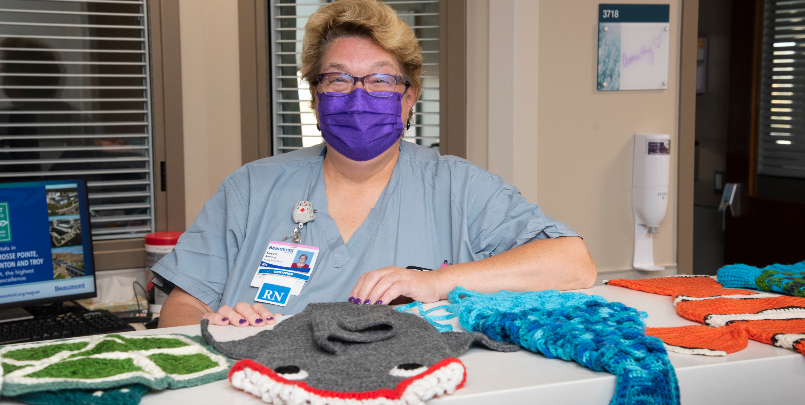 Susan Sparling, RN, has worked in the Troy NICU for 17 years and crocheted since childhood - but this is the first year she's made Halloween costumes - 14 in all - for the unit.
In addition to the lion and llama costumes, she also crocheted turtle, octopus, panda, fox, octopus, jellyfish, shark, tiger, monkey, giraffe, peacock and clownfish costumes.
"Our family has always been community-minded and we give back when we can," Sparling said "Now that my two sons are grown and living their own lives, I have more time."
Tedra Boedigheimer, RN, director of Nursing for Women and Children's at Corewell Health Beaumont Troy Hospital, said Sue's generous spirit and dedication gives the parents of NICU babies a festive distraction from the sterile hallways and meticulously scheduled feeding and medication regiments.
"We're grateful to Sue and proud of her, too," Boedigheimer said. "She poured so much time and effort into carefully making each of these sweet little costumes. And to see how much it means to our NICU parents is wonderful."
With triple the square footage of the previous space, Corewell Health East's newest NICU is an $8 million facility with 25 private and semi-private rooms that opened in June of this year. It provides parents the opportunity to remain at their infant's bedside 24/7. Each baby room includes a window for natural lighting and optimal healing. A transitional/training room affords parents the space to learn how to care for their NICU baby - many of whom need extra support when they go home - under the guidance of Troy's expert, pediatric nursing team.