Tuesday, December 19, 2017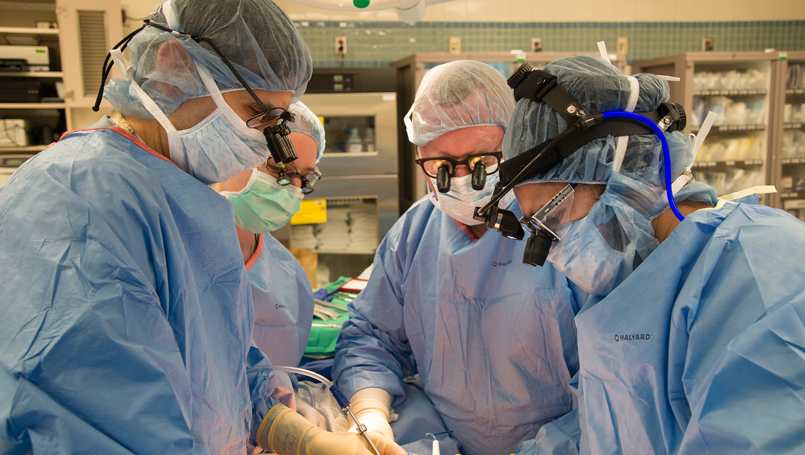 Kathryn Harvard, 60, of Ortonville, became the 100th patient to receive a kidney transplant at Beaumont Hospital, Royal Oak on Wednesday, Dec. 13. This marks the first time Beaumont Health's Multi-Organ Transplant team has performed 100 kidney transplants in one year, doubling the number from a decade ago. Less than a quarter of the 244 kidney transplant programs in the U.S. perform 100 or more kidney transplants in a calendar year.
Alan Koffron, M.D., transplant surgeon and chief of Beaumont Health's Multi-Organ Transplant Program, said, "This is monumental for several reasons, but mainly indicative of the enormous amount of effort and drive the team has put forth becoming a large kidney transplant program nationally, while maintaining superior results during this growth."
Medical Director of the Beaumont Multi-Organ Transplant Center, Dilip Samarapungavan, M.D., attributes this growth to the pioneering efforts of the Kidney Transplant Program. He explained, "It is the combination of an innovative use of scarce donor organs, along with major efforts at finding the appropriate live donor so they might save a life, but also with donor safety a priority. We also have an incredible team that works relentlessly to ensure a successful outcome for every patient."
The Beaumont Transplant Program offers advanced protocols tailored to the individual patient, balancing risk and benefit to provide the best possible results for each person. Based on Scientific Registry of Transplant Recipients data, Beaumont has the shortest average wait time of 2.9 years for adult kidney transplants in Southeast Michigan – about two years shorter on average.
Since the inception of Beaumont's kidney transplant program in 1972, more than 2,500 transplants have been performed.
Year to date, the Beaumont Multi-Organ Transplant Center has performed 100 kidney transplants and 26 liver transplants.