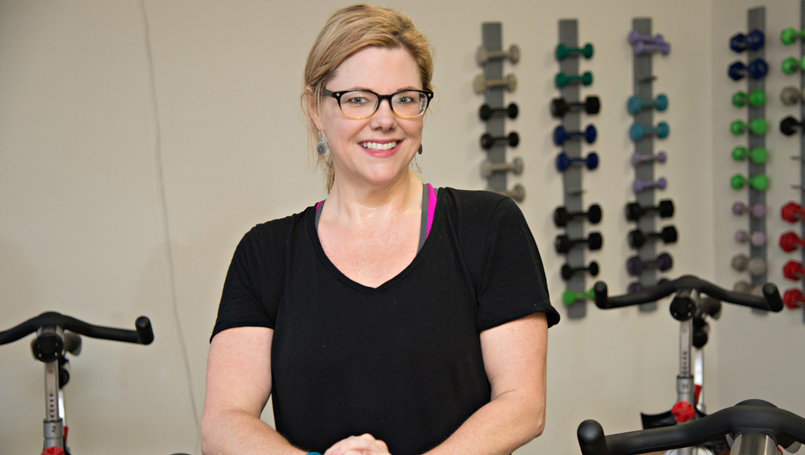 Kimberly Gadja, 43, of Royal Oak, has been prone to anxiety and depression since she was a teenager.
"I was depressed, so I ate to comfort myself; it was a spiral," said Gadja. "I tried to push all the bad feelings down with food. I needed something to take me away."
In just 13 months, Gajda lost 181 pounds as a patient at the Beaumont Weight Control Center in Royal Oak through the center's multidisciplinary, meal replacement program.
I tried to push all the bad feelings down with food. I needed something to take me away.

Kimberly
"Now, when I start feeling stressed, I work out, take the dog for a walk, do a calming breath meditation or go to a Weight Control Center support group meeting," Gajda said. "The emotional support I receive from my friends in the group is huge."
"A Beaumont representative still checks back with me every few months to see how I'm doing," Gajda said. "They want you to remain successful. I love it. It keeps me accountable."
Emotional eating occurs when people use food to cover or address emotions, particularly negative ones.
"Dietitians can teach people what to eat and when," Kathleen Shay, Ph.D., a psychologist with the Beaumont Weight Control Center, Canton, said. "An exercise physiologist can motivate a person to exercise. But, if patients don't understand the underlying drivers of behavior that lead to unhealthy choices, it's difficult to be successful long-term."
By identifying situations that can lead to overeating, patients can work on developing alternative responses.
"'What thoughts and feelings lead me to do the wrong thing?'" Shay said. "Overeating often makes people feel like they are out of control, which makes them feel badly and leads to more overeating. Knowing our triggers can make us feel in control.
"That's why a multidisciplinary program is so effective," Dr. Shay said. "It provides all the tools necessary for success."
Gadja's journey began with a visit to her Beaumont primary care physician who referred her to a Beaumont sleep apnea specialist.
"He was blunt: 'You're severely obese,' he said. I was taken aback. 'Here's a referral to the Weight Control Center,' he said. 'You need to go there. It's not an option.'"
"I was dying," said Gadja, who previously suffered from high blood pressure, sleep apnea, chronic back pain, fatigue and other ailments. "I could feel it."
Once she committed to a Beaumont weight control program, there was no turning back.
"I'm the kind of person who doesn't even like to get shots. But this time, I was going to do whatever I had to do to get better," Gajda said. "The program, the staff and the other patients gave me my life back. It really, really works."