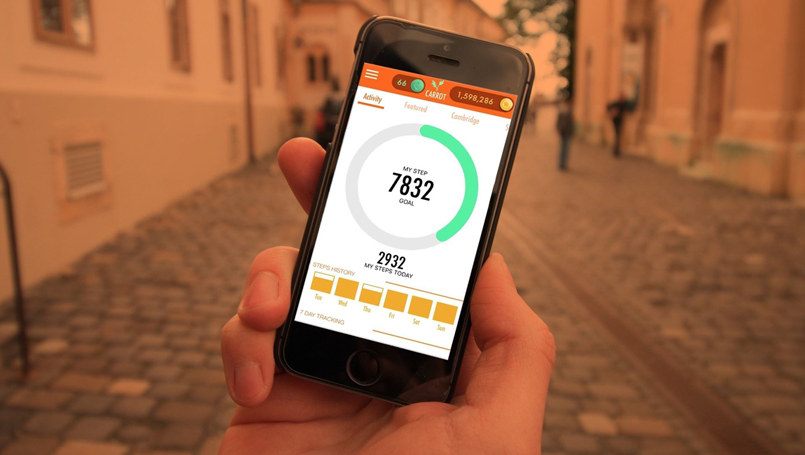 Community health initiative: Free health and wellness app rewards users for walking
After a long winter, Beaumont Health is encouraging area residents to get on their feet and step up their walking. Thanks to a relationship with CARROT Health and Wellness, participants in Beaumont's CARROT program will earn points toward rewards using the free, mobile walking app.
The benefits of walking are well-documented – reducing a person's risk for many serious health conditions including heart disease, high blood pressure, stroke and type 2 diabetes.
Said Betty Priskorn, vice president, Community Health Outreach at Beaumont Health, "Our program with CARROT gives community members an incentive to get moving. It uses individualized goals and instant gratification to motivate. Beaumont is committed to becoming a leader in care, supporting the needs of the communities we serve."
The Beaumont CARROT program is part of a large community health initiative called "Beaumont Gets Walking." It focuses on the communities in Wayne, Oakland and Macomb counties surrounding Beaumont's eight hospitals.
Beaumont is the first health system to collaborate with CARROT on a long-term community health program.
"We're honored to be working with Beaumont Health to support their amazing work in community health," said Michael Antaran, CARROT founder and CEO. "We firmly believe CARROT will be an effective tool in helping them reach the entire community, including those who do not typically take part in wellness initiatives."
CARROT gives each user a personalized activity goal that updates each day. Participants can earn one Reward Point for each step taken and one Goal Coin each day they meet their personalized activity goal. These virtual currencies can be used to purchase digital gift cards. They can also be used to play games and to compete in walking challenges.
Explained Priskorn, "Our walking program with CARROT is a good fit in addressing health priorities identified by our Community Health Needs Assessments – obesity, diabetes and heart disease. The program encourages participants to take steps for a healthier future."
In addition to earning rewards for steps, those enrolled in the "Beaumont Gets Walking" program on CARROT can earn rewards by participating in other Beaumont activities such as healthy cooking classes and community education programs.
Metro Detroit area residents are encouraged to:
Download the free CARROT wellness app from the Apple or Google Play Store. Search "carrot wellness" or go to http://onelink.to/CARROT
Open CARROT and log in. Log in using your phone number or Facebook
Swipe left to "BEAUMONT" tab, tap on the "Join the Program" reward item and "purchase" your free entry into the program
"When it comes to walking, we've got opportunities and options for almost everyone," said Priskorn. "Along with the CARROT app, the 'Beaumont Gets Walking' initiative offers: 'Walk with a Doc' programs; neighborhood walking groups and mall walking groups."