Tuesday, February 11, 2020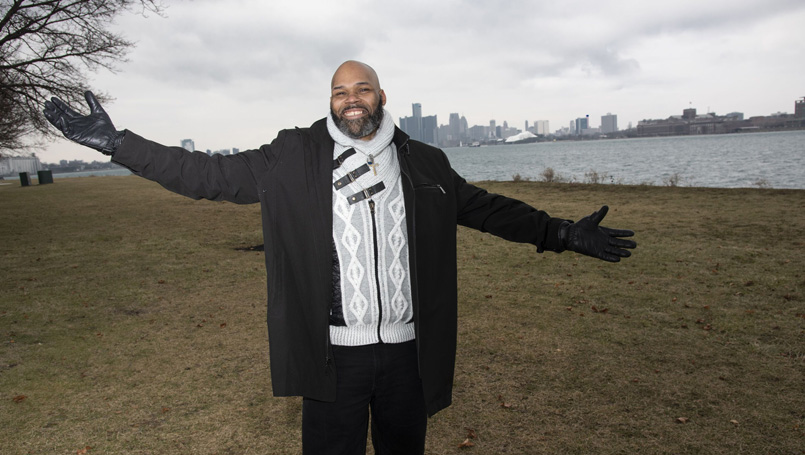 When Darryl Filban weighed 485 pounds, there were a lot of things he couldn't do. The 45-year-old Farmington Hills man couldn't ride a bike, indulge his passion for fashion or even walk the Las Vegas Strip with his new bride.
Strolling through the City of Detroit - the way he does today - was out of the question.
Bariatric surgery at the Beaumont Weight Control Center in May of 2018 changed his life, Filban said.
"I was on the verge of diabetes. My blood pressure was out-of-control. And, I had plantar fasciitis in both feet. It felt like I was walking on nails," Filban said. "A few of my friends had passed away because they were so big. Things were kind of scary, for sure."
Back in 2017, his primary care physician, Dr. Kamran Sheikh, told Filban he would not be alive much longer if he didn't change things up. Dr. Sheikh also encouraged Filban to visit the Beaumont Weight Control Center.
"Dr. Sheikh really cares about his patients and he cared about me," Filban said. "He saved my life."
By the Fall of 2017, Filban had registered at the Weight Control Center and met Dr. Kerstyn Zalesin. He had lost some weight on his own and was down to 411 pounds.
"Darryl was dedicated to his new lifestyle from Day 1," Dr. Zalesin said. "His determination and strength really came through. 'I'm going to beat this!' he said. And, he meant it. 'You're going to be my poster guy,' I told him."
During the next six months, Filban faithfully met with the center's multidisciplinary staff, including exercise physiologists, dietitians, psychologists and primary care doctors.
Since starting with the Weight Control Center, Filban has lost 206 pounds. He is off all blood pressure medication; his cholesterol is improved, and plantar fasciitis, sleep apnea and pre-diabetes are all things of the past.
And now, instead of barbecue ribs, Filban dines on garlic balsamic chicken with tomatoes, asparagus and mushrooms. The rum cake he lovingly prepared for family and friends has been replaced with sugar-free Jolly Ranchers. Water is his go-to beverage.
Filban's home gym, which he uses regularly, is equipped with a treadmill and free weights.
"My wife, Sandy, is my inspiration; we were married in March of 2017," Filban said. She loved me the way I was. But, I didn't want to marry her and then leave her behind. I wanted to be there for her."
When the pair returned to Vegas for their second anniversary, it was Sandy who asked Darryl to slow down. At Disney World, which they had also traveled to for their honeymoon, Filban was able to finally enjoy the attractions and rollercoasters he wasn't able to ride for years.
He also changed careers. A former professional chef who loved to prepare great meals for his brothers, sisters, mom and wife, Filban switched to driving a truck and limousine to avoid being tempted by food.
Born and raised in Highland Park, Filban is now able to nurture his love for the city of Detroit by meeting his brother Marion for healthy chicken shawarma at the Bucharest Grill, hiking the River Walk at Hart Plaza and spending time on his beloved Belle Isle.
"Belle Isle, it's just so incredibly peaceful," Filban said. "Being there, and in the city in general, is kind of symbolic. Detroit is experiencing this fantastic rebirth and so am I. There's this whole other person I don't have to carry around anymore. The sky is the limit."