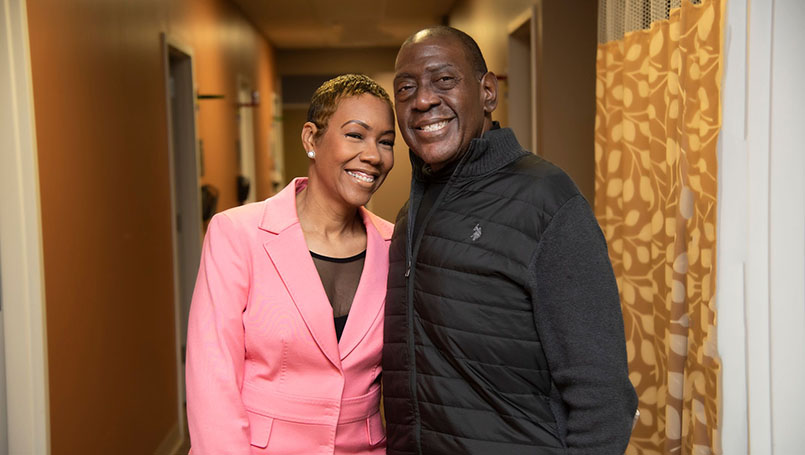 Big game parties at the Kimbrough house in Southfield have always been festive occasions, with cocktails, mocktails and buffet tables bursting with ribs, fried chicken, fresh rolls and chocolate chip cookies.
But, this year, with big menu changes, the couple wasn't sure if their friends would still want to come.
"We said, 'We'll provide salad and veggies, chicken thighs and fresh fruit. If you want something else, you'll have to bring it,'" Alex Kimbrough said. "Everybody has always known me as this overweight guy. But now they're happy to see me making positive changes in my life and are supportive of that. A few friends brought their own dishes; however, food wasn't the main attraction. We all had a wonderful time."
Since losing 140 pounds following bariatric surgery last November with Corewell Health's Beaumont Weight Control Center in Royal Oak, Alex's diet has changed significantly. But the good news is that he isn't navigating these changes alone.
His wife, Roz, led the charge by losing 75 pounds following bariatric surgery in February 2022.
"For me, surgery was a game changer," said Roz, who's found that achieving a healthy weight to be infinitely more satisfying than the 15-minute rush a bowl of chocolate ice cream could provide. "And doing it together, with my husband, has been a source of inspiration for both of us."
According to Corewell Health's Dr. Kerstyn Zalesin, with virtual doctors' visits and relaxed criteria from most health insurers, the process is much more accessible than it was, even compared to just a few years ago.
"In the past, several months of prep time was difficult for many patients to navigate," Dr. Zalesin said. "When people are working full time, have small children or are just trying to live their lives, juggling multiple doctor's visits each month leading up to and following surgery can be overwhelming. I'm happy that we are often able to offer a thoughtful but streamlined option now."
For his part, Alex is no stranger to exploring weight loss options, including medical ones. With a peak 369 pounds, he's been battling weight his entire life. At one point, he successfully lost 80 pounds with a non-surgical, supplement-based program, also through Corewell Health. But eventually, he gained it back and then some.
Whenever bariatric surgery came up, Alex was adamant: "In my mind, this was not an option for me. I was too arrogant. I thought, 'I should be able to do it on my own.'"
Roz's battle with weight kicked into high gear 13 years ago while fighting breast cancer.
"In June 2012, I was diagnosed with a late stage and aggressive form of breast cancer," Roz said. "I had radiation and chemotherapy and started gaining weight. During chemo, my physician was clear – no dieting. I understood it intellectually. But it dragged me down a bit and affected my mindset."
Throughout treatment, which included a double mastectomy, followed by a failed breast reconstruction and blood infection, and a second, successful breast reconstruction, Roz increasingly turned to food for comfort. And the weight piled on.
"Getting through was very difficult at times," Roz said. "There were periods of anxiety and depression. I saw food as always being there for me."
She finally decided that enough was enough and enrolled in the integrative bariatric surgery program at Corewell Health's Beaumont Weight Control Center and never looked back.
"I was sick and tired of Yo-Yo dieting. I needed a long-lasting jumpstart that I could maintain," she said.
Alex was there for moral support, of course, but also taking careful note of his wife's progress.
"She was losing weight faster than I thought she could do on her own," Alex said. "Plus, she talked about how much better she felt and how she had so much more energy. All along, she was encouraging me and telling me how these changes were going to happen for me, too. Her reaching her weight loss goal helped me realize that this could work for me."
With newfound hope that bariatric surgery was indeed viable for him, too, Alex reluctantly started the process.
"Even when I was being wheeled into the operating room, I was thinking, 'Is this really happening? How can I get out of this?'"
Swift success following surgery, however, quickly convinced him he made the right decision.
"Me, Roz and my doctors were all astonished – in a good way – at how quickly the weight came off," Alex said.
Roz and Alex's physician, Dr. Zalesin, said, "Both showed me beforehand and since how committed they are to making changes. The weight loss journey doesn't end with surgery: it's the beginning. Surgery is a tool, a jumpstart. If we don't also incorporate healthy behaviors, lasting change won't occur."
Since losing more than 200 total pounds, the Kimbroughs now enjoy splitting restaurant meals, seeing only healthy options in the refrigerator and pantry and sharing fun and healthy eating tips. Spoiler alert: protein bars and shakes are one of their favorite go-to snacks/meal replacements.
As a result of his new and trimmer body, Alex no longer uses a walker, wears a variety of fun, off the rack clothing and has swapped out his single pair of well-fitting, orthopedic shoes for a variety of trendy footwear.
And Roz is looking forward to a trip to Punta Cana with her girlfriends.
"If you're considering bariatric surgery but have doubts and concerns, talk to people, do your research," Roz said. "But let me say this: 'Alex and I know exactly how you feel. We have been there with the doubts and concerns. You can do it!'"
Learn more about the integrative bariatric surgery program at Corewell Health's Beaumont Weight Control Center.