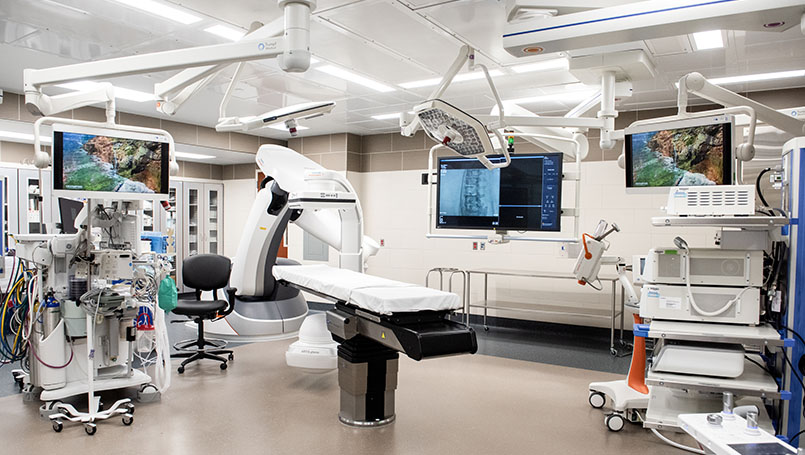 Eight expanded and renovated surgical suites and a new, state-of-the-art hybrid operating room are online after a multi-year construction project at Corewell Health's Beaumont Hospital, Grosse Pointe.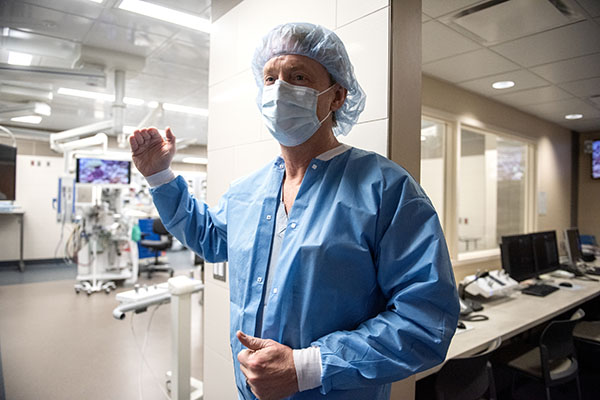 "This project provides the most advanced technology and efficient spaces for our teams to care for the community's health needs," said Beaumont Hospital, Grosse Pointe, President Dr. Timothy C. Lyons, an anesthesiologist. The project revamped nine existing operating rooms, which went fully back online in January.
The centerpiece is a hybrid surgical suite, a 1,084-square-foot procedure area in which either minimally invasive or traditional surgery can take place. The larger suite is equipped with advanced imaging devices such as C-arms, CT scanners and MRI scanners used in more complex orthopedic, vascular and neurology procedures.
The project also increased the size of the remaining eight surgical suites by one-third, to an average of 600 square feet. Dr. Lyons said the increased size and new equipment:
Allows easier and more efficient staff movement during procedures
Accommodates more equipment configurations to adapt to different types of procedures
Improves access to the patient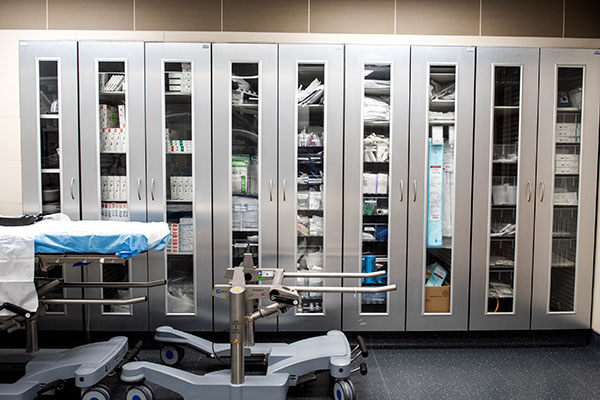 The project also created an upgraded, standalone cystoscopy room equipped to perform urologic procedures like removing kidney stones. Additionally, the area's electrical infrastructure was updated to meet equipment demands, and storage capacity was increased to allow easy access to necessary equipment as well as specialty equipment.
Urologist Dr. Philip Shalhoub, medical director of surgery at Corewell Health's Beaumont Grosse Pointe Hospital, said the project brings state-of-the-art procedure rooms to the Grosse Pointe area. Dr. Shalhoub recently began offering aquablation in the new space. The new, minimally invasive procedure uses water jets to treat patients with enlarged prostates, particularly those with hard-to-treat, very large prostates. "These upgrades help a great team be even better," said Dr. Shalhoub. "The community support for this project has been incredible, which we truly appreciate as we take care of our families and friends in the Grosse Pointe area and beyond."
Patti Theros, a Beaumont Foundation senior major gifts officer focusing on Beaumont Hospital, Grosse Pointe, said support for the project included a $5 million leadership gift from James and Patti Anderson: $3 million for the hybrid suite and $2 million for an endowment for staff training. Additional project donors include Janet A. and H. Richard Fruehauf Jr.; Mary Kay and Keith Crain; Meridian Health Plan and the Grosse Pointe Golf Classic, with the remainder provided by Corewell Health.
"The support from our community helps shape the future of care at Grosse Pointe and will positively affect patients and families for decades to come," said Ed Russell, chair of the Beaumont Hospital, Grosse Pointe, Development Committee. "It truly is a partnership with Corewell Health and the Grosse Pointe community to advance care."