Wednesday, March 29, 2017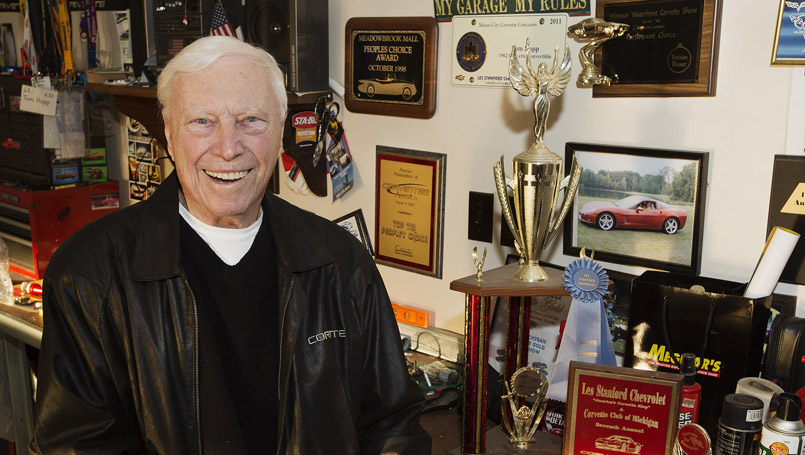 HIPEC: Heated chemo can improve survival, quality of life for advanced abdominal, colorectal cancers
While Robert Granata, of Bloomfield Hills and Tom Hopp, of Shelby Township have never met, Tom is grateful for Granata's vision and gift to Beaumont Hospital, Royal Oak. After Granata traveled to Pennsylvania in 2014 for a leading-edge cancer treatment called HIPEC, he was determined to make that same therapy available to cancer patients at Beaumont.
Said Granata, "Not many people know this treatment option is available to treat abdominal cancers. With our comprehensive program now in place, we can extend survivorship, as well as, save a lot of people's lives."
CANCER DIAGNOSIS
Three years ago, Robert Granata, then 49, was diagnosed with stage 4 appendiceal cancer at Beaumont, Royal Oak. He was told his best treatment option for advanced, abdominal cancer was HIPEC, or hyperthermic intraperitoneal chemotherapy. Unfortunately, back then, Beaumont did not offer such therapy and neither did a lot of Midwest cancer programs. For many, HIPEC offers hope of improved survival rates.
Nothing motivated Granata more to pursue this innovative treatment than his supportive family. "I have three wonderful, teenage daughters and a wife that I need to be around longer for," he said.
His Beaumont surgeon, Julie Koffron, M.D., told him to consider the HIPEC program at the University of Pittsburgh Medical Center. After her suggestion, Granata learned all he could about HIPEC, area treatment programs, patient benefits and risks.
"I had to become my own patient advocate," explained Granata. "Although, I was originally referred to UPMC, I did more research and was able to confirm it to be the right decision."
Granata was accepted in the UPMC program. He underwent his first treatment in September 2014 and his second last year.
HIPEC PROGRAM AT BEAUMONT
Having made numerous trips to Pittsburgh, Granata knows the challenges of traveling 600 miles roundtrip for the surgery and subsequent follow-up care. He and his wife, Pam, quickly recognized the logistical and financial hardships it created for many who sought care from outside Pittsburgh.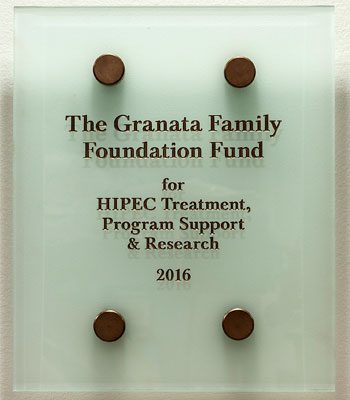 "A majority of patients with peritoneal disease cannot afford to leave their families for 2-4 weeks," explained Robert. "Patients with children must also consider childcare options if they're gone for extended periods."
These issues got them thinking about supporting a HIPEC program at Beaumont through a gift to the Beaumont Foundation. Robert invited Dr. Koffron to travel with him to observe the UPMC's HIPEC program. She accepted. He met with the foundation and leadership of the Beaumont Cancer Institute. After the organization developed and implemented a comprehensive HIPEC program, the Granata family gave a gift for HIPEC treatment, program support and research. It is also their intent to continue to explore innovative ways to fund the growth of the program.
BENEFITS OF HIPEC
Vandad Raofi, M.D., surgical director, HIPEC program, Beaumont, Royal Oak explained, "Typically, cancers in the abdominal cavity are difficult to treat. Traditional chemotherapy can control the disease, but is not a cure and ultimately the tumor will progress. The addition of HIPEC to standard chemotherapy prolongs survival and can cure some patient's cancer."
This treatment begins with major surgery to remove all visible tumors and cancer. The microscopic cancer cells left behind are then treated and bathed in a heated chemotherapy solution.
The chemo is between 107 and 109 degrees. Cancer cells are destroyed at about 104 degrees. Healthy cells die at about 111 degrees.
"Compared to standard chemo, HIPEC offers about a 17-month survival advantage," said Dr. Raofi. "Another 10 to 15 percent of patients live longer, cancer free."
Since the program's inception in May 2016, 17 patients have undergone HIPEC at Beaumont. Most candidates, like Tom Hopp, have colorectal cancer.
The surgery with HIPEC is usually 6-8 hours, followed by 10-12 days of recovery in the hospital. After the patient is released, the surgical team, oncologist and primary care physician closely monitor them.
Beaumont's comprehensive approach to HIPEC includes a multidisciplinary team of medical oncology, surgical oncology, urology, gynecologic oncology and colorectal surgery specialists.
Shelby Twp. man grateful for Beaumont's HIPEC program
Up until five years ago, Tom Hopp, 77, never spent much time in hospitals. That changed after he was diagnosed with prostate cancer in 2012. Then, other medical issues developed, including spinal stenosis, stroke, quadruple bypass and most recently, colon cancer.
Hopp had his HIPEC procedure this past November.
"I'm happy to have been considered for this new program. I'd recommend it. It's a treatment option that can extend your life and its quality," Hopp said.
For years he was a picture of health. Today, he still works out. Along with his wife, two sons and three grandchildren, he loves his 1962 Corvette. It took him three years to refurbish the car. He and his wife Linda take it to car shows from coast to coast.
Through all his recent medical challenges, he's not about to hang up the keys to his '62 Vette. Tom looks forward to warmer weather and the call of the open road.
Hopp's oncologist, George Howard, M.D., is hopeful his HIPEC procedure will allow him more time to enjoy his family and interests.