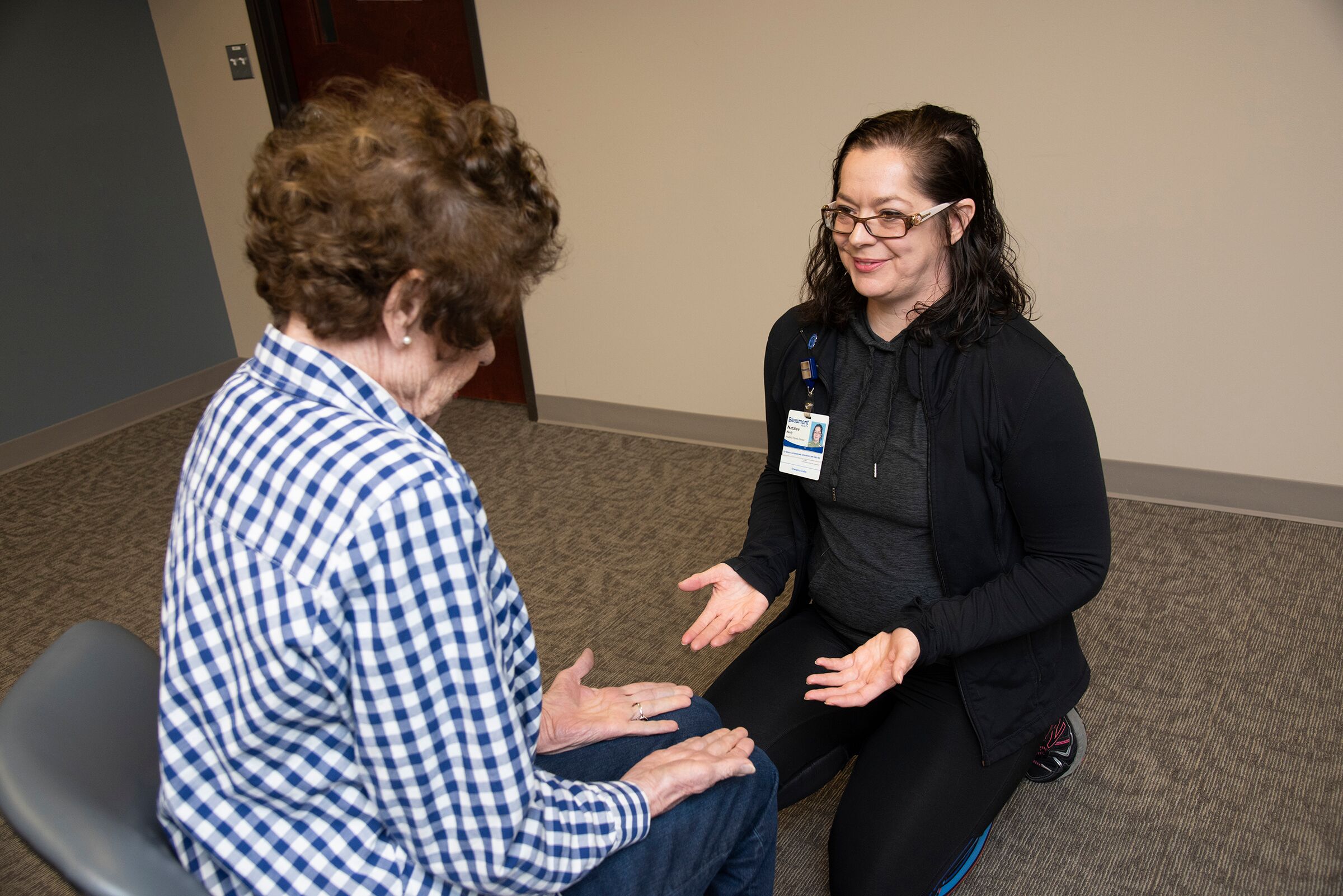 Yoga did not cure Beaumont yoga therapist Natalee Neely's asthma. But 22 years ago, yoga allowed her to throwaway her inhalers and avoid steroids.
"I knew what steroids would do to my body; I wanted no part of it," Neely said.
She's never looked back.
"When life happens, and my routine loses momentum the symptoms return," said Neely who completed 500 hours of training to earn her certification from the Beaumont School of Yoga Therapy.
Yoga therapy uses yoga postures, breathing exercises, meditation, and guided imagery to improve mental and physical health.
"As long as I practice," Neely said, "I breathe easy. Which is a big deal. I don't have asthma attacks and I don't spend weeks in bed a couple of times a year with bronchitis anymore. My allergy symptoms have also dissipated."
Now Neely is sharing her story and expertise with yoga and fitness students at the Beaumont Health and Fitness Center in St. Clair Shores, as well as members of the Beaumont Breathers Club.
"Yoga improves my overall well-being," said Breathers Club participant Karen Quarnstrom of Grosse Pointe, who has been battling COPD for ten years and practicing yoga most her life. "When I get out to take a class I feel more relaxed. And accomplished.
Neely's asthma symptoms surfaced when she was a 16-year-old accomplished athlete and runner. As a result, she hung up her gym shoes and began fearing she would experience the same fate as her father. His chronic and acute lung issues led to pulmonary embolism and death at age 45. Neely was just three-years-old.
"I still remember how sick he was: coughing, fingers turning blue, unable to get out of bed," Neely recalled.
By age 23, Neely's condition progressed to a point where doctors recommended steroids.
"I was determined to find another way," Neely said. "That's when I started experimenting with yoga.
One year later, she threw away her inhalers and her symptoms vanished.
Although yoga increases relaxation, and relaxation is key to slowing down the breath, focused breathing isn't yoga's only benefit, Neely said.
"Yoga massages the glands and internal organs, reduces stress, increases mental awareness and encourages us to treat ourselves kindly," Neely said. "Essentially, it gives us coping skills."
According to Maureen Anderson, M.D., medical director of Beaumont's Integrative Medicine Department, research shows yoga improves quality of life.
"There are positive trends toward improved lung function and medication reduction," Dr. Anderson said. "It is recommended as an adjunct to traditional treatment, not a replacement for medication."
Yoga therapy also allows participants to become active in a supportive environment, under the supervision of a trained therapist, Dr. Anderson continued.
"The integrative medicine staff coaches all our patients to use breathing to calm the central nervous system," Dr. Anderson said. "Our trained yoga therapists help patients to do this in a safe manner, tailored to their specific needs.
According to Veronica Zador, director of the Beaumont School of Yoga Therapy, yoga therapy also offers patients a simple and consistent therapeutic routine they can personally manage and sustain.
"It's our goal to empower patients to cope with and adapt to the multi-leveled aspects of responding to diagnosis, treatment and recovery of disease," Zador said.
The school was established in 2014 and some of its programs were accredited by the International Association of Yoga Therapy in November of 2018.
Call 248 551-9127 or visit www.beaumont.edu/other-education/allied-health/school-of-yoga-therapy
To make a yoga therapy appointment contact the Beaumont Health Integrative Medicine Department, with locations in Grosse Pointe Farms, Royal Oak, Troy/Sterling Heights and West Bloomfield, at (248) 964-9200. Visit www.beaumont.org/services/integrative-medicine