Tuesday, September 18, 2018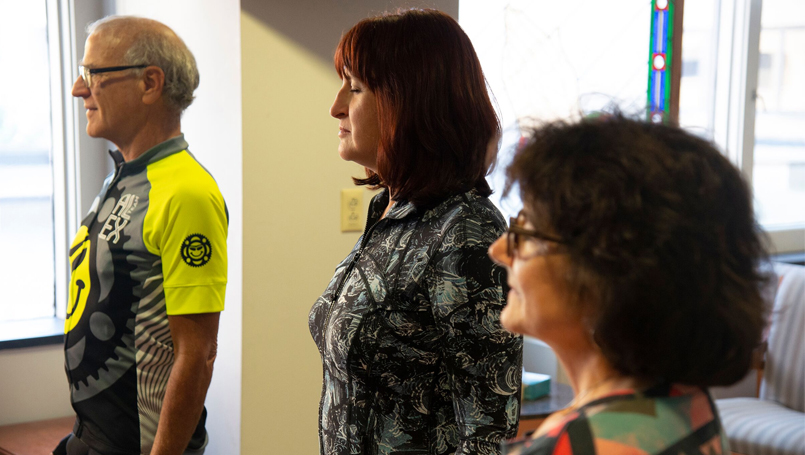 Every day, Beaumont Hospital, Royal Oak, infectious disease expert Carmen DeMarco, M.D. tells her patients, "Take care of yourself. Eat right. Get enough rest. Exercise."
Following her own advice, however, isn't so easy.
Participating in an eight-week, Mindfulness-Based Stress Reduction course offered by Ruth Lerman, M.D., medical director, Beaumont Center for Mindfulness helped Dr. DeMarco shift her perspective.
And, her behavior soon followed.
"At the time, I was struggling to maintain all of my electronic medical records and, as a result, was bringing work home," Dr. DeMarco said.
"When my children tried to talk to me or ask questions, I would get frustrated and think: 'Why are they interrupting me?'"
Physician stress and burnout is a growing national concern.
According to the VITAL WorkLife & Cejka Search Physician Stress and Burnout Survey, 2015, 88 percent of physicians say they are moderately to severely stressed. Similarly, 54 percent of physicians say they are burned out, according to a 2014 Mayo Clinic survey. During the class, Dr. DeMarco realized: "My children weren't interrupting me. I was interrupting their home life. They deserve to have a mom there."
"Things in our environment aren't necessarily going to change, electronic medical records aren't going away. Instead of wasting my energy railing against them, I have the power to change my response."
Since then, Dr. DeMarco has taken steps to be more productive during her work day so she doesn't have to bring as much work home. One of those steps includes making time to eat lunch.
"In the past, I didn't think I had time to eat and would work through it. Not only was I hungry, I was frustrated: 'I didn't even get to eat!'" Dr. DeMarco recalls. "That is not taking good care of yourself. Now, I make time for lunch. And, I am feeling much better, physically and mentally."
According to Dr. Lerman, MBSR classes have been offered globally since 1979 but combining patients, doctors and families of both in the same class is unique.
Research validated measures of stress and burnout from those who participated in four separate MBSR sessions, winter 2017 through winter 2018, revealed significant improvements in mental health, said Dr. Lerman, who tracked and measured outcomes.
Participants reported feeling calmer, more focused and better able to communicate.
"Spending time together allowed both patients and physicians to tap into their common humanity and heal each other," Dr. Lerman added.
One physician said she didn't think a group of just physicians would be as open with each other as this group was.
Similarly, one year later, Bloomfield Hills resident Laurie Haroutunian, a 28-year breast cancer survivor and one of Dr. Lerman's patients, said she continues to use the techniques she learned in class every day.
"Recently, I was stuck on a tarmac in Madrid for four hours," Haroutunian recalled. "I'm borderline claustrophobic and would normally be flipping out. But, I was able to practice some deep breathing and objectively look at what was happening: 'These stressors aren't personal to me, it's life happening. How I deal with it is what counts.' I was able to let go and just allow things to happen.
For Dr. DeMarco, the class also provided fodder for personal reflection.
"Physicians and patients don't often get a chance to spend time together outside their work relationship," Dr. DeMarco said. "In this class, we realize we aren't so different. Everybody just wants to be happy. Watching these patients deal with cancer, along with the ongoing challenges of daily life, was very inspiring. I thought, 'If they can do it, I can do it.'"
Seeing patients practice resilience, Dr. Lerman said, can also be a relief to physicians: 'It's not my job to fix everything. Patients have their own resources.'
Dr. Lerman, along with Lucy Sternburgh Ph.D., program manager, presented the findings of their research at the International Conference on Mindfulness in Amsterdam in July.
"When we live our lives on auto-pilot because we're trying to avoid painful memories or current experiences, we don't just close ourselves off to the bad, but to the good, as well," Dr. Lerman said. "Mindfulness allows us to see things as they are and become more engaged in life. It allows us to truly live."
Drs. Lerman and Sternburgh's eight-week, MBSR program launches a new session on Monday nights, Oct. 1 to Nov. 26. Attendance at an introductory class on either Sept. 17 or 24 is required. The program is open to adult oncology patients and their families, physicians and all Beaumont Health employees.
Other similar mindfulness program offerings are available to the community through the Beaumont Center for Mindfulness.
"We work with each participant to ensure they achieve their own best outcome," Dr. Lerman said. "Our goal is not only to advocate for our patients but for the community as a whole."