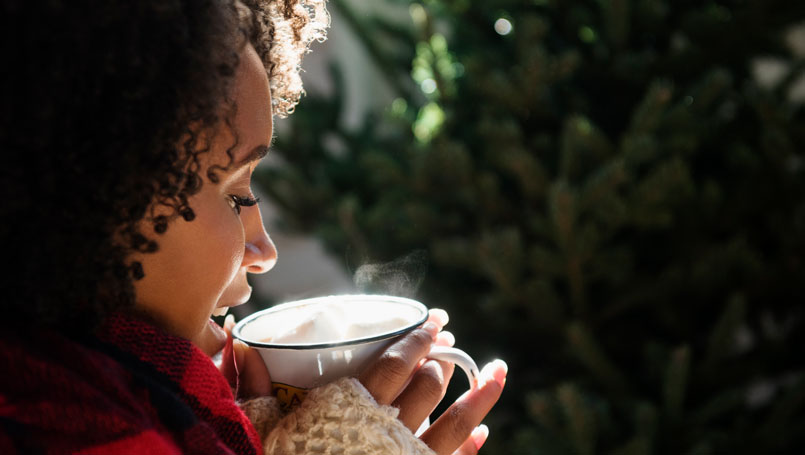 One person's walk through a wintery wonderland could be another person's nightmare before Christmas.
One thing we can agree on, when reality falls short of the daydream, anxiety can set in.
Ruth Lerman, M.D., medical director of the Beaumont Center for Mindfulness, offers suggestions on how to cultivate mindfulness during the holiday season and throughout the New Year.
What does mindfulness mean?
Mindfulness is the awareness that comes from paying attention to what's happening in the present moment, with kindness and a lack of judgment.
Although everyone has their vision of the perfect holiday, Dr. Lerman said, no Christmas, Hanukkah, Kwanzaa or other celebration is perfect. Snafus, do, however provide the opportunity to exercise our flexibility and resilience.
For example, a half-baked batch of cookies or burned out string of lights won't ruin the celebration, but might create a treasured family memory. Either way, obsessing about a situation never improves the mood.
"For example, when baking cookies, being mindful means noticing the scent of cinnamon and nutmeg and remembering your grandma teaching you the recipe instead of worrying about how to pay for expensive gifts or capturing the perfect holiday photo," Dr. Lerman said.
"Mindfulness eases tension by providing the focus needed to effectively address the task at hand," she added.
Research has shown that a wandering mind is an unhappy mind.
"We feel stressed when we feel we don't have the resources to cope with a situation. Mindfulness enables us to recognize and implement solutions," she added.
Can mindfulness be used to cope with family members who create holiday stress?
Yes.
"Let go of expectations and try to notice and feel the stressful person's suffering. Notice that you are similar to her/him because suffering is part of the human experience. Most importantly, bring compassion to yourself by easing up on self-expectations, acknowledging your personal pain and remembering that everyone has troubles."
Mindfulness can also be used to navigate the stress of shopping, wrapping, hosting and pleasing others, by reminding ourselves: 'this too shall pass.'
"In the meantime, we can take a few deep breaths, focus on sensations at the low belly to calm our mind, lower our blood pressure and slow our heart rate and breathing," Dr. Lerman said.
Here are a few additional tips to help us work toward a joy-filled and mindful holiday season:
Set realistic expectations
If a child's wish list is beyond your budget, talk to them about realistic expectations and remind them that the holidays aren't about expensive gifts.
Avoid the cycle of overindulging and guilt
Excessive eating and drinking can lead to more than a bulging waistline and high cholesterol. It sets up a cycle of negative self-talk that can chip away at self-esteem. By eating mindfully, we can boost the health of our minds and bodies. Take a moment to observe why you are eating and what you are eating. Don't combine eating with other activities, which can lead to grazing. Take a moment to be grateful for all you have.
Be proactive
If you are concerned about difficult conversations at family gatherings, plan activities that foster fun and laughter, such as playing a family game or looking through old photo albums.
Take care of yourself
Go-go-go all the time is not an altruistic or realistic option. Be mindful we all need to refuel and schedule in ways to make that happen. Self-care might be a hot bath with lavender, essential oils, candle light and an audio book. It could also be a walk around the block or neighborhood or a night to ourselves.
Plan for a mindful year
Consider devoting some time after the holidays to take a deeper dive into mindfulness with classes offered through the Beaumont Center for Mindfulness.