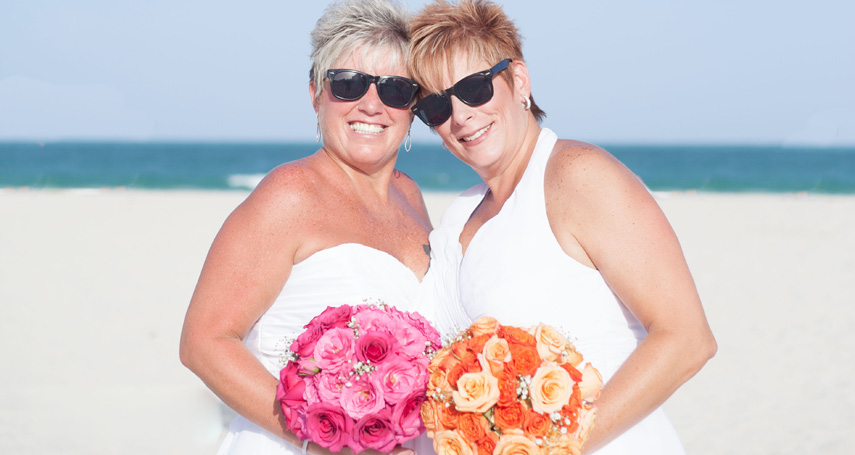 Two years ago, Laurie Harbour was named to Crain's Detroit Business List of Notable Women in Manufacturing - she was also diagnosed and treated for bilateral breast cancer and had eight surgeries. Moving past all that this spring, Harbour and her wife, Dawn, planned to move from Beverly Hills to a lakeshore dream home in Harrison Township. Then, the COVID-19 pandemic hit, and Harbour found a new lump on her chest.
"Because I have a compromised immune system, I was doing everything to stay safe at home. Going into Beaumont to have my new lump diagnosed freaked me out," Harbour said.
Using a video app during a telemedicine visit, she showed the new lump to her breast surgeon, Dr. Sayee Kiran.
Even though the entire breast is removed in a mastectomy, breast cancer can still return to the chest area. Harbour did the right thing by contacting Dr. Kiran when she noticed a change around her mastectomy scar.
Dr. Kiran said, "I did my best to reassure Laurie of the extraordinary measures we take at Beaumont to keep patients safe from exposure to COVID-19 because the only way to diagnose this new lump was to get her in for a physical exam with me as well as having a mammogram and breast ultrasound."
Remembering Dr. Kiran's reassuring words, Harbour drove herself to the hospital during the height of the pandemic when Beaumont was treating more COVID-19 patients than any other health system in Michigan. Her experience at the Breast Center at the Royal Oak hospital was just as Dr. Kiran described it would be with masking and screening before entry, social distancing, masked and gloved staff, and staff disinfecting the premises during her visit.
Diagnosis comes quickly
Harbour drove directly home afterward. Within two hours, she received the best news during a call from Dr. Kiran — it was just a fat necrosis at the surgical site and nothing to worry about.
"Fat necrosis is a benign breast condition that can occur in some women after breast surgery," explained Dr. Kiran. "I am proud of Laurie and so happy for her. I want all women to follow Laurie's example of letting us check out anything that looks suspicious on their breasts. We do everything to keep you safe."
"What sweet relief!" exclaimed Harbour.
COVID-19 hasn't gone away. Harbour continues to run her company and working to revitalize the North American manufacturing industry from her office at home, but as of June 28, her view is Lake St. Clair.
Is it any wonder Harbour loves lake living?
"I've always dreamed of living on the water," Harbour said. "My breast cancer battle taught me life could be too short and to make dreams come true. My kids, Matt and Emilie, are both adults living on their own, so it was time for Dawn and me to make our lives better in a new place where we can take the boat out for a spin, workout or just relax with the lakeview. And, I can't wait to get back to travelling the world with my wife and kids when it's safe again."
Harbour will continue to trek to Royal Oak for any future diagnostic mammograms if needed. If you are due - or even overdue - for your annual screening mammogram, she urges you to conquer your COVID-19 fear, take the time to take care of yourself and use online scheduling as the easiest and quickest way to make your appointment at one of Beaumont's many mammography locations around metro Detroit.