Tuesday, December 07, 2021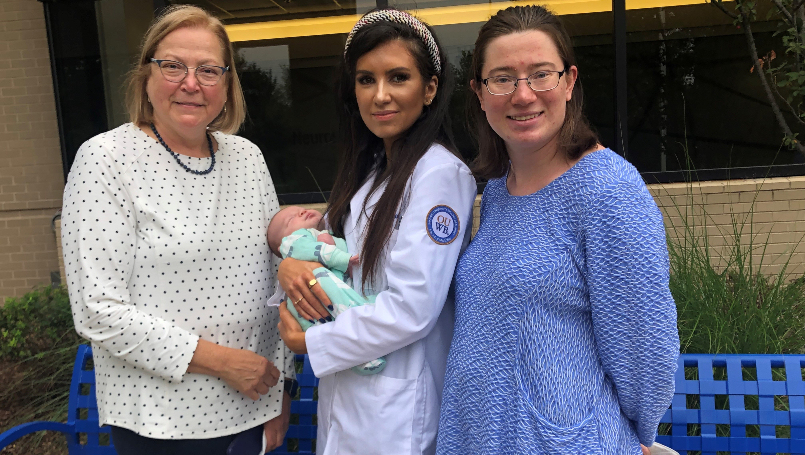 Women's Epilepsy Center offers clinical care, support and counseling
Christina Danieli, of Grosse Pointe Farms, and her mother have heard the many misconceptions about living with epilepsy: no driving, no competitive sports and certainly no babies.
This past Labor Day weekend, she gave birth to a healthy baby boy.
Growing up with epilepsy
Danieli was diagnosed with epilepsy when she was 1 year old. While she grew up with some learning disabilities in speech and language, her mother, Cecilia Palen, wanted Christina not to be labeled and defined by her epilepsy. Most importantly, her mother instilled an "I can" attitude and philosophy to never let challenges hold her back. Today, at 28, Danieli drives, excels in sports, works in health care and is a first-time mother.
Palen said, "Some key people believed in Christina."
Along the way teachers, coaches, co-workers, managers and doctors have helped her succeed.
Danieli's neurologist, Dr. Nour Baki said, "A lot of younger women with epilepsy are surprised to learn they can have a baby. Most women with epilepsy, like Christina, can have children and epilepsy should not prevent them from starting a family. The fact that women with epilepsy can't have children is a big misconception. They can also breastfeed."
Beaumont Women's Epilepsy Clinic
Dr. Baki, is an epilepsy specialist, or epileptologist, and is medical director of the Beaumont Women's Epilepsy Clinic at Beaumont Hospital, Royal Oak.
Danieli was referred to Dr. Baki and the specialty women's clinic by neurologist Dr. Andrew Zillgitt. He is the director of Beaumont's Adult Epilepsy program.
Said Palen, "The transition from Dr. Zillgitt to Dr. Baki was seamless, smooth. Christina and I were impressed with the knowledge shared about her case and their personal care."
Why the need for an epilepsy clinic just for women?
Dr. Baki explained, "Women with epilepsy have specific needs and issues which can be addressed with a specialist. Pregnancy is one and with this clinic there are opportunities to be followed on a more regular basis and monitored closely. In addition, I do work with an OB-GYN group and if patients want to start a family and are looking for one, I can refer them to the group, making communication between neurologist and OB/GYN more effective. Finally, some women have catamenial epilepsy, meaning seizures which happen with hormonal changes during ovulation/menstrual cycle. These have more specific types of treatment which can be discussed in detail during their visit."
Labor on Labor Day
Danieli went into labor on Labor Day weekend. After 30 hours, she delivered a 9-pound 5-ounce baby boy by cesarean section - Andrew Eddie at Beaumont Hospital, Troy. Today, both Christina and Andrew are doing well. In fact, she looks forward to returning to work in nutritional services at Beaumont Hospital, Grosse Pointe.
"Overall, Christina's pregnancy went well," said Dr. Baki. "The level of her seizure medication was checked monthly. The levels were increased gradually because drug levels decrease during pregnancy due to hormonal changes. In addition, she did develop gestational diabetes which resulted in extra monitoring. She was not able to have a vaginal delivery, but not because of seizures. Her labor was not progressing and her baby was relatively large."
Multidisciplinary team
The Women's Epilepsy Clinic's specialized multidisciplinary team includes a board-certified, fellowship trained neurologist, certified EEG technologists, an epilepsy nurse practitioner and an epilepsy program nurse coordinator. The team works together with interdisciplinary experts in neuropsychology, neurosurgery and radiology to offer the following programs:
Pharmacologic management
Drug resistant epilepsy
Vagus nerve stimulator treatment
Surgical treatment options
Collaboration ongoing communication with primary care, obstetrics and gynecology
"We provide ongoing monitoring during pregnancy, delivery and postpartum period," said Dr. Baki. "Our care plan does not end with a child's birth. Postpartum sleep deprivation can trigger seizures in mothers with epilepsy. We are also concerned about postpartum stress."
Danieli is grateful for the specialized care received during her pregnancy and beyond.
"I am very happy with the care I receive from Dr. Baki at the Women's Epilepsy Clinic," said Danieli. "She is a very kind and caring doctor who listens to my concerns. She is very good at communicating results with me and my mom, as well as with the other doctors who managed my care. Dr. Baki called us regularly to see how things were going and told us to call her whenever we had questions."
Beaumont's epilepsy expertise
Epilepsy is one of the most common neurological disorders. Abnormal electrical activity in the brain causes the disorder. Nearly 109,000 Michigan residents have epilepsy, including 13,600 children. About two-thirds, like Danieli, manage their epilepsy with medication. One-third have drug-resistant epilepsy. For those, surgery may be a treatment option.
Both Beaumont's pediatric and adult epilepsy programs have earned accreditation for the highest level of epilepsy care, Level 4, by the National Association of Epilepsy Centers. Beaumont, Royal Oak is also accredited by the American Clinical Magnetoencephalography Society as one of 22 MEG centers in the U.S. The hospital is also nationally ranked by US News & World Report as a top hospital in neurology and neurosurgery.