Tuesday, February 07, 2023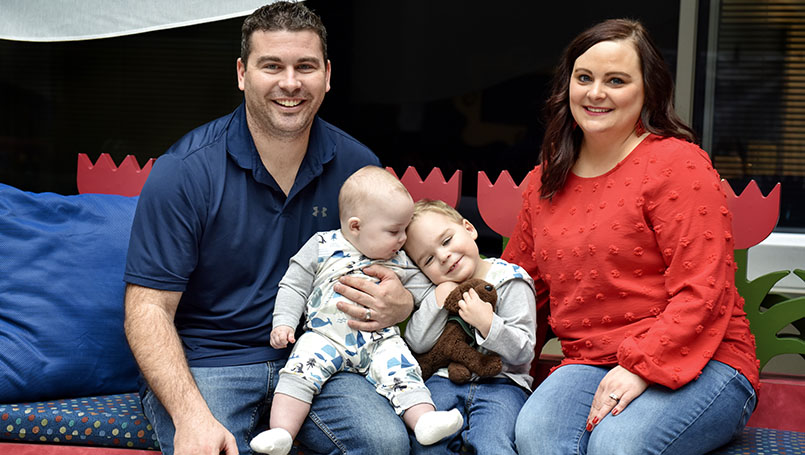 Cardiac patient and mom of two shares her journey with help from Corewell Health maternal-fetal medicine and cardiology experts
In December 1999, Sarah Young was an 11-year-old girl looking forward to her sixth grade holiday party at school, not thinking about motherhood.
"That's why I remember it so well: It was my sixth grade Christmas party that afternoon," said Young, now 34, and living in Washington Township. "I went to my routine checkup at the pediatrician's office and my heart was beating so fast you could see my pulse in my neck."
A serious problem
After a few days at Corewell Health William Beaumont University Hospital, the new name for Beaumont Hospital, Royal Oak, Young was sent home Christmas Eve wearing a heart monitor, diagnosed with supraventricular tachycardia. The fast or irregular heartbeat, called an arrhythmia, is due to a malfunction of the electrical system that regulates the heart. Some arrhythmias can be serious and affect blood flow in the heart – or cause your heart to stop beating completely.
Working with her doctors at Corewell Health, Young's arrhythmia was controlled by medication for most of her youth. In 2006, when the medication was no longer enough to control her arrhythmia, Young, then 18, underwent a cardiac ablation, a controlled scarring of the heart muscle causing the rapid heartbeat.
"No caffeine, no chocolate; I could still dance, but had to stop if I was tired or dizzy," Young said. "They wanted me to live a normal life, and I did."
The combination of the ablation and medication worked for Young. But she had a warning from her doctor: advanced planning was critical if she intended to get pregnant.
Planning for a family
Dr. Zeynep Alpay-Savasan, Young's maternal-fetal medicine doctor at Corewell Health William Beaumont University Hospital, often sees women with cardiac issues who don't know if pregnancy is a viable option.
"Cardiac diseases in pregnancy were a big problem in the past," said Dr. Alpay-Savasan. "Both from the obstetric side and cardiology side, our knowledge and care is much better and safer now."
After getting married in 2016, Young worked with Dr. Alpay-Savasan in 2018 to switch to a heart medication reliably used by pregnant women without complications. Within months, she conceived – and the intense monitoring started. Young had scans every four weeks, as well as specialized ultrasounds, to monitor her baby's growth. Tests monitored her blood volume, heart function and general health as her due date came closer.
"I was scared, maybe stressed, closer to delivery," Young said. "I wasn't scared about the baby but more about me. When I give birth, would I have a problem? Would my heart beat really fast?"
Only about 40% of women in the U.S. who gave birth in 2019 had good heart health prior to their pregnancy, according to a study published in 2022 by the American Heart Association. Unlike Young's arrhythmia, excess weight was the major driver of poor pre-pregnancy health, followed by hypertension and diabetes, according to the research published in a Go Red For Women® spotlight issue of the American Heart Association's peer-reviewed, journal Circulation.
The key is addressing issues as best as possible before, during and after pregnancy, Dr. Alpay-Savasan said.
"Optimizing their health before getting pregnant is important," Dr. Alpay-Savasan said. "In Sarah's case, because of the ablation and the fact that she was on rhythm control medication, her symptoms had improved. If she had not been treated or had ablation, she could have had complications, including death."
The big day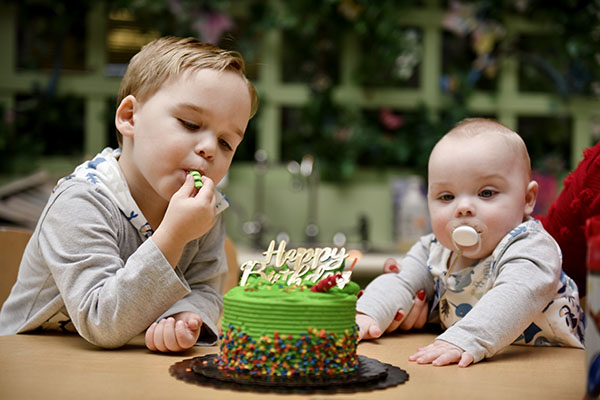 As Young neared her due date, the same doctors who had worked with her throughout her pregnancy came together with specialists in anesthesia and labor and delivery to plan for the big day.
Induced at 39 weeks, Young gave birth to her now 3-year-old son, Benson, on Jan. 4, 2020 – her heart beating normally throughout the labor.
"I was fine through all of it," Young said, adding that she stayed hospitalized for a few days, monitored to ensure her heart rate was stable.
She underwent similar preparation and monitoring in 2021, before becoming pregnant with her second child, Jaxson. But when Jaxson was born on July 1, 2022, Young's heart rate dropped to an abnormally low 40 beats per minute.
With help from her team of experts and more medication adjustments, it returned to her normal 80 beats per minutes after a few weeks.
"Even now, I have had episodes of shortness of breath and arrhythmia returning again," she said. "We're still going through adjusting the medication until we're at a comfortable point where everything's fine. All things considered, everything else has been fine, living a normal life and my babies are healthy."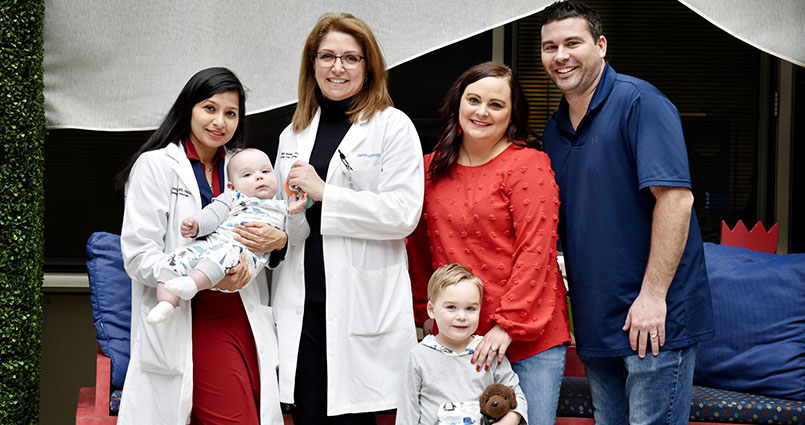 The future: research and awareness
Dr. Nishaki Mehta a cardiac electrophysiologist at Corewell Health and associate professor at the Oakland University William Beaumont School of Medicine, and Dr. Alpay-Savasan, are trying to address the dearth of knowledge about women, pregnancy and cardiac issues. They are in the process of creating a national registry of cardiovascular outcomes in pregnancy and post-pregnancy.
"Much of the research in this area is based on expert opinion, not scientific study," Dr. Mehta said. "Everyone is always cautious of doing any research with pregnant women."
Mehta said awareness of cardiac issues before, during and after pregnancy is very important both for doctors and prospective parents.
"Pregnancy and heart issues are on the rise," she said. "Many more older women are contemplating pregnancy, and as the demo has shifted to women being older, we know that cardiac issues track with increased age. The good news: there are very few heart conditions that are an absolute no for pregnancy.